The shoulder is not just a part of your upper arm, it's also the very essence of sex appeal and femininity in a woman. Looking back at the history of fashion, the off shoulder trend has been making a mark for centuries to come. The puffy sleeved, billowing off-shoulder ball gowns of the 17th century to the floral cropped tunic versions in the 1970's and ever since, it's been appearing in style every fashion season. The variety in the amount of collarbone to off shoulder trend seems to re-surface season after season. This spring summer it's all about the slit in the sleeve, and the semi-off shoulder look. But the classic off shoulder, in my opinion, will always be fashion approved.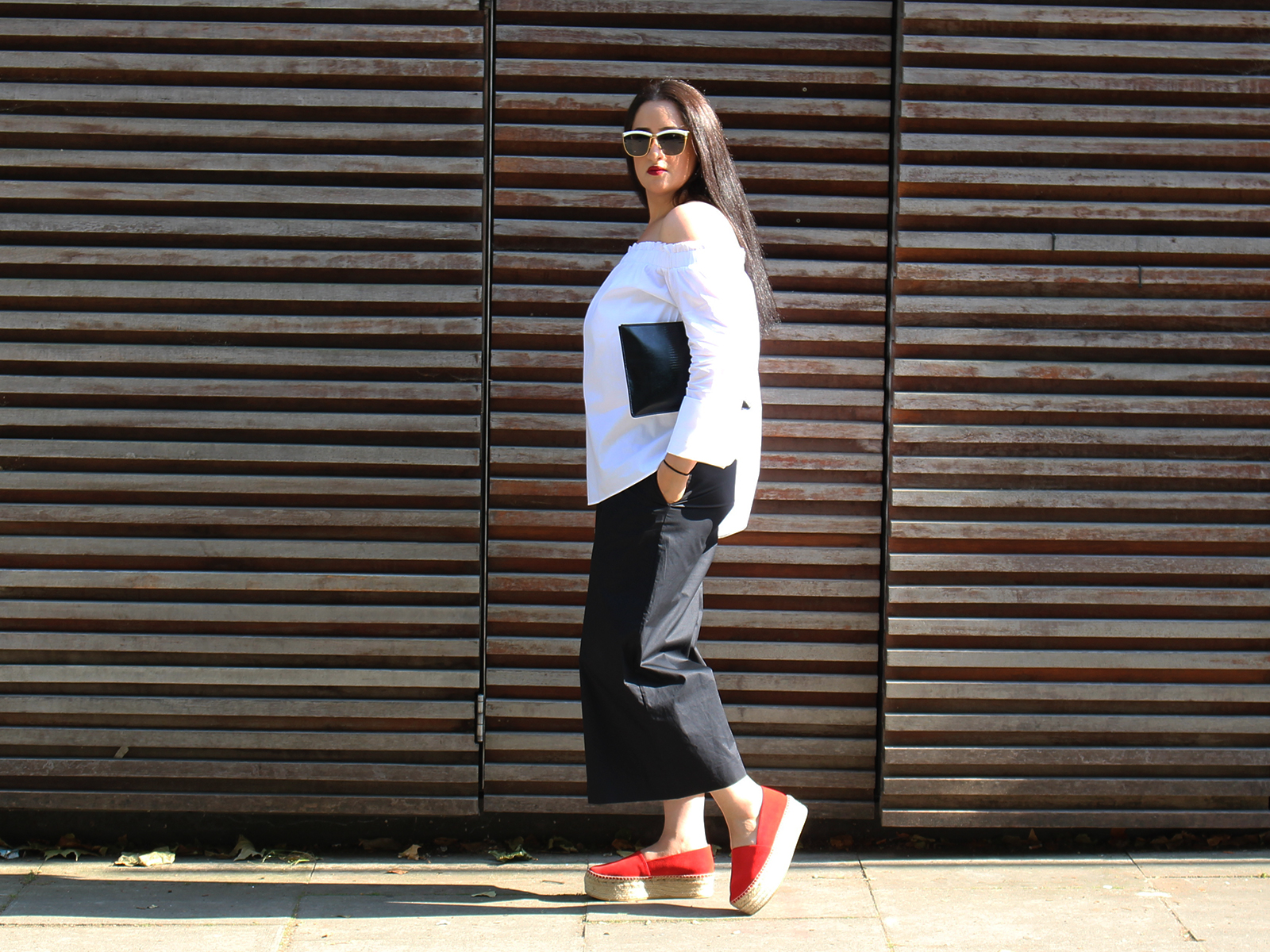 It was December 2015 when the off shoulder trend started hitting the shelves after plenty of fall fashion shows had debut their collection. I was sauntering through Selfridges with my grandmother one evening when she looked over at a mannequin barely clothed and asked me "who would wear that in the middle of winter?" My response was "Kylie Jenner just wore that to a basketball game with leather leggings and bright red lipstick!" She didn't respond, but I can only imagine that she had no idea who I was talking about, and thought it was bat shit crazy to wear anything that exposed severe flesh in the middle of winter. You would be begging for a cold. This particular "shock and horror" to my grandmother was a cosy knit that revealed the perfect décolletage and upper arms.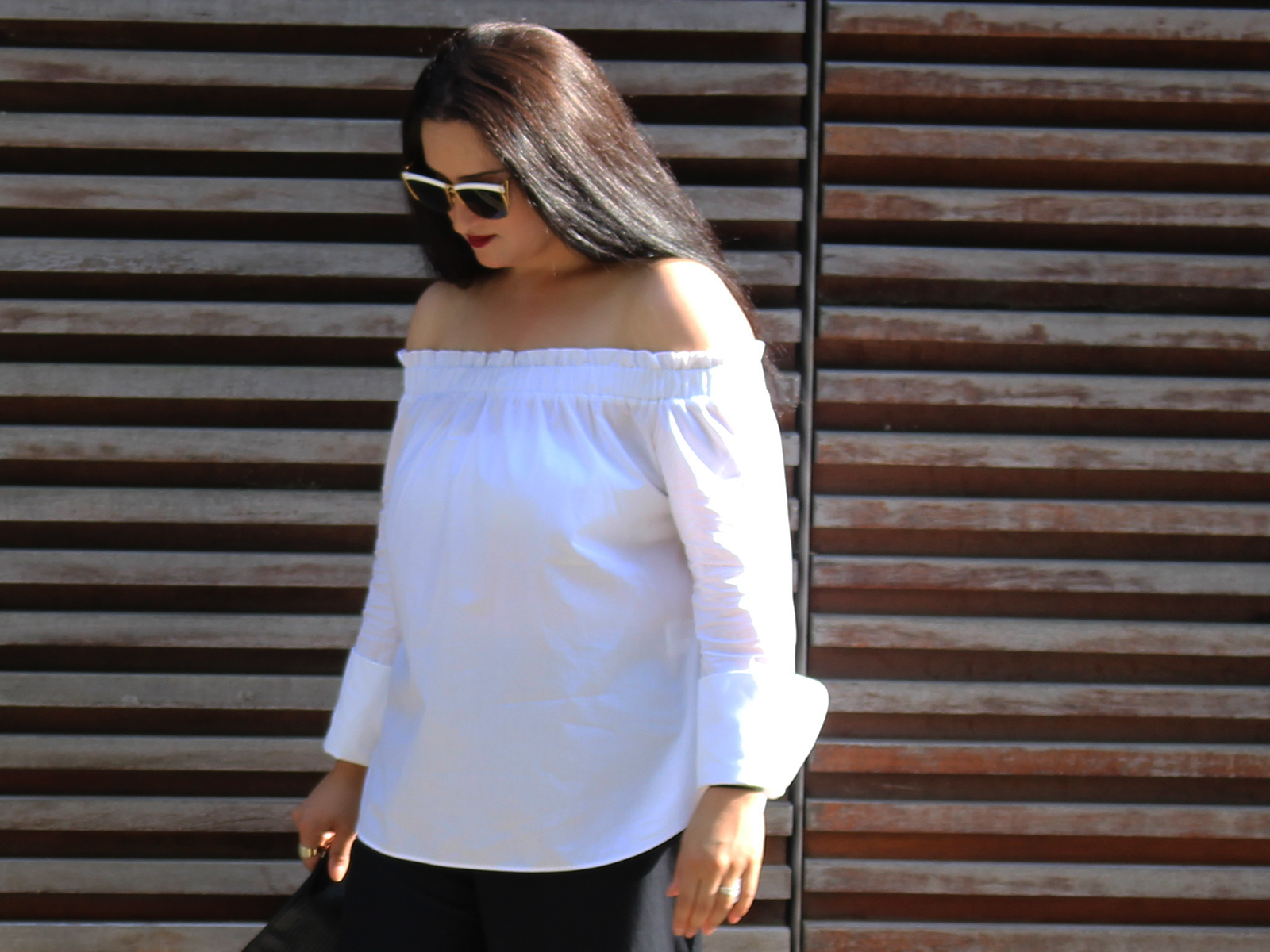 I stood below the mannequin wearing thermals, a t-shirt, the thickest jeans I owned, a jumper, a long cardigan and a coat, finished off with a ginormous scarf. There was no way these shoulders of mine were going to be seeing the light of day in the middle of winter. Trend or not, I was not going to be jumping on this trend bandwagon in the cold winter months. I would wait to feel the sun shine and warmth on my shoulders.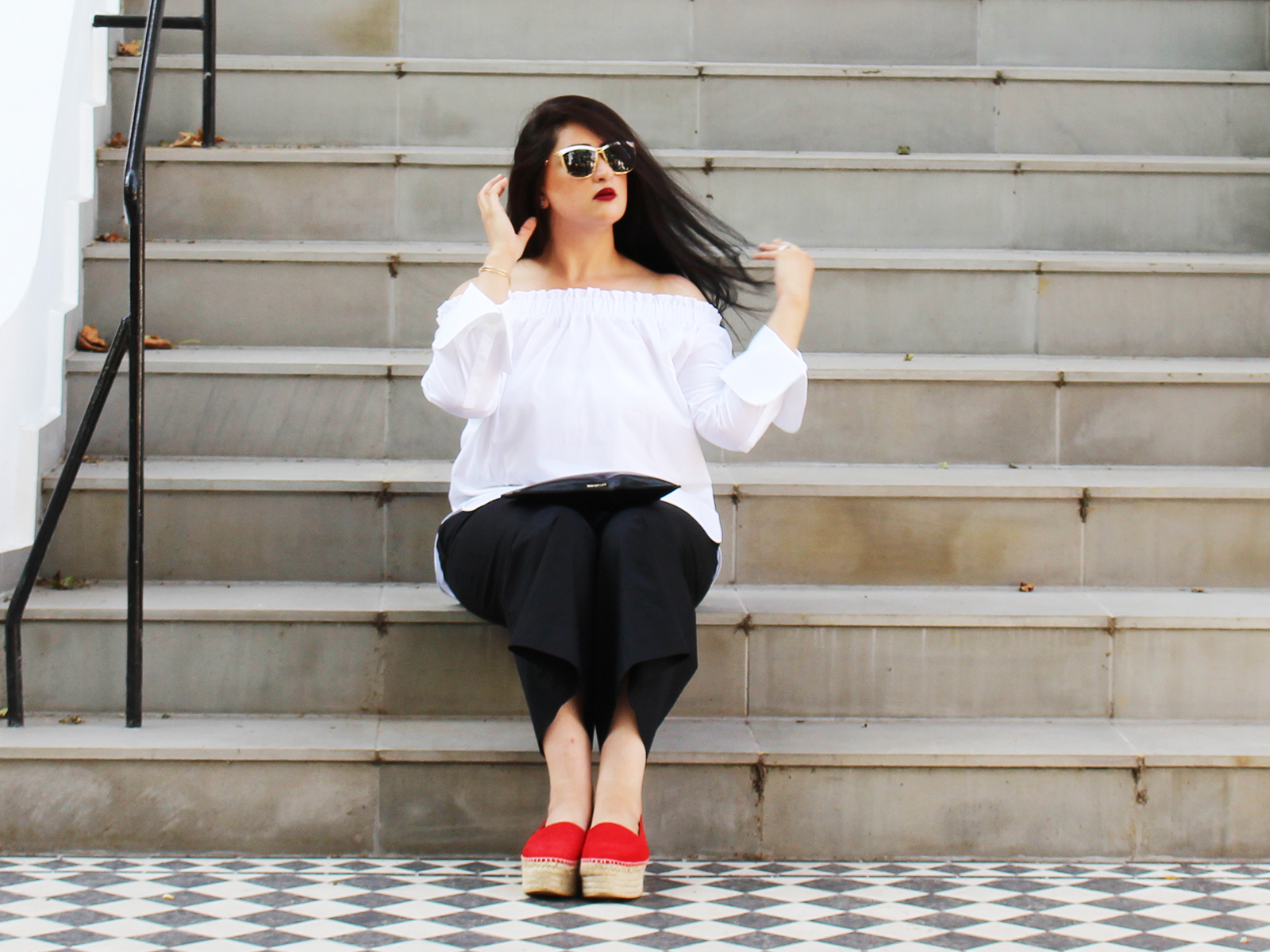 When the cold shoulder trend hit the high street with full force, the impact was interesting. It seemed there wasn't an item of clothing that didn't encourage you to expose your beautiful collarbone, defined shoulders and all that jazz. I was still hesitant. I've longed to feel sexy and embrace the sunshine on my shoulders without feeling conscious. I purchased a lace off shoulder blouse from H&M and I looked like a floral lace machine had exploded. It was a no-go. This wasn't going to work. Cold shoulder off shoulder tops and dresses and I were not going to have a stable relationship. Particularly as I learnt in the changing room, that when you are wearing a beautiful cold shoulder top, your arms should remain by your side. You cannot wave your arms around like you just don't care, this is not the time to practice your Madonna moves. Because it only takes a matter of seconds for the elastic of the cold shoulder top to scrunch up and swoosh, your top will be right below your jaw line and there will be no sexy neck or shoulders on display. You are going to look like a penguin and may as well waddle about like one too.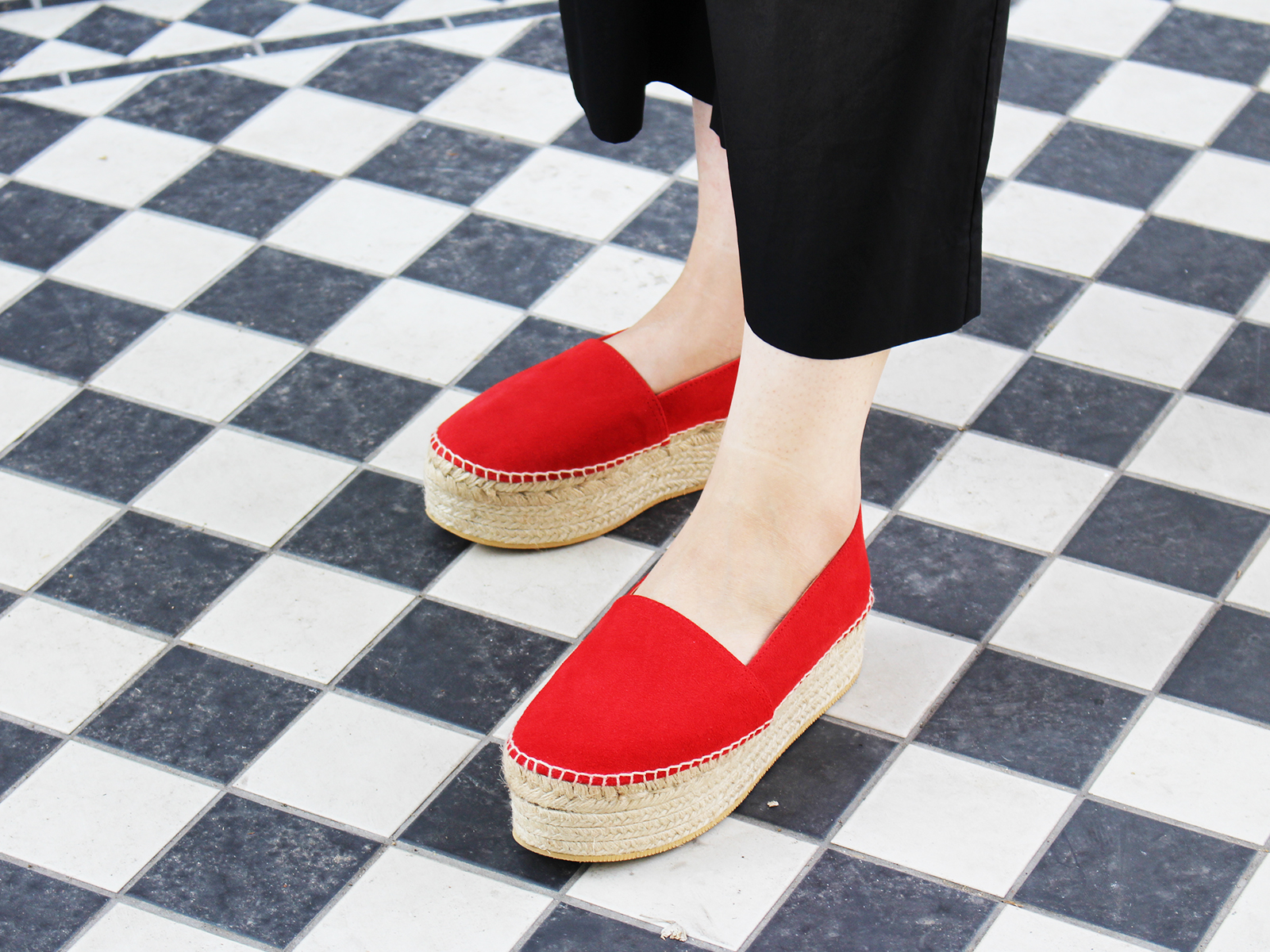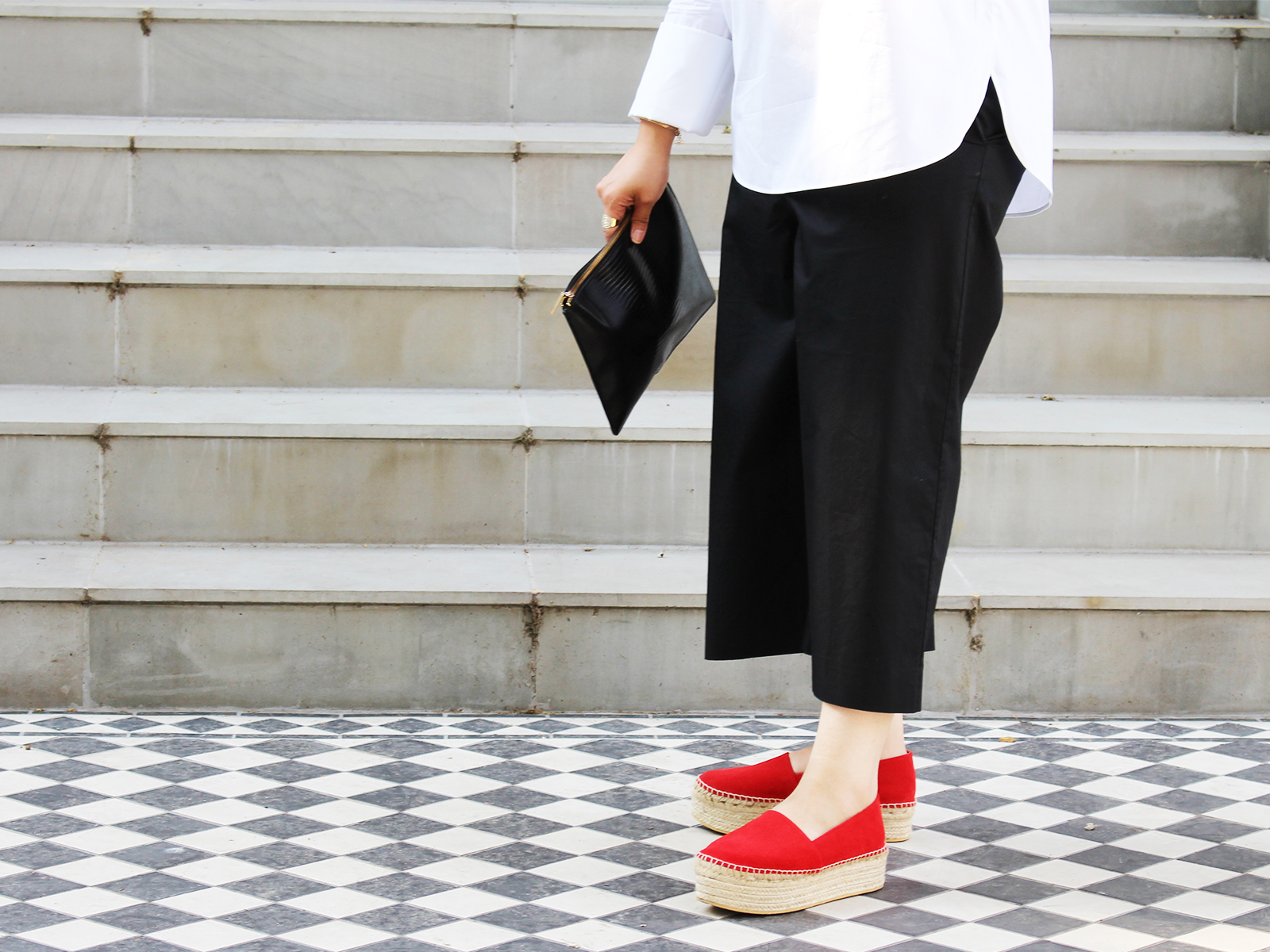 I have spent the greater part of the last few years searching for anything and everything that would either hide my arms, and the curves, lumps and bumps of my waist. For as long as I can remember I have been conscious of my arms. Call it the 'Chicken Wing' or 'Bat Wing' dilemma or the fact that numerous years of fluctuating weight left me with stretch marks down my arms. Either way, strappy tops and tank tops were a no go. Long sleeved items of clothing became my best friend. Blazers over t-shirts in the summer, kimonos in spring and well, in winter you just wear as many layers as possible. So the idea of exposing my shoulders has never been something I considered. As an avid fan of oversized shirts, I just had to try the trend again when I stumbled across this off shoulder shirt style from H&M. Kash was going to win Round 2! Paired with a pair of flared cropped trousers from COS and red summer Espadrilles, it made for the perfect spring evening outfit for cocktails to celebrate a friend's engagement.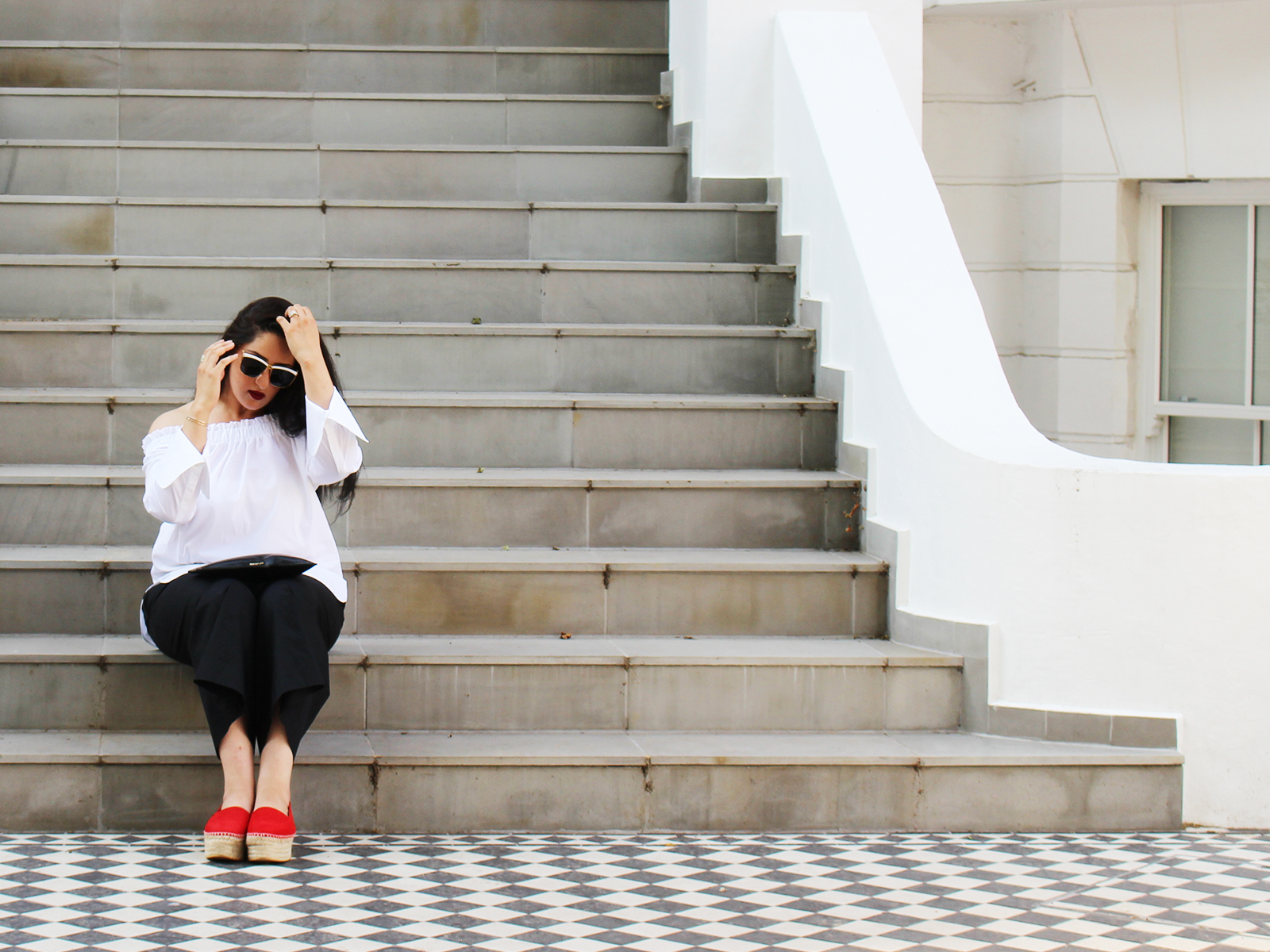 The cold shoulder has come out in a variety of styles and sexy cuts. The classic off shoulder top has always come across as a floaty lace number, similar to the fashion back in the 70's. Early 2016 revealed off shoulder knitwear with oversized styles and sleeves, the summer revealed gowns with semi-tailoring and attention to the detail was drawn on oversized bell sleeves. But what do you wear off shoulder tops with? I don't think there's a rulebook. Flared jeans, mini skirts, skinny jeans, tailored trousers, cropped flared trousers, fitted trousers, knee length figure hugging skirts…the options are endless. There is no limit to pairing it with the perfect pair of shoes either. My favourite are espadrilles or strappy sandals, or dress up your outfit with pencil thin heels. There is no right or wrong. Just decide… shoulder, no shoulder or just a little shoulder. Elevate your outfits with dressy earrings, or statement shoes, or carry that handbag that will make your outfit pop. It's the perfect, yet sexy style for those of you conscious of your arms.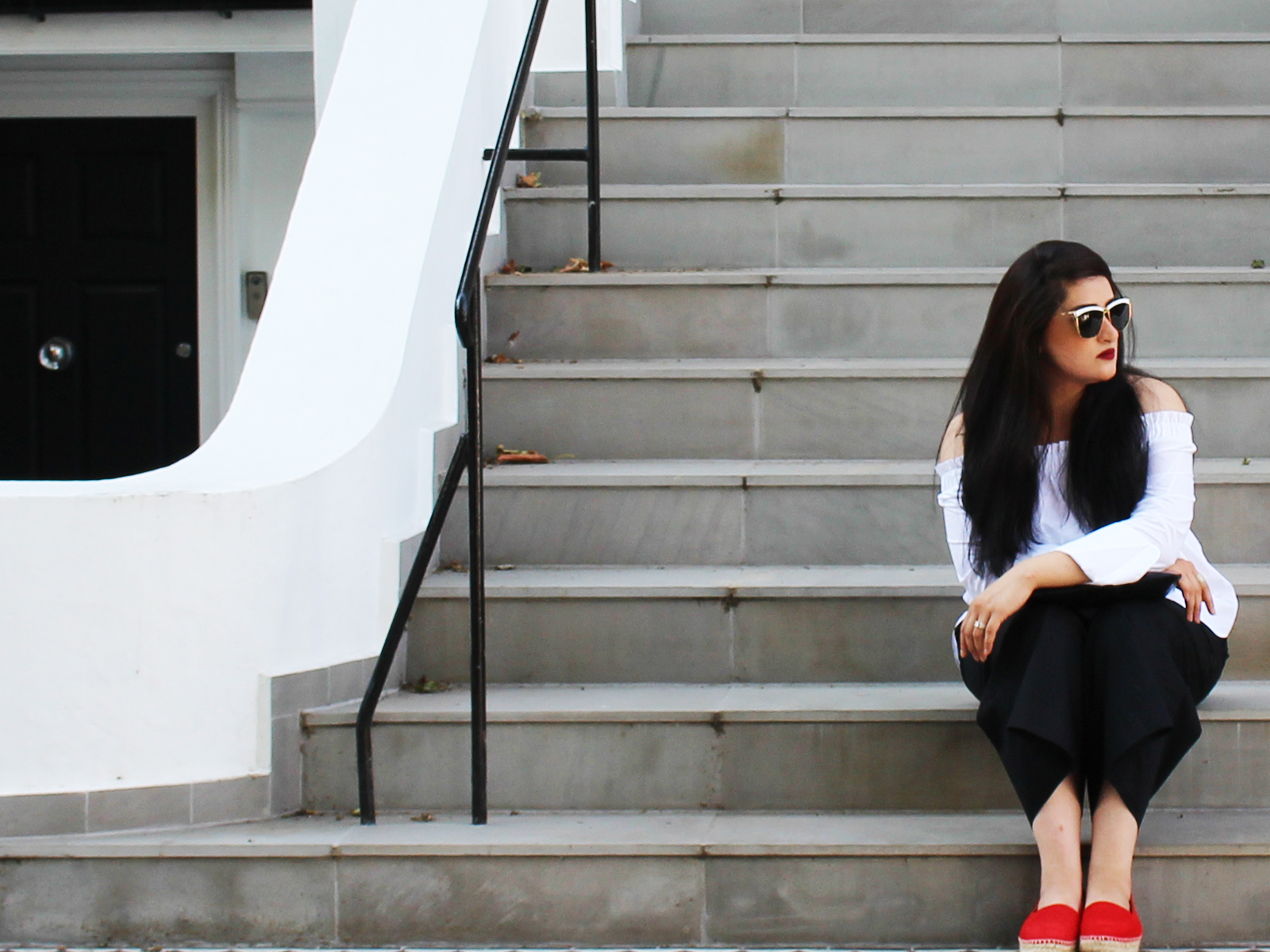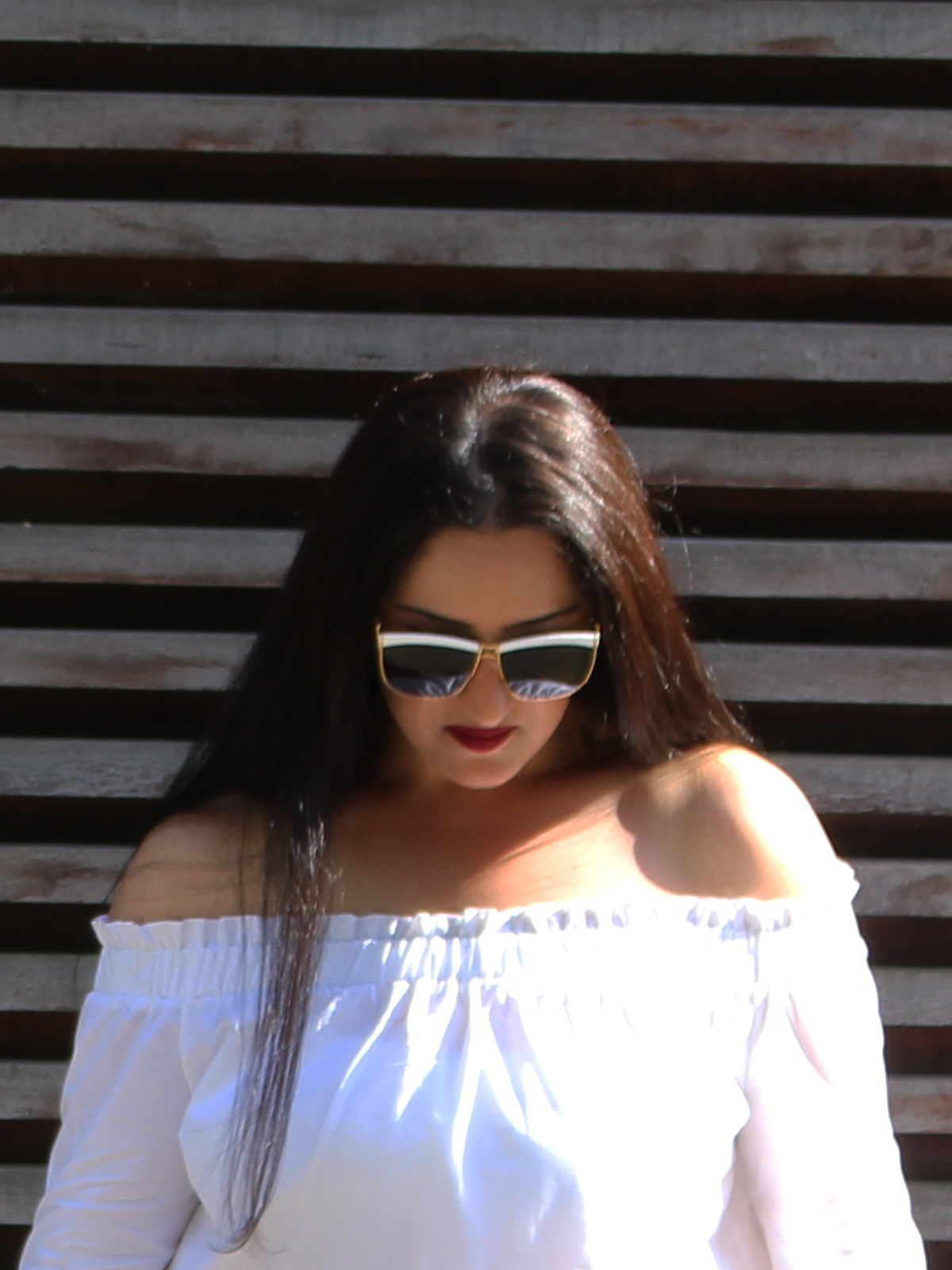 Versions of the cold shoulder, slit sleeves, one shoulder, semi shoulder, deconstructed shirts and shoulders, will continue to appear for fashion seasons to come, and maybe, just maybe, it's a trend that should instead be considered a classic fashion staple! Either way, the shoulders are here to make a sassy yet sexy stay over the summer and it's a trend anyone, regardless of your size, should definitely wear…with confidence!