My absolute favourite material in the world is cashmere and I am crazy for cashmere sweaters. I'm a complete sucker for it, whether it's Spring, Summer, Autumn or Winter. If I see cashmere, my shopping radar is on and any form of restraint flies straight out the window. I love how soft and delicate cashmere sweaters feels against your skin and the amount of warmth that comes from such a light fabric. The best part about cashmere sweaters is how well you can layer it in the Winter, but still wear it in Spring. The obsession began when I would borrow my grandfather and fathers oversized Marks and Spencer cashmere sweaters, because that's where you go to get great quality cashmere. I say borrow, it was rare that I ever gave it back, but over the years I have collected quite a collection of various solid colours of cashmere sweaters.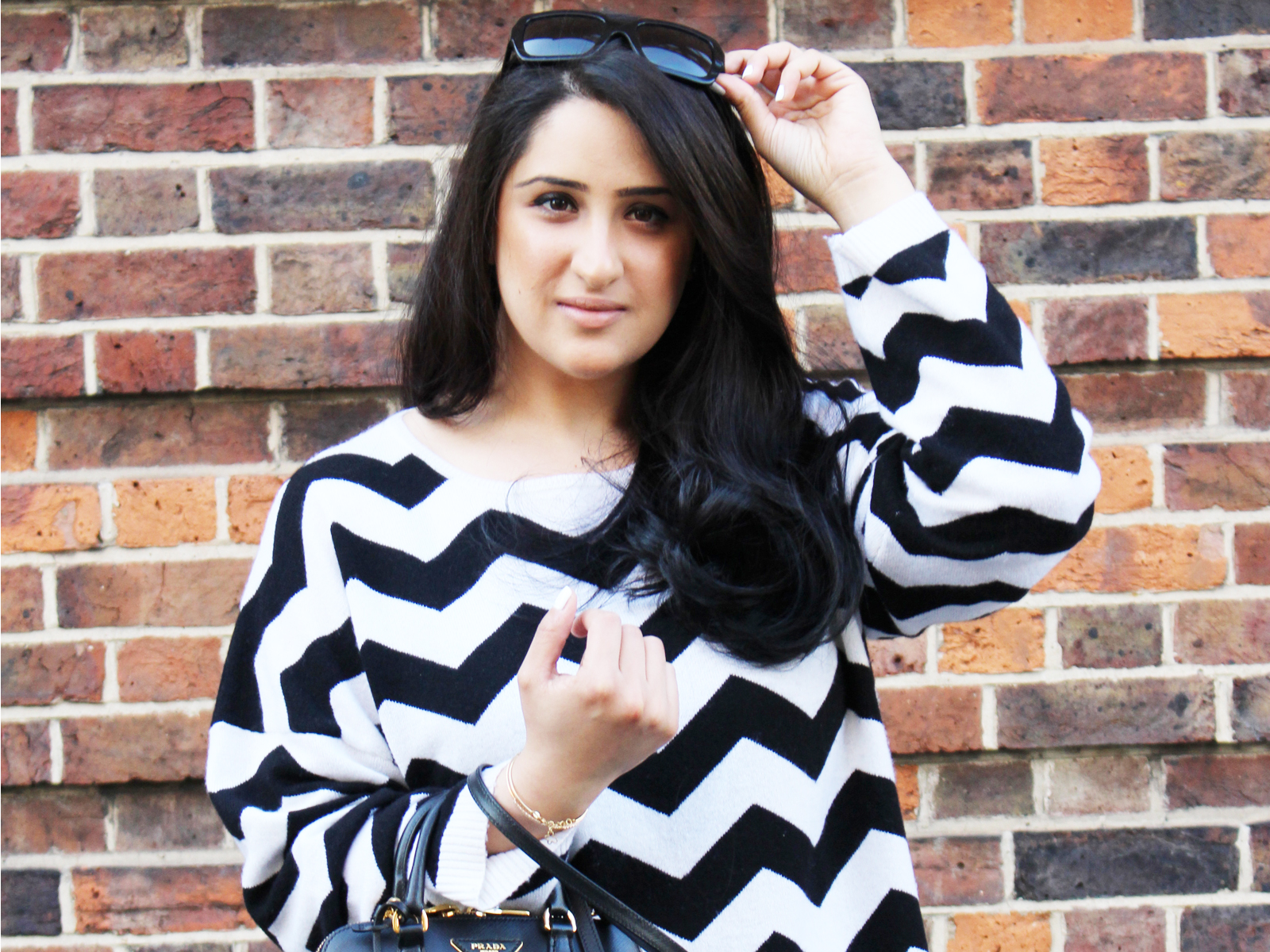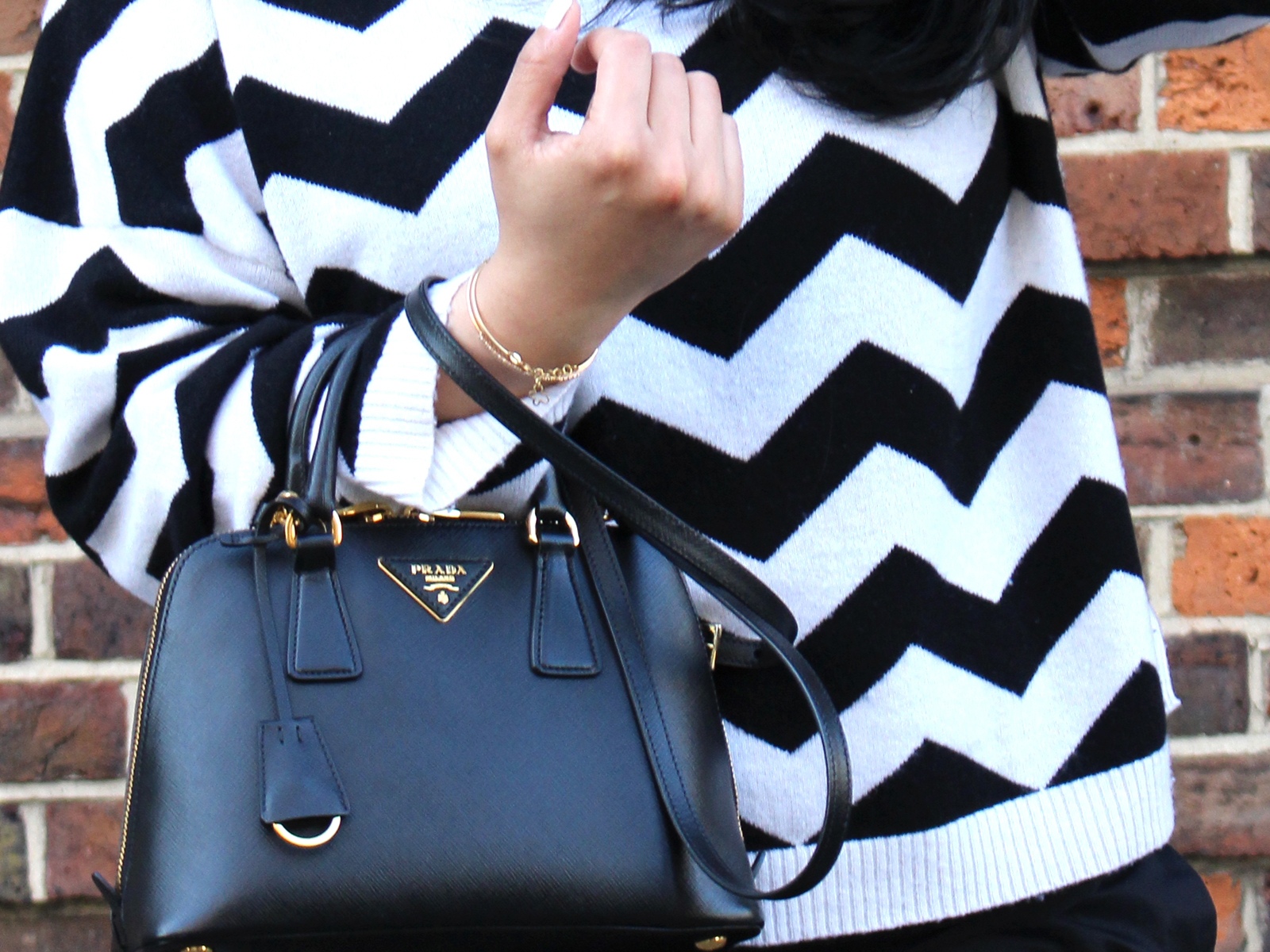 The problem with cashmere sweaters by most brands, at least in my experience, is that it's the same kind of sweaters every… single…year! V-neck beige, black, light pink, navy, beige etc. or round neck in the same colours and once in a while they throw in a batwing style or oversize cardigan ALL IN THE SAME KIND OF COLOURS! Don't get me wrong, I love the basics and plain colours, but I want the moon and stars, stripes, neon yellow and pink, heck even polka dots! Give me something different in Cashmere please? Someone? Anyone!
In my search for stylish cashmere I stumbled across an Australian brand called Banjo & Matilda, founded in 2008 in Bondi Beach by Belynda and Ben Macpherson. When I think of Australia, I think of the beach, surfing, the Sydney Opera House, P. Sherman, 42 Wallaby Way, Sydney (yes, I love Finding Nemo) and Masterchef Australia (yes, another obsession). So imagine my surprise when I perused their online shop and found a collection of knitwear inspired by the warmth of the sand and freshness from the ocean, resulting in luxurious cashmere with style and panache! They have black and white chevron, the moon and stars, anchors and nautical stripes, camouflage in khaki and grey and the list goes on! In Spring Summer, they release a beautiful collection of cashmere and cotton blends which are simply luxurious.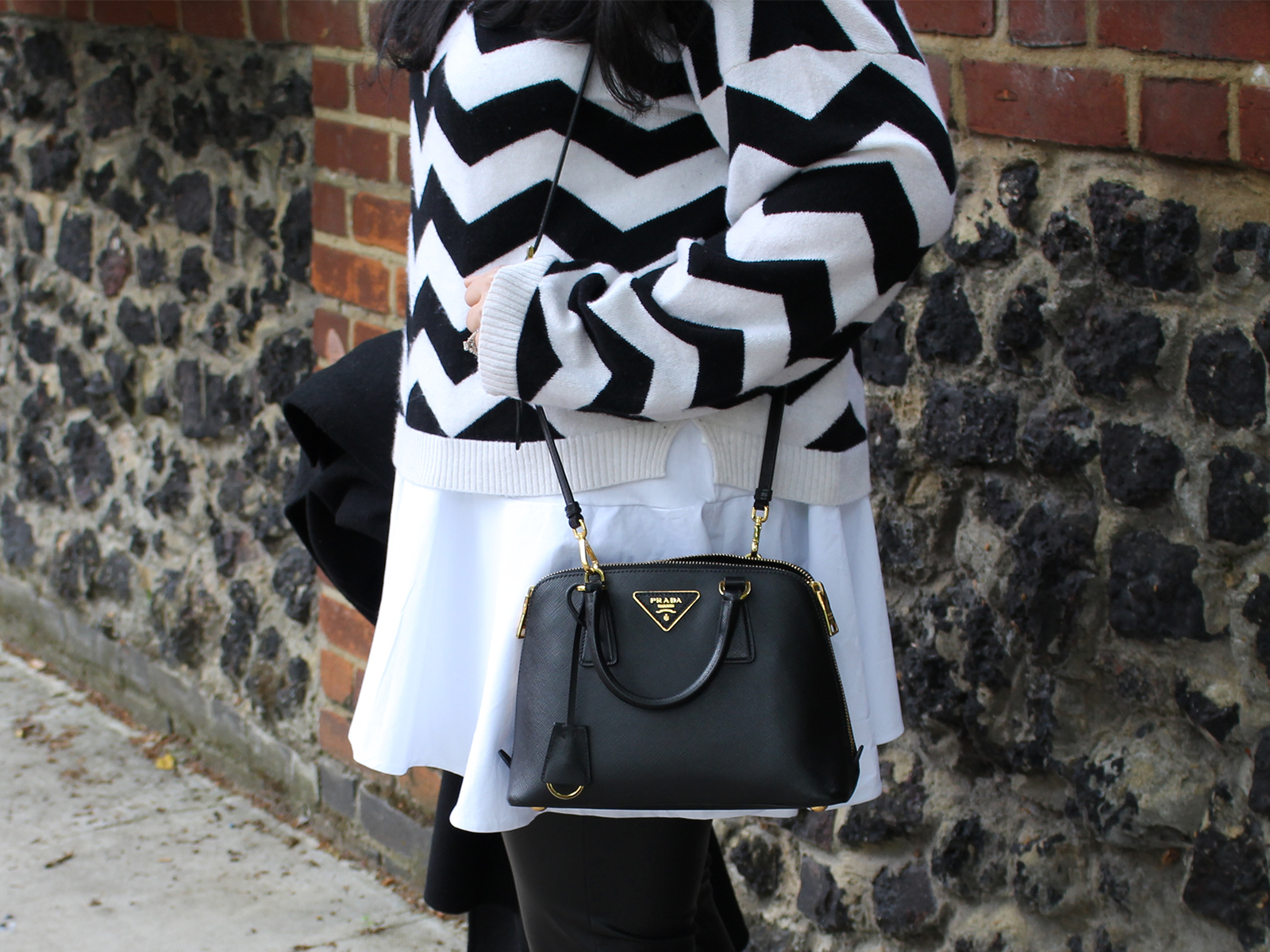 My first Banjo & Matilda purchase was this black and white oversized chevron sweater. It was delivered in a beautiful blue box that opened up to a palm print on the inside, which almost made me want to book a ticket and hop straight down under! I've worn it countless of times, both formally with a pair of chunky gold earrings, and casually with a pair of jeans. I missed out on getting a navy stars and moon cardigan, but my wish list is their new grey and ivory star crew. I am resisting going onto their website lest I find some more cashmere sweaters to add to my collection.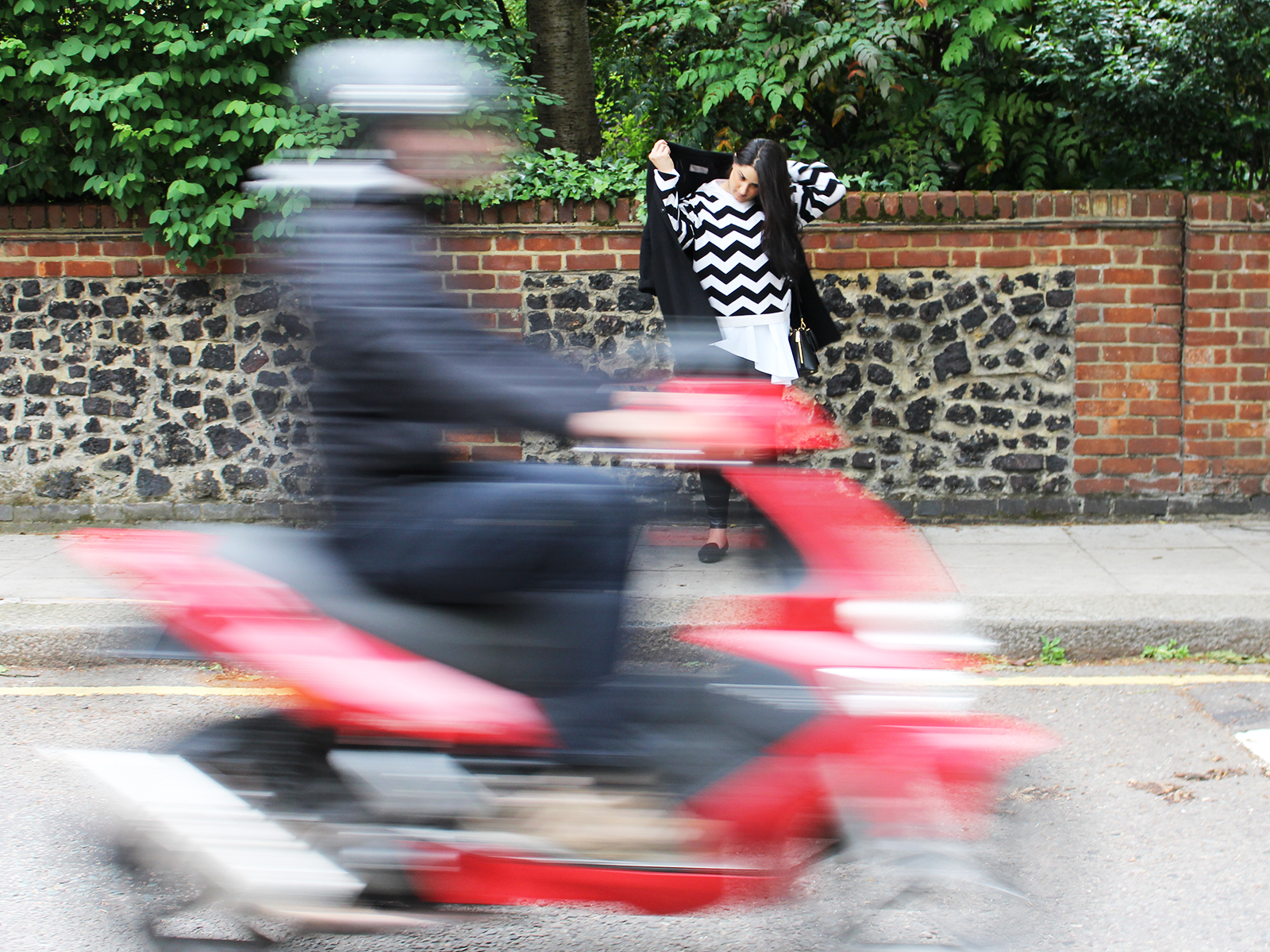 Wearing cashmere all year round seems a little strange, but when you live in London, you can never tell with the weather. Thunderstorms, sudden rain showers, quick drops in temperature and  the odd scattering of sunshine have been a daily occurrence these past two weeks. I have now resolved to leaving the house with either a shawl or a light jumper to stay on the side of caution.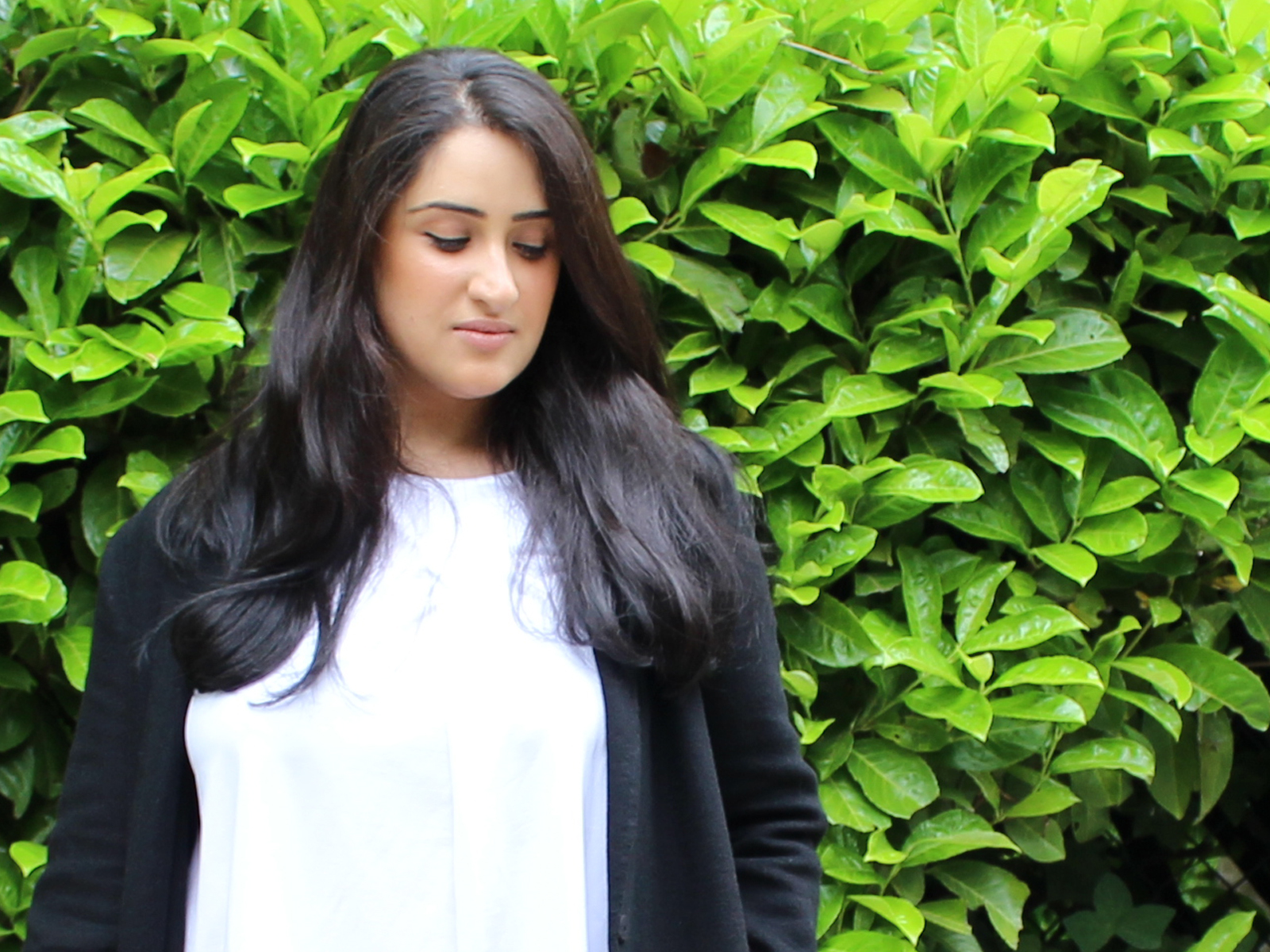 Usually when I'm carrying a larger bag I'll throw it in, but on this particular day, I was using my trusty Prada Promenade, which is the perfect cross body for running errands and it fits all my daily handbag essentials. Instead of lugging my coat over my arm when the weather got a little muggy, I slipped my jumper off and it was lighter and easier to carry around.
This outfit is probably one of my favourites, particularly the colour combination. You can never go wrong with black and white, they are classic colours, and go with everything. I paired my Cashmere sweater with my black leather leggings, a white oversized ruffle t- shirt and a light black coat. Apparently ruffles are in this season, and this was my attempt at staying on trend. Perfect layering for this moody weather. Have you found any cool cashmere treasures that you love?