How many times have you seen a fashion bloggers desk, or coffee table and the famous book "How to Dress Parisien?" stands off the table, atop of Tom Ford, Chanel and many other covetable hard book fashion bibles? The point is, we all want the chic, trendy and zoh fabulous look of the French!
So my question is, if I wear clothes by French brands…am I half way to trendy Parisien style? When I found this beautiful Denim jacket by Maje in the Summer Sale, it got me a stone throw away from Paris.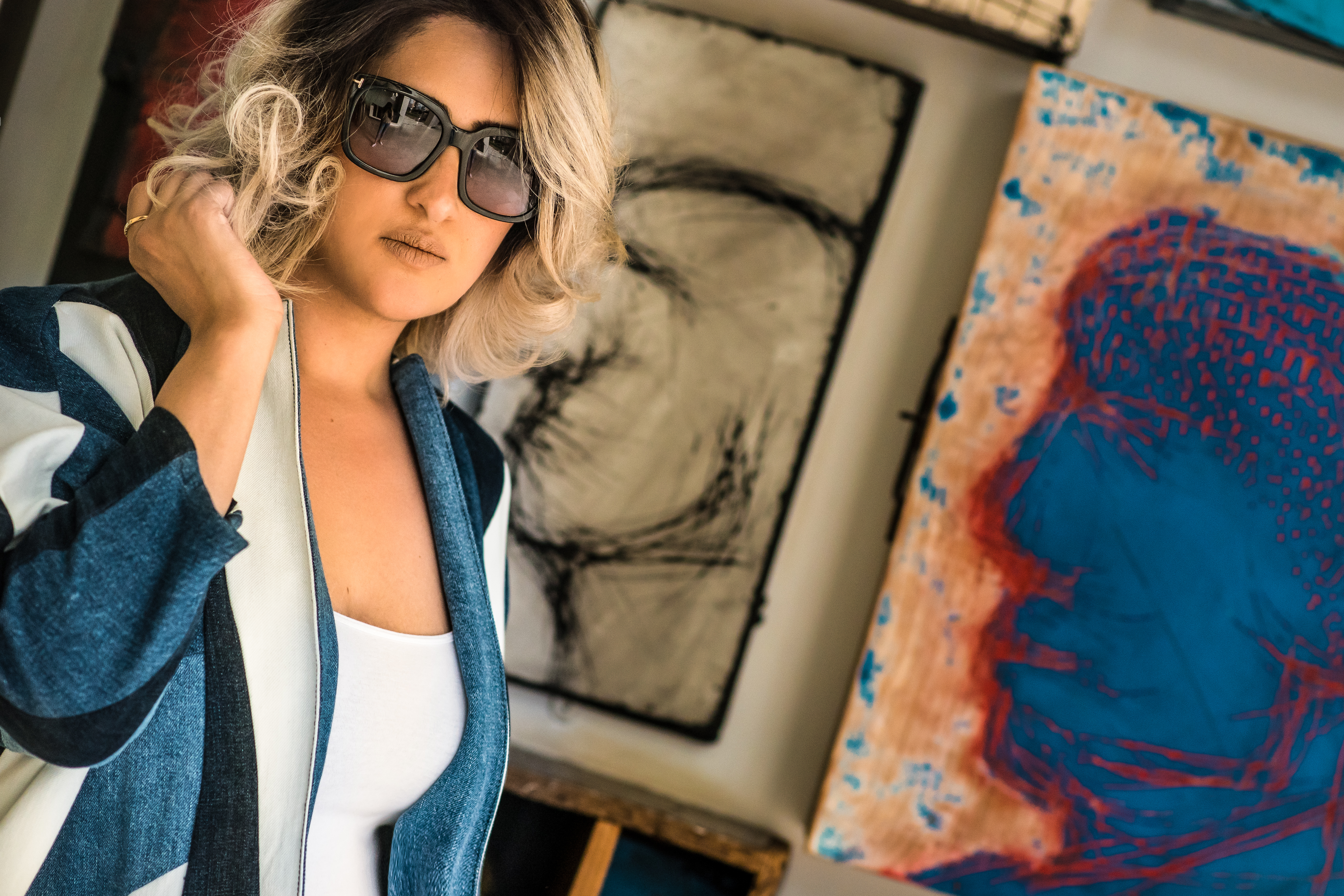 A summer classic and staple is and will always remain…denim on denim. In my opinion, it's a style that will never go out of fashion. Light denim on white denim, dark blue on light, basically denim on denim, no matter the colour or style. In this case, all the colours of denim thrown into one super sexy and stylish Maje Denim Kimono! This stunning jacket only made it's way into my closet by sheer and total disgraceful, "I'm not proud of it", crappy willpower.
Every month, I budget out the "ABSOLUTE ESSENTIALS" shopping list. We're not talking bread, butter, eggs, chocolate fondant lava cake and so forth. We're talking about the "definitely don't need, but 100% want" additions to the closet. I-Phone Notes is where I tend to list the various "Wishlist" items I'm currently coveting. This Kimono wasn't even on it. Until I saw it in Maje's pre-sale Summer fashion preview. Just like that, it sat at the very top of my list, and everything else was going to remain on hold.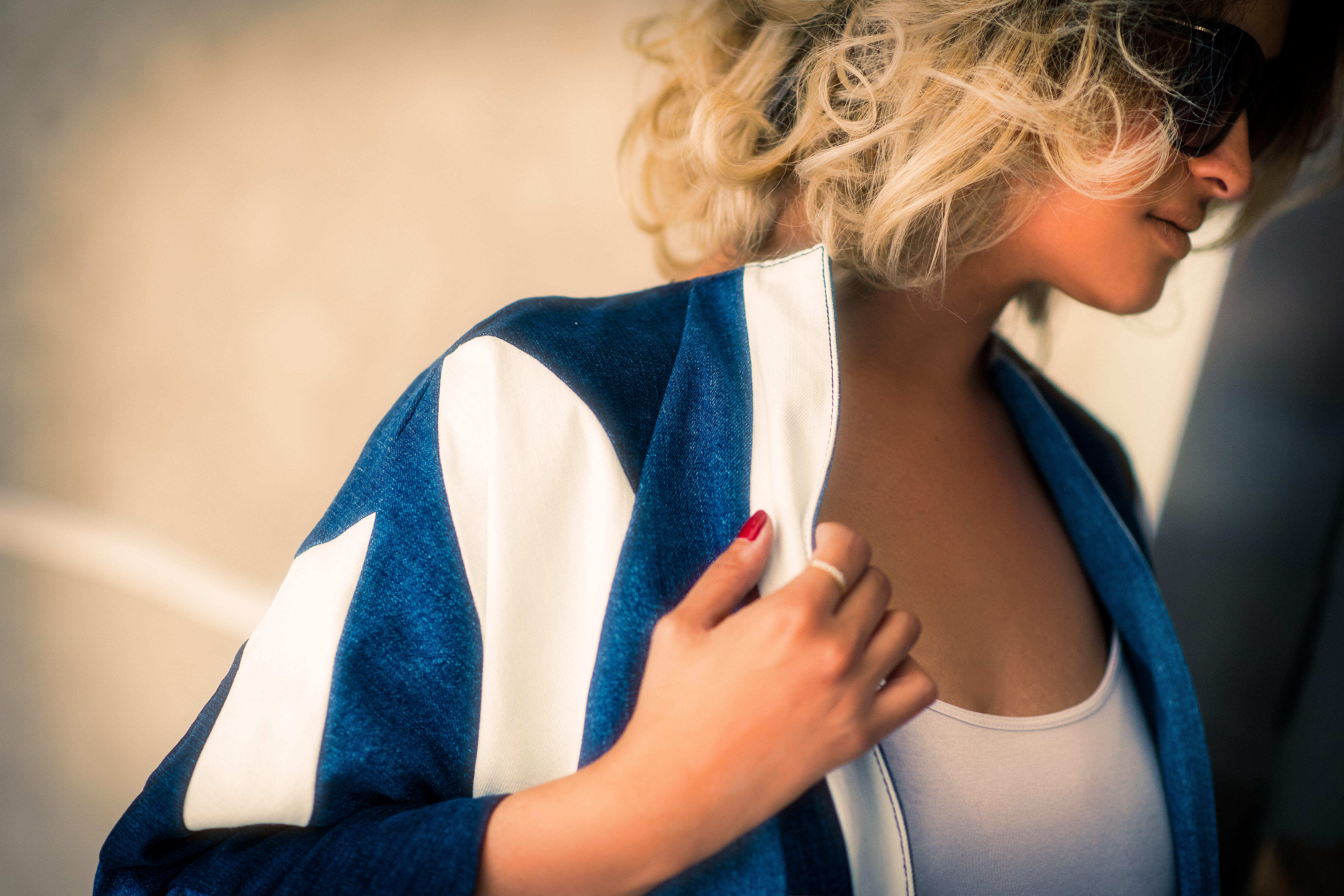 I have justified this purchase to myself over and over again. Forget preaching to the converted, I've been inner preaching like Sunday Sermons. "Please God, forgive me for I have sinfully shopped…again!" The reason I can sleep at night over this purchase is down to the fact that there is not just ONE fabulous way to wear this beauty, but THREE.  They fall into three fabulous fashion categories. Casual, Semi Casual and Semi Formal (or at least my take on what classifies casual and formal)!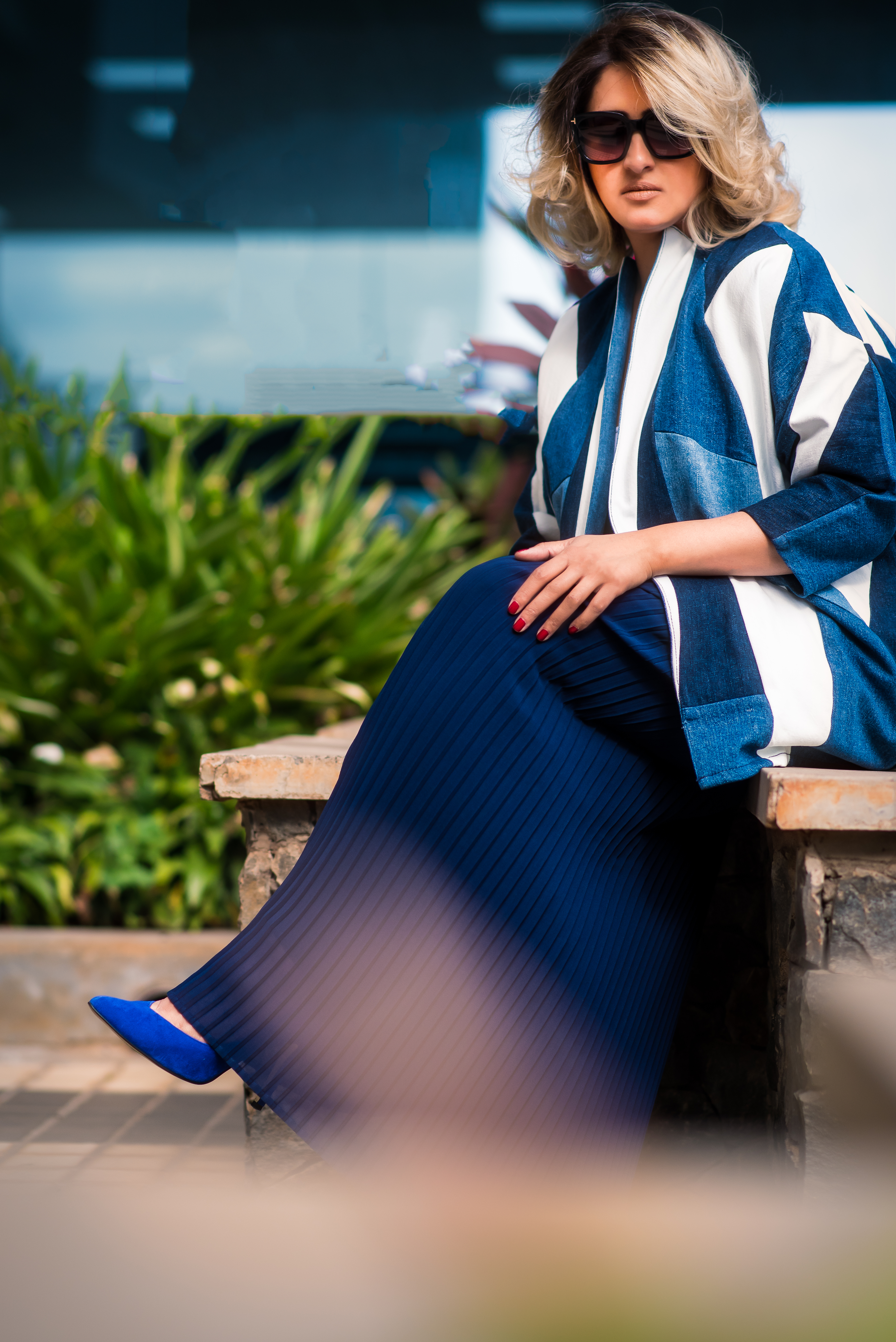 Semi Formal: Sweeping Navy Blue Pleated Palazzo Pants, Blue Suede Heels and the Maje Denim Kimono
If there was a Shakira song that could put a name to a face, or in this case a Hip, it would be Hips Don't Lie. I can't tell you the number of times I've seen an amazing pair of trousers and thought…YES Kash, you can totally rock those trousers. Only to find once I've tried them on, my hips don't lie, and look quite similar to the backside of a medium heavy weight elephant strutting across the Savannah.
These super comfortable palazzo pants came out a few years ago and for a long time I just couldn't bring myself to wearing them. The pleats and palazzo just didn't work with my body shape and I could only think to style it with an oversized top, which only made me look larger. Like a pleated sack of potatoes.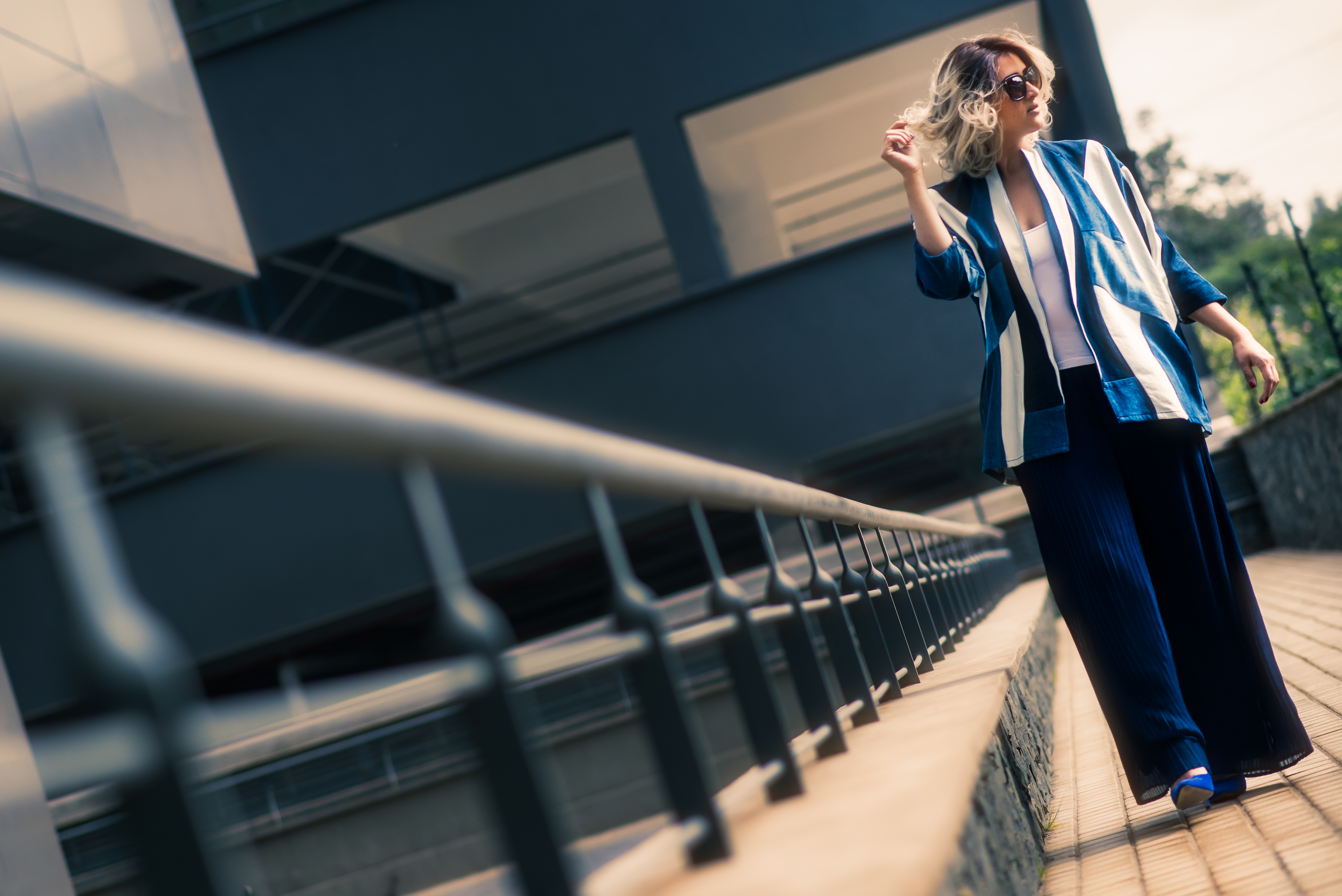 On a recent coffee date with two dear friends of mine, I decided to wear the palazzos and pair it with this denim style jacket. It's a different take on double denim…multi shades of blue denim, and I love how the dipped hem at the back flows and hides my hips. Paired with cobalt blue suede heels to add even more blue to the outfit, and despite almost looking like a Smurf, I love the shades of blue on this outfit.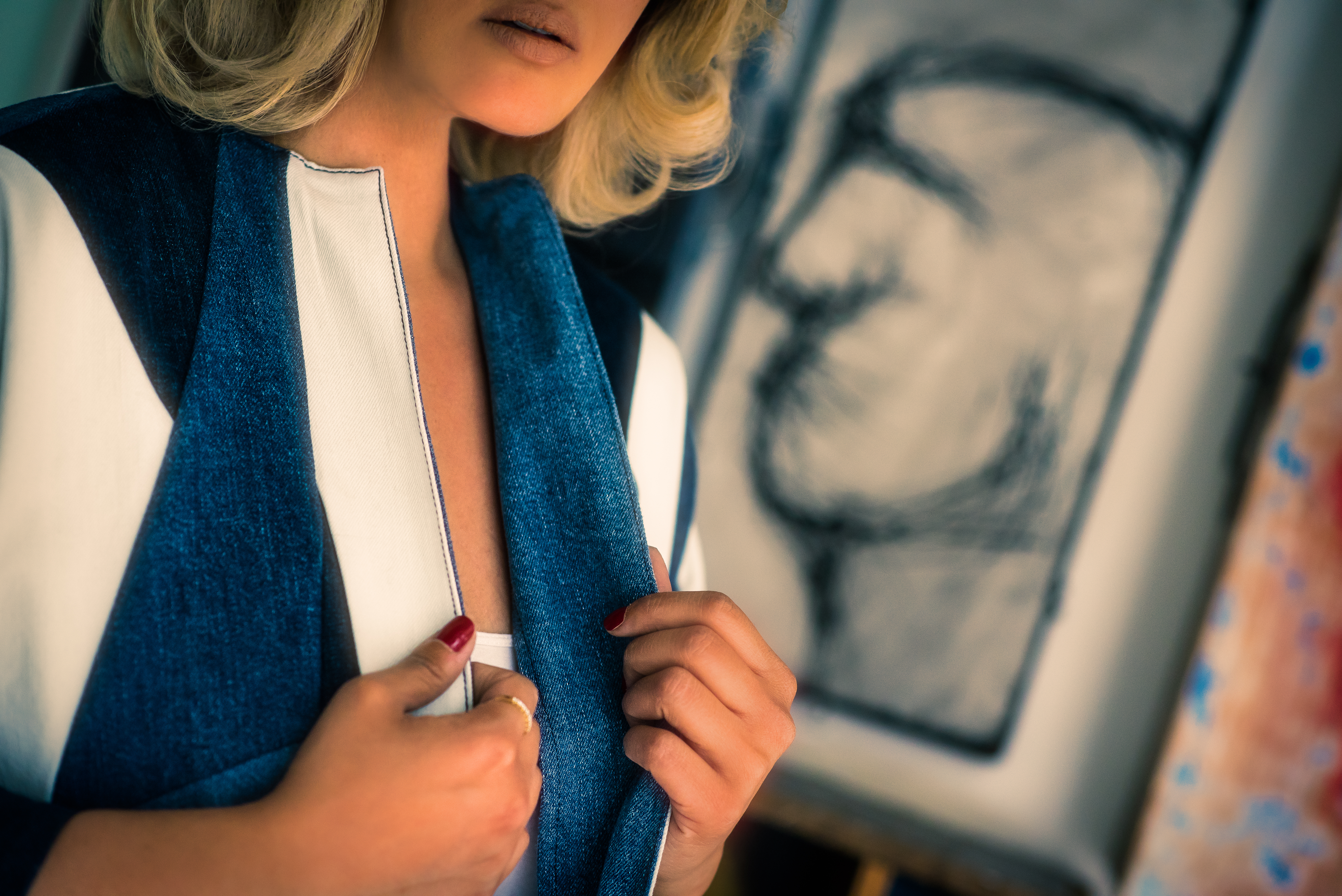 As a woman with hippity hips (and equally very proud of them), it's difficult to confidently wear certain styles, particularly pleats. My suggestion would be to wear them, but pair them right. Longer style tops that show your shoulders and bare the cleavage to offset the fall of the pleats. Or in this case find a Kimono that you absolutely love and dress it up.
Pleats are making a statement this Autumn Winter. Metallic Skirts seem to be the winter favourite staple and the stores across the high street have them trickling in like caramel over the next few weeks. Till then, I'm floating around in these wide pleat trousers and enjoying the last of the Summer sunshine. Stay tuned for my takes on the Casual and Semi Casual looks, using the same Maje Kimono.
There should be no limits to your sense of style.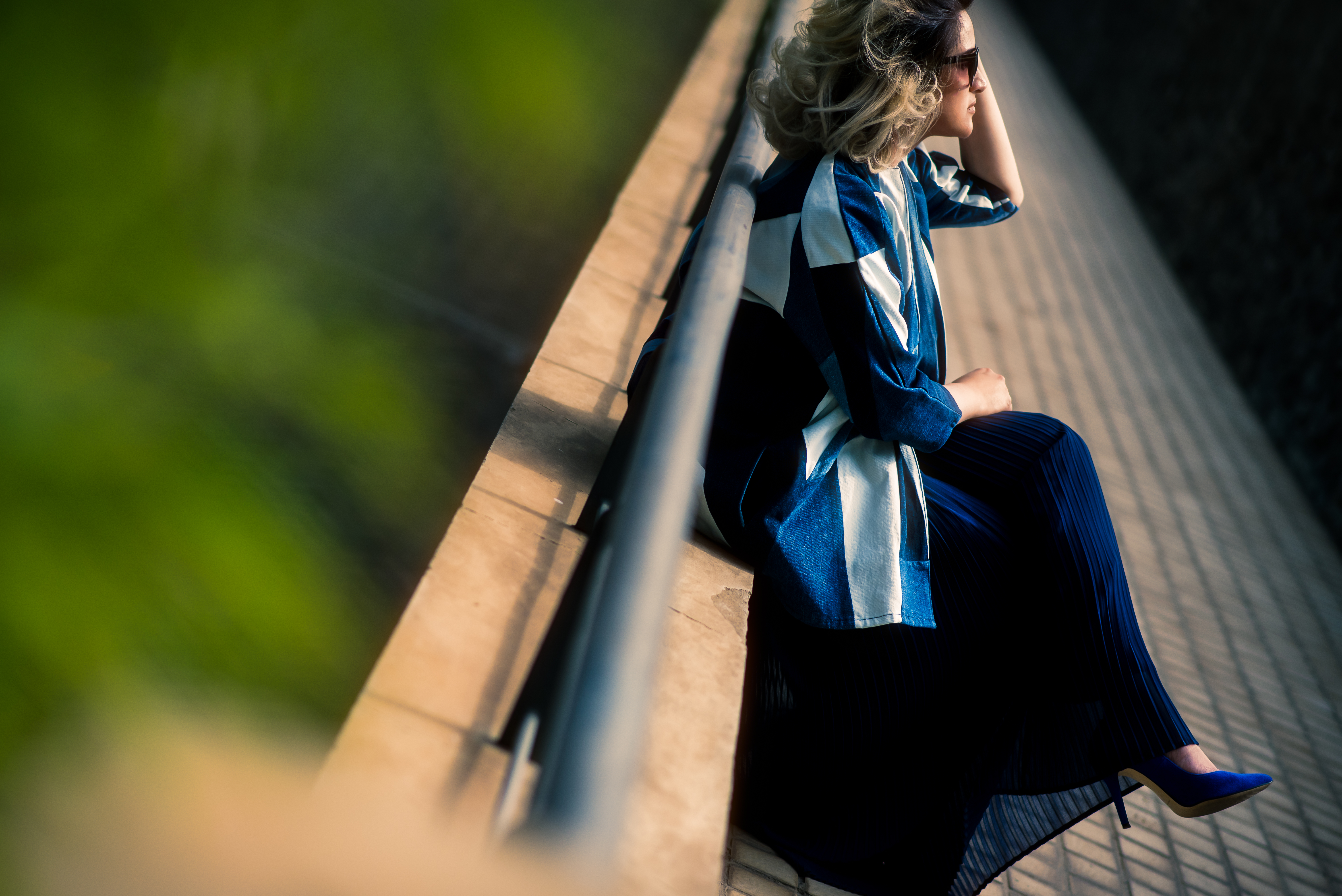 Pictures taken by the DREAM TEAM at ZURIH SIA