You know that totally smug look that creeps onto your face when deep down inside you know you are right about something…and your face can't hold back? Kind of like the Grinch who stole Christmas? The big grin across his face. Well I had that look plastered across my face a few weeks ago when perusing some of the high street chains on Oxford Street. Store after store had blazers in a variety of colours. Pink, Yellow, Printed Orange…a variety that could rival an ice cream shop. I have been a huge fan of Blazers to dress up and dress down outfits for years. Interestingly, I hardly wore them when I worked in a corporate office, and have worn them more at social gatherings and parties instead. Now they have hit everything from luxury to high street in velvet, crumpled sleeves, a variety of colours, prints and patterns. It's definitely a Fashion staple that should sit in every wardrobe.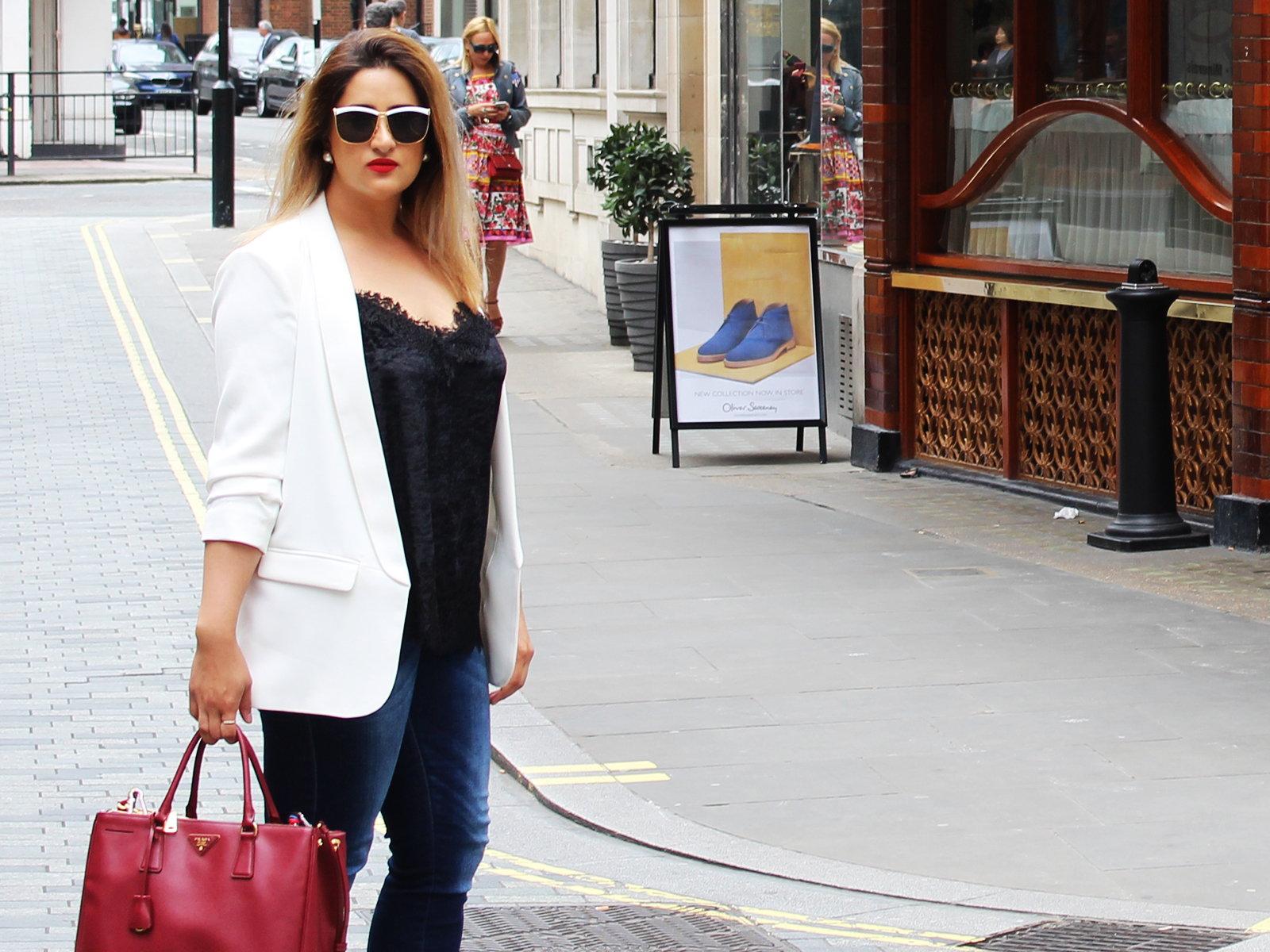 Black, the most common and obvious blazer staple, is usually the go to for versatile and classic. The white tailored jacket, surprisingly, is also equally versatile and should be a part of your classic wardrobe style. Whenever I have thought of Blazers, I've never really ventured past the classic black, until I purchased a crisp white tailored jacket a few years ago. It was worn once, and never again. And for good reason too…
That particular Summer, every fashion wardrobe was teeming with white. The obvious summer go to colour. Having always worn Black blazers in various styles, I decided to sport my newly acquired tailored white blazer. The reason I never wore it again is down to a tiny little can of Coca Cola. I was boarding a flight back to London from a friends wedding in Bucharest. It was the height of Summer, and at the time I had paired it with comfortable khaki trousers and a black tank top. I had managed to drink a cup of coffee before hand and my outfit was still intact. Who said you can't wear white and travel?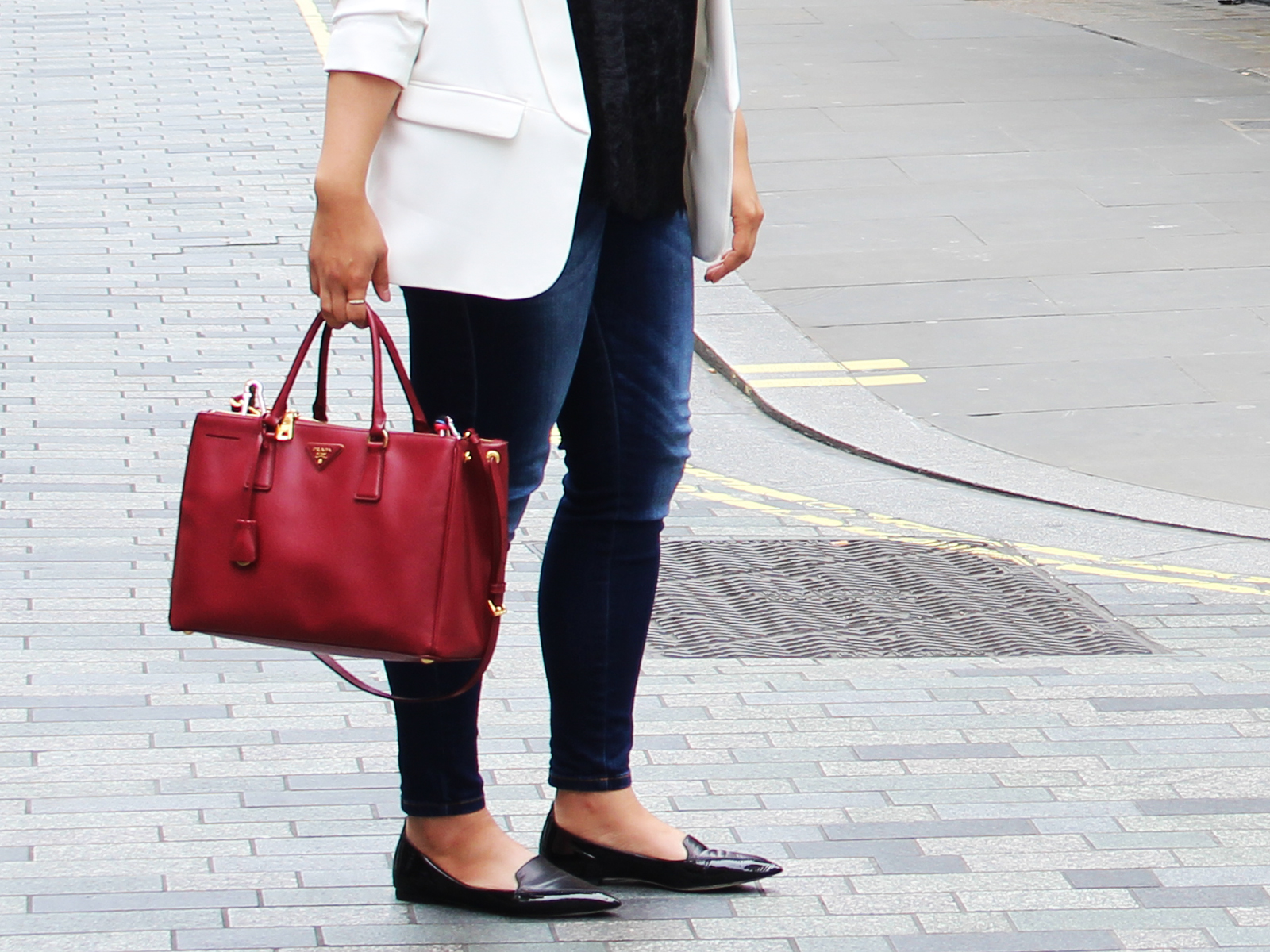 Once on board, I sat back in my seat, clipped in my seat belt and right after take off ordered a coca cola. Usually the Air hostess would open it and pass it to you with a glass filled with ice cubes. For some reason she handed it to me unopened, and I placed it on my tray table. A few minutes later, while yapping away, I opened it.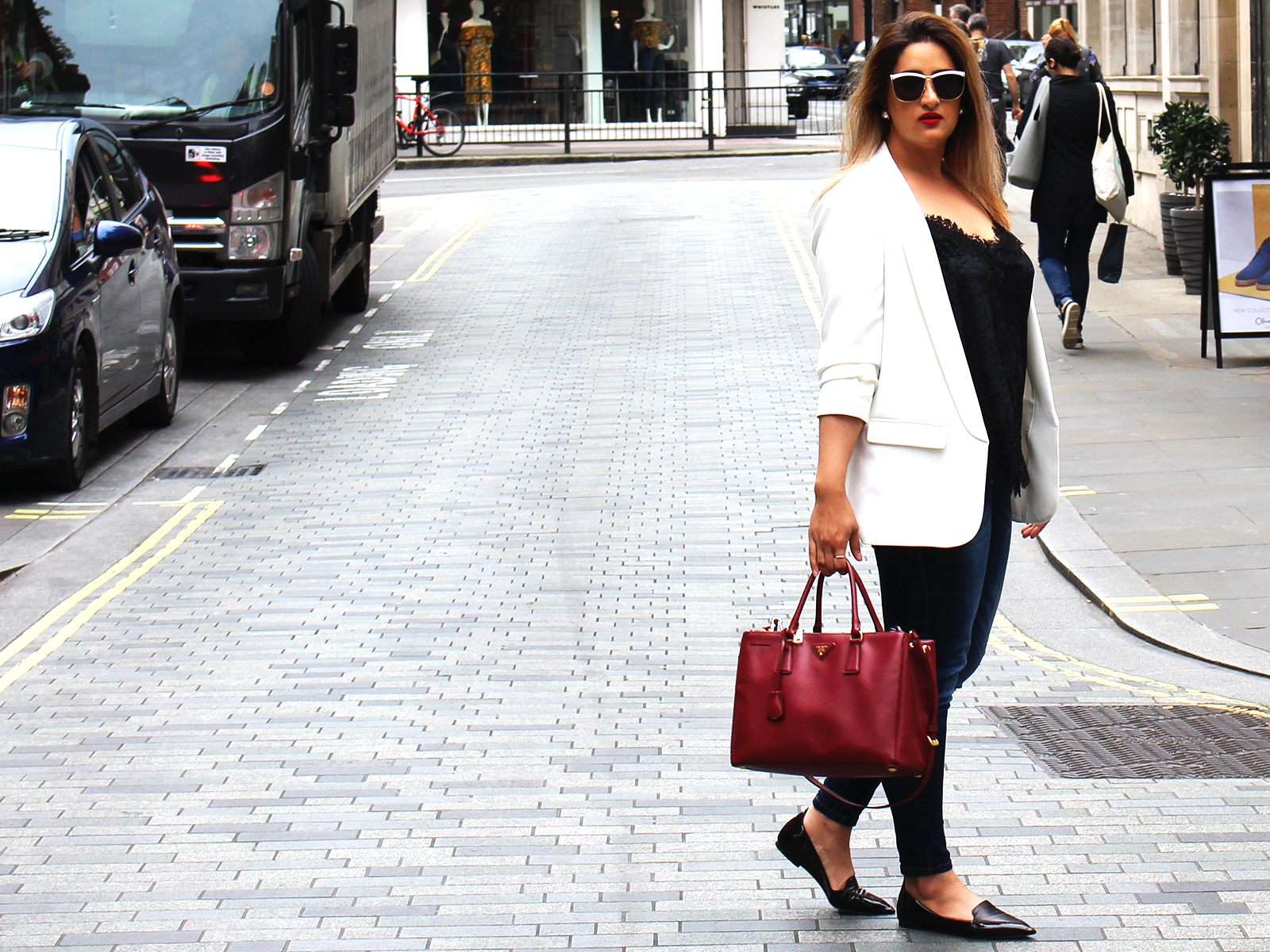 Sppooooossssshhhhhhh. EVERYWHERE. My face, my hair…my entire upper torso was covered in Coca Cola. I now looked like a drowned rat. Soaking wet and completely surprised that so much spray came out of a tiny can, except now I had to sit the 4 hours back to London in a sticky mess. It was also the last time I travelled without a spare change of clothes in my carry all. Lesson learnt, I was haunted by the experience every time I looked at my blazer.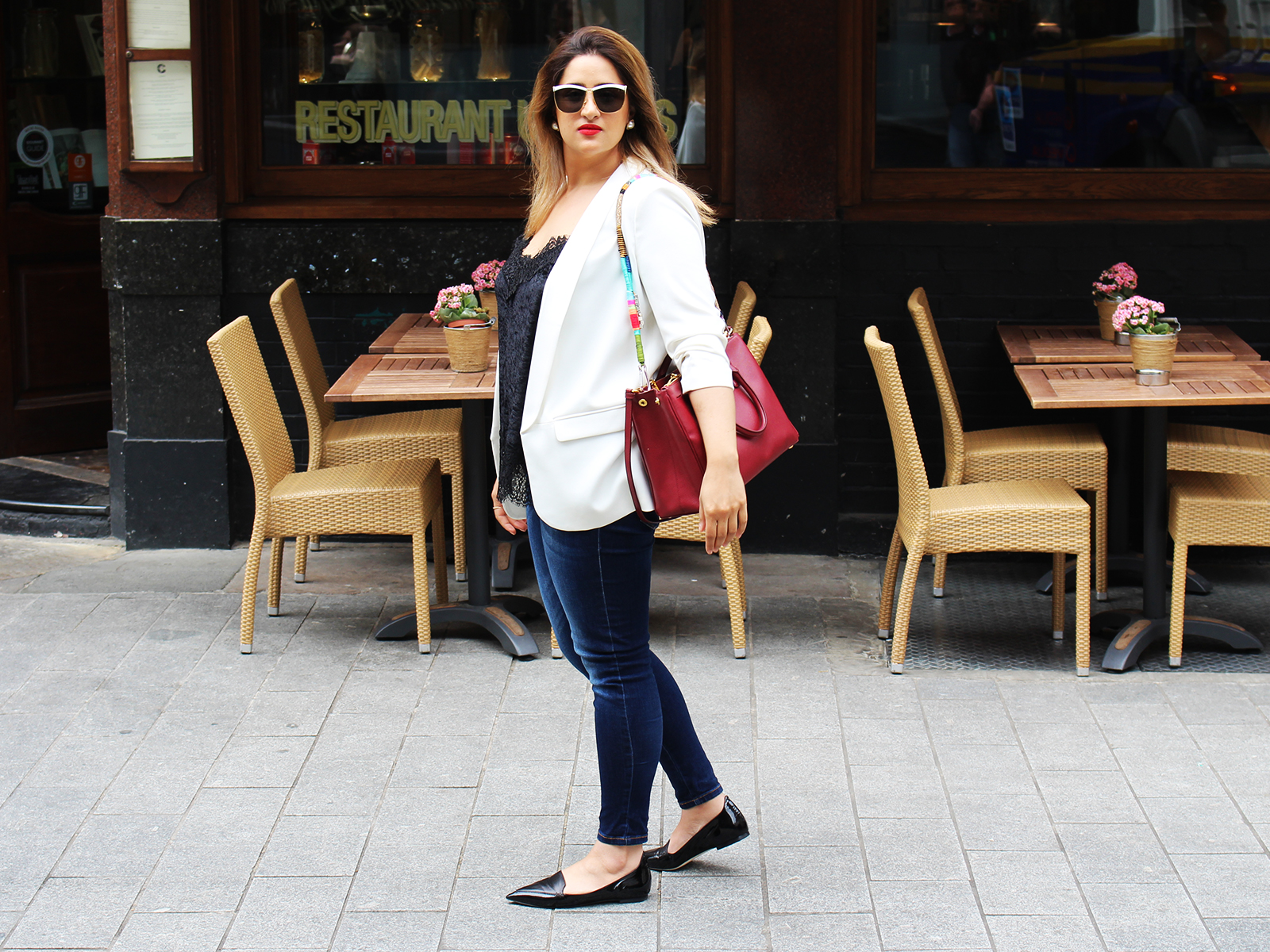 A few weeks ago, I decided to embrace the summer style with a white blazer. This time it would be different. I would stay away from fizzy drinks of all kinds. I paired it with a pair of dark blue denim jeans from Zara, black velvet strappy top with lace, my favourite shoes from M.Gemi and popped some colour with red lipstick and my red Prada bag. Simple, understated and classic! Every time I wear black or white, I like to pop my outfit with bright lip colours. On this occasion I went for a Red Retro matte colour from MAC.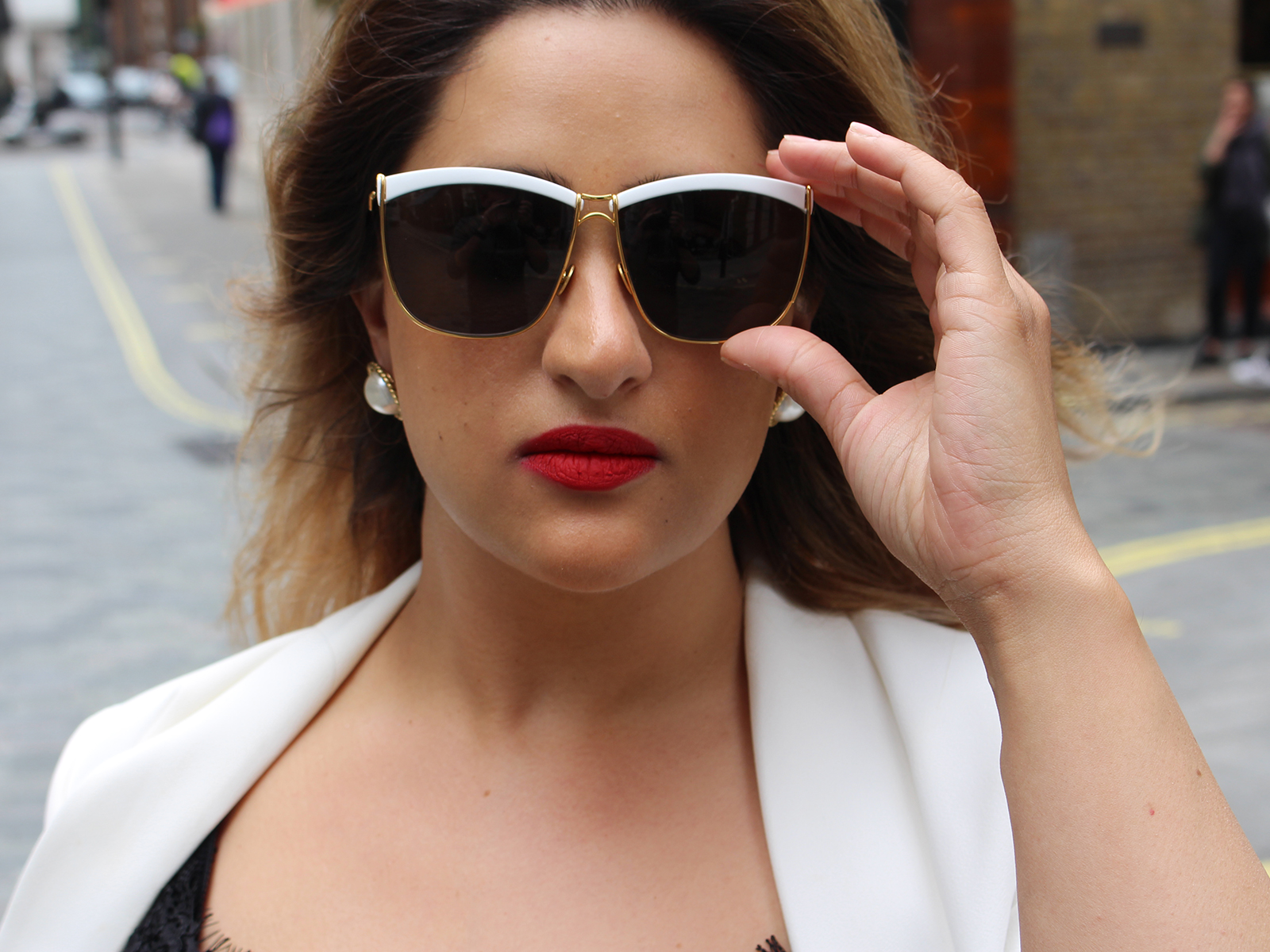 There are many ways to wear a white blazer, which is why it sits in most bloggers wardrobe classics. Pair it with sundress and strappy sandals. Over tank tops with skirts, jeans or shorts. Hang it over your shoulders on top of your cocktail dress for summer drinks in the evening. The beauty about the white blazer is that it goes with everything. Prints, patterns, solid colours, metallic, mixed and matched materials and styles- you can't go wrong with dressing up or down and outfit, if you own one of these blazers. How would you wear a White blazer?