A few years ago I was window-shopping with one of my best friends when I picked up another sparkly sequin jacket. She looked over at me and insisted I had enough. Sequins were not going to be in fashion forever. I disagreed. Fashion trends come and go…and always, somehow, come back. Reinvented, brighter, softer, sharper, and edgier, with oomph, glam and bejazz. I preached it as though I was conducting a powerful sermon on a Sunday morning. I'm pretty sure I even ended it with an Amen too. Channelling my Mother, I very recently turned around and said those four words. Those very four words that hit the bottom of your soul, particularly when your Mother says them to you. I. Told. You. So.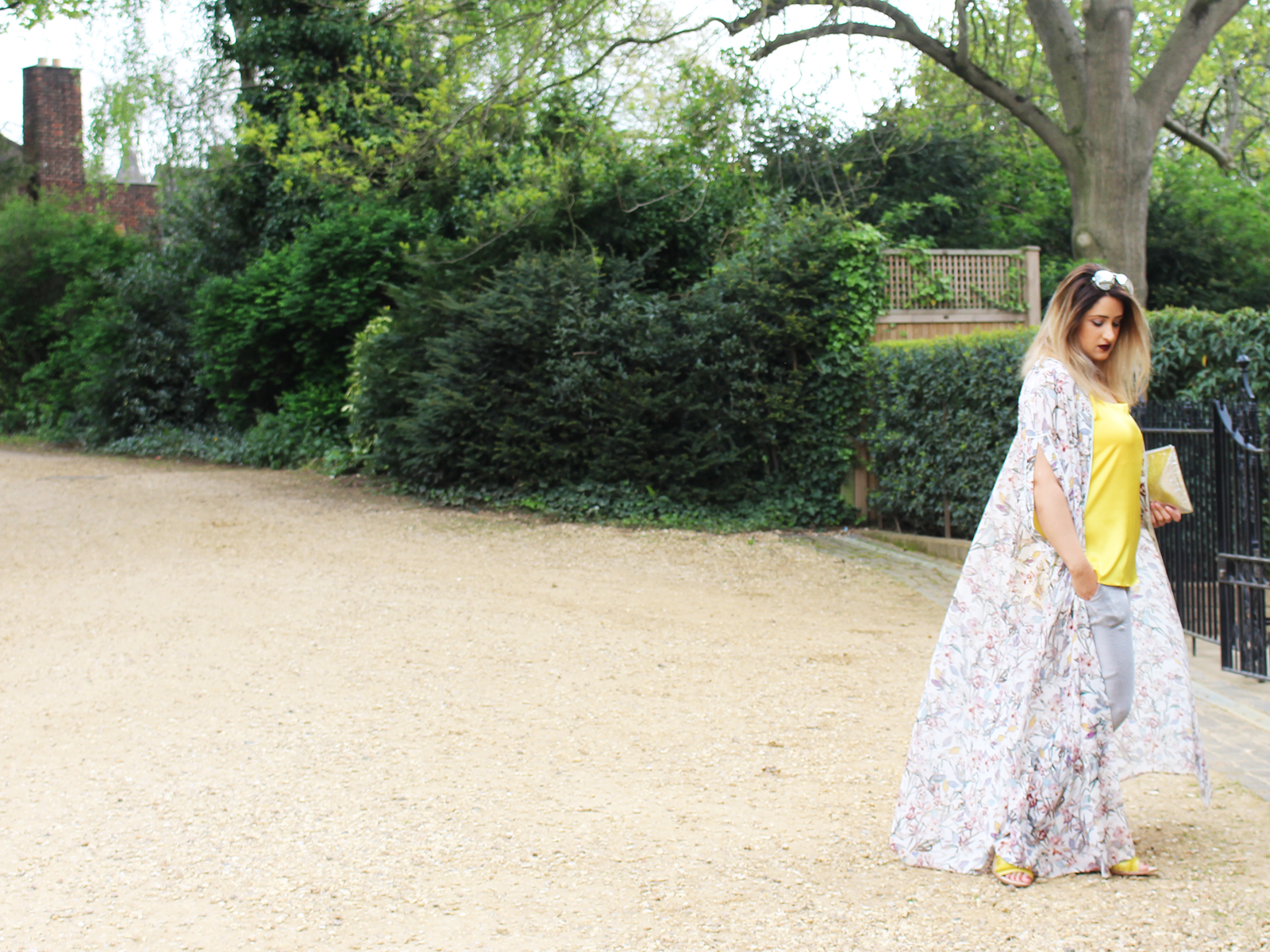 The same can be said about florals. Show me a spring season where florals (of any kind) have not made it onto the runway or onto the high street. Or maybe we tend to mirror the seasons around us every single year and as the very first flower starts blossoming, we have to channel that energy into brightening up our wardrobes and our moods to mimic the season. Either way, I still picture Meryl Streep from the Devil Wears Prada as she turns around and says "Florals for Spring…Groundbreaking!" Ahhhh…I love you Meryl. This year the the floral prints have come back as though extra fertilizer was put in the pot, and I love it. More flower power all the way. I told you so…florals will be in season every. single. year.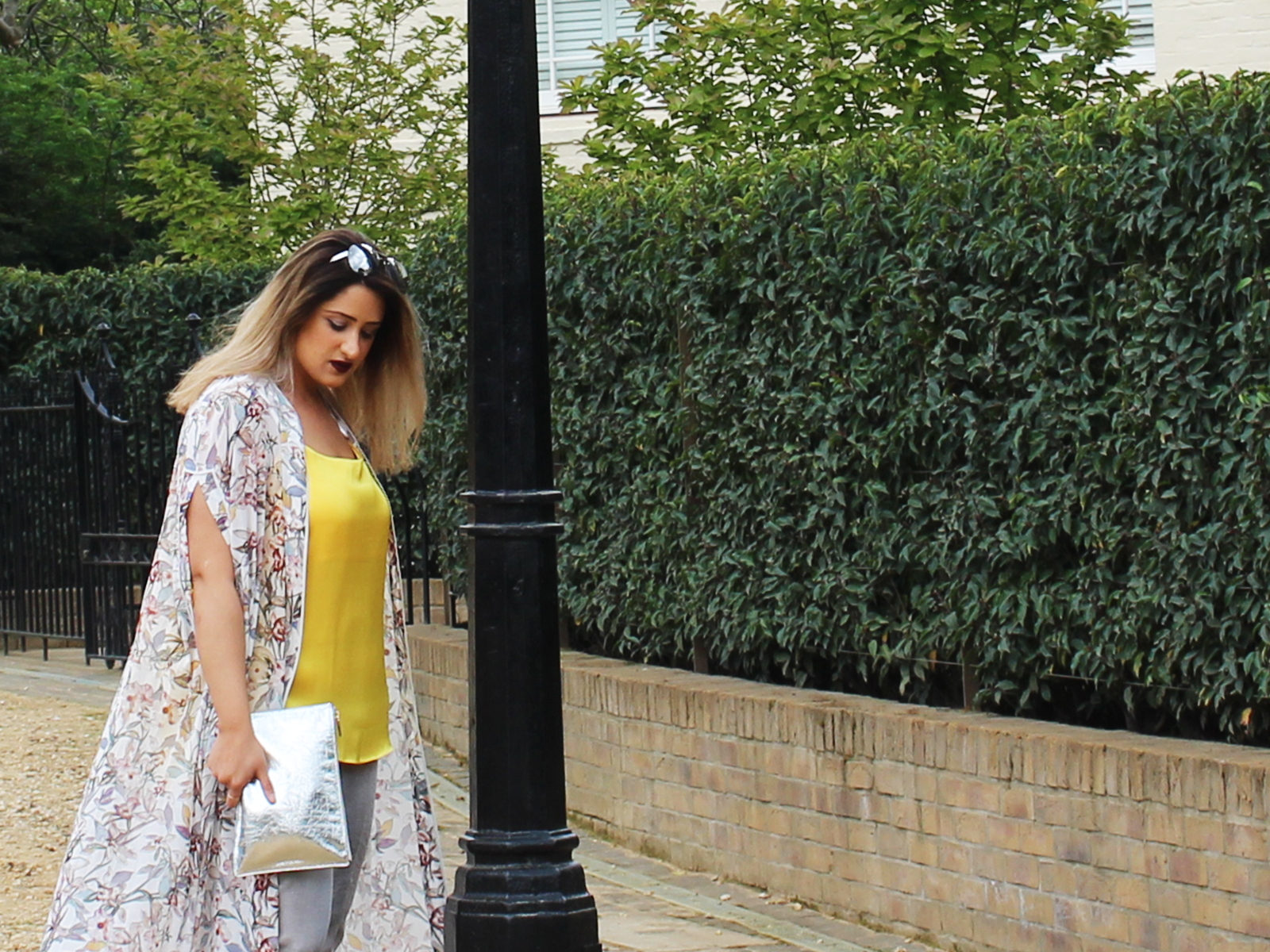 At the wedding of one of my oldest friends a few months ago, I decided it was time to finally try carry off the floral cape-kimono that had been sitting sweet in my closet for far too long. It was a purchase during last season's big bang floral trend, except I hadn't quite figured out how to style it. My style for so long had been black, black, a darker more edgy colour of black…and more black. I have a thing for flowing breezy kimonos and capes, but it's not the same when it's in one plain colour. They give off a completely different vibe when they're covered from edge to edge in powerful prints. In this case, mine was flower power overload.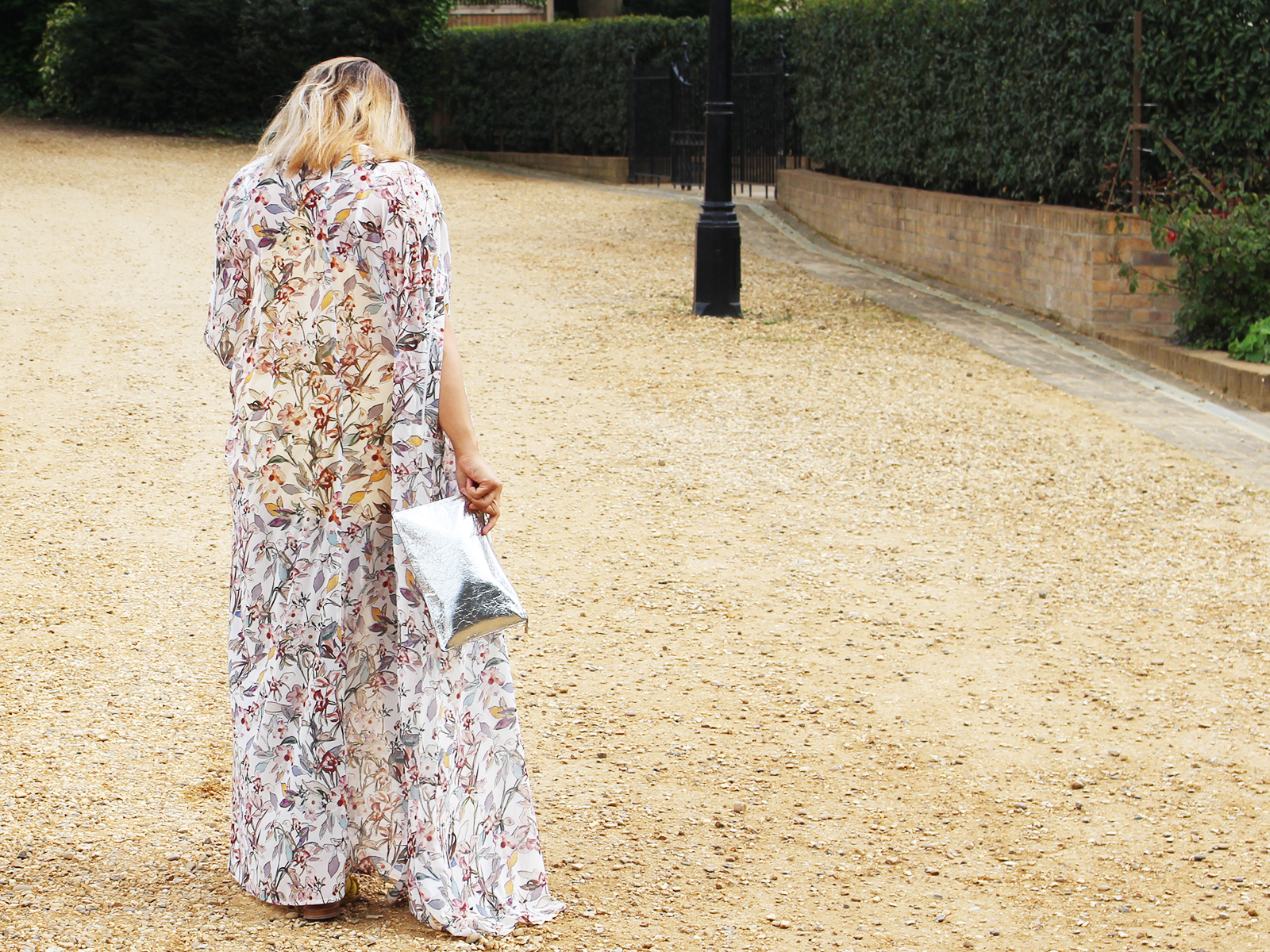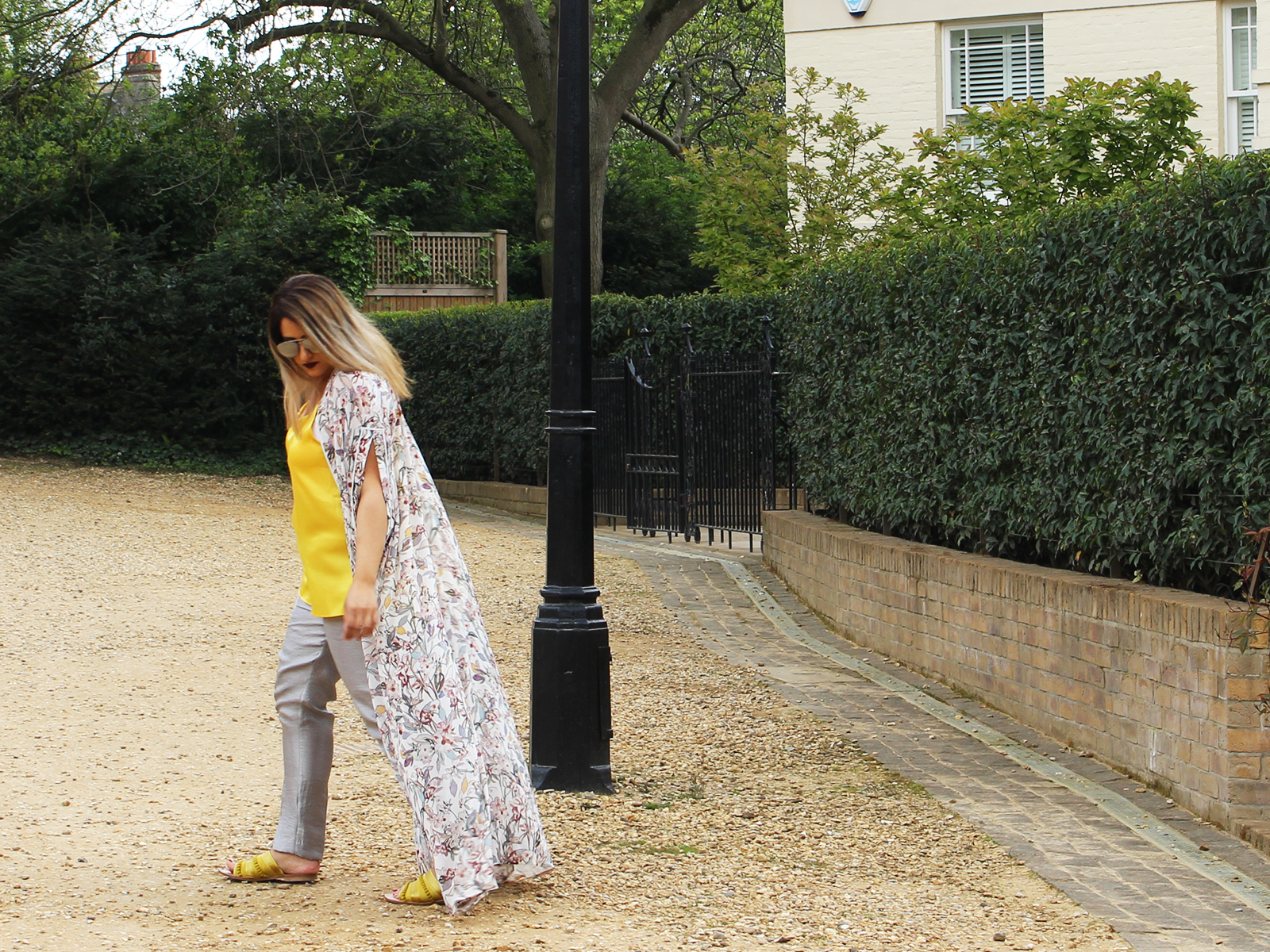 In my closet, capes and kimonos have always hidden the unwanted curves, love handles, muffin tops and bat wing arms. It's crazy that this one item of clothing can transform both your outfit and uplift your confidence when you step out the house. On this occasion I paired it with a short silver satin strappy dress from HM and heels from Whistles. The kimono style cape covered up my arms enough (which I am terribly conscious of) and I felt great. I matched it with neutral makeup: light silver shadow, golden blusher and a nude lipstick. The focus was all on the cape kimono.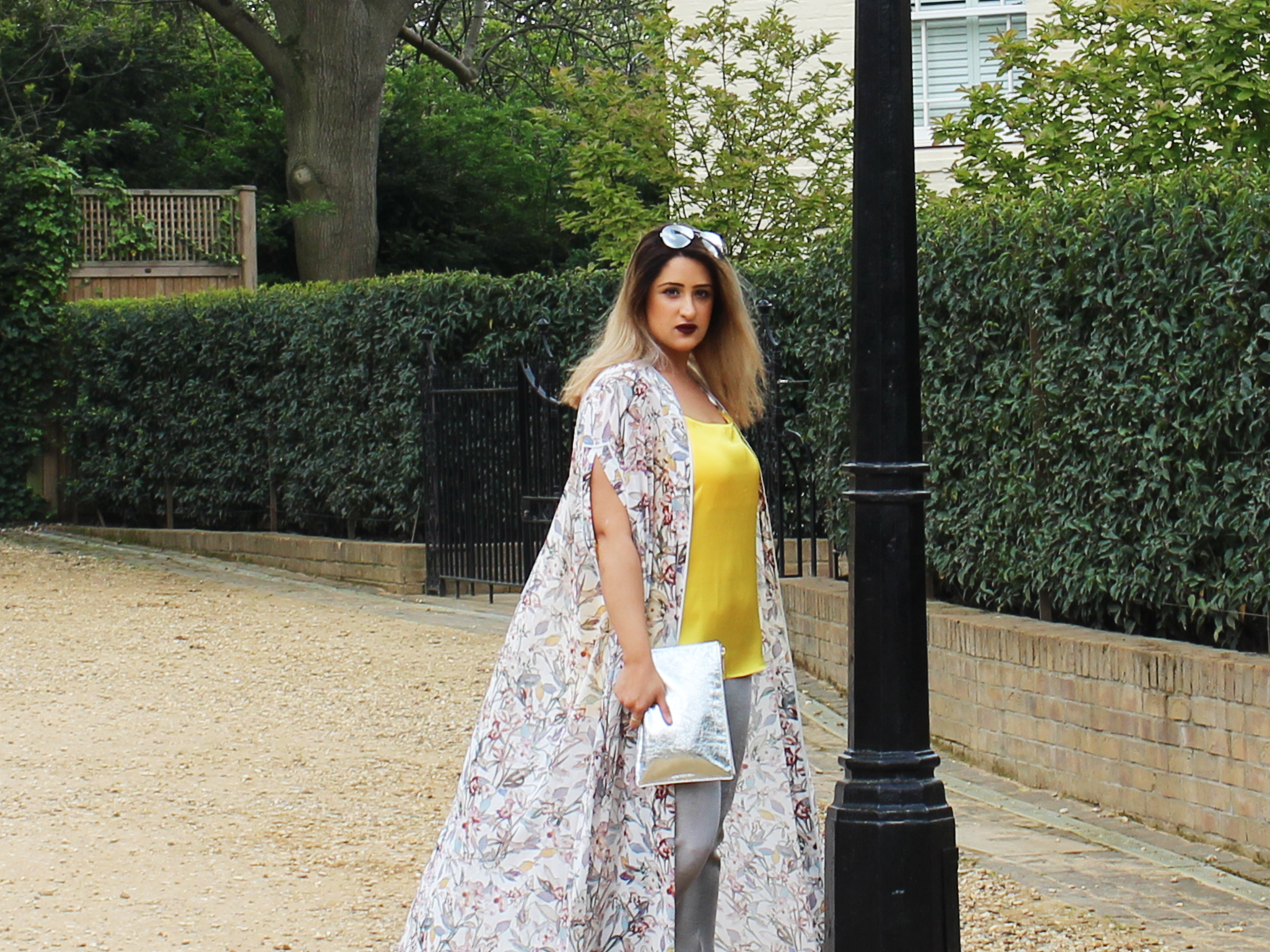 The wedding was set in the most beautiful of destinations, The Giraffe Manor in Nairobi, Kenya. You can read a little bit about the magical manor and centre in my post "48 Hours in Nairobi, Kenya". There are not enough words to describe how beautiful the wedding was, but if I could put it down to three, it was magical, intimate and downright phenomenal. Watching two beautiful human beings say "I do" to one another in front of family and friends, with the backdrop of giraffes, made it a one of a kind lifetime moment.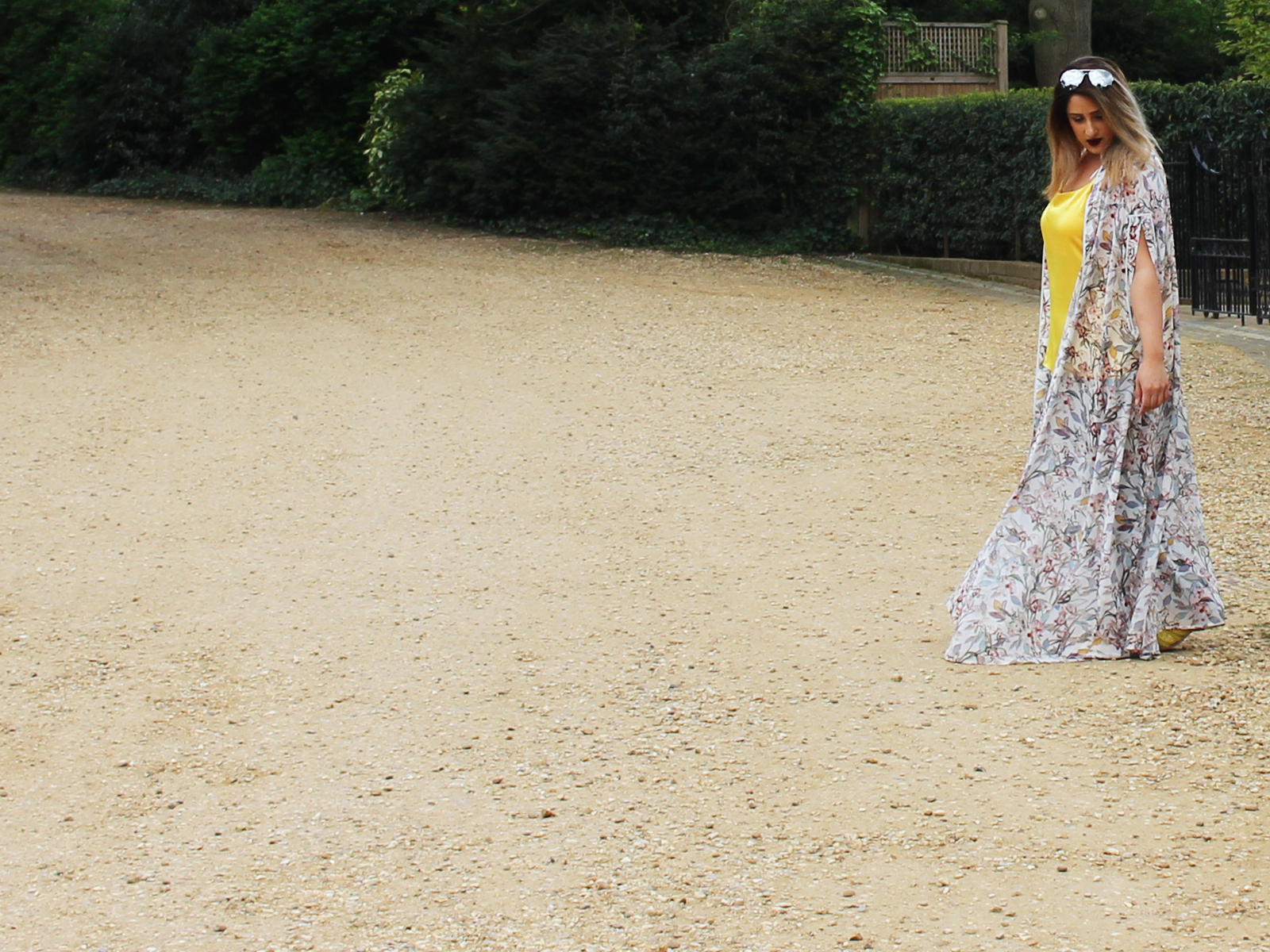 Returning to London, I was left wondering how I would once again wear my cape kimono. I love wearing dresses, but I don't really wear them enough. I've always felt more comfortable in trousers and jeans. This time I decided to pair it with raw silk silver trousers and a strappy satin camisole. Opting for flats over heels, I wore my mustard pom pom flats from the Whistles Summer 16 Collection. I couldn't help twirling around and feeling the wind as it blew up my cape, and to be honest, I felt like the floral version of Super Woman. This time I went bold on the makeup. The flowers have beautiful streaks of mustard yellow, deep burgundy red with scatterings of light grey, violet and teal. Dark red lips, and dark eyeliner went perfectly to finish off this outfit choice.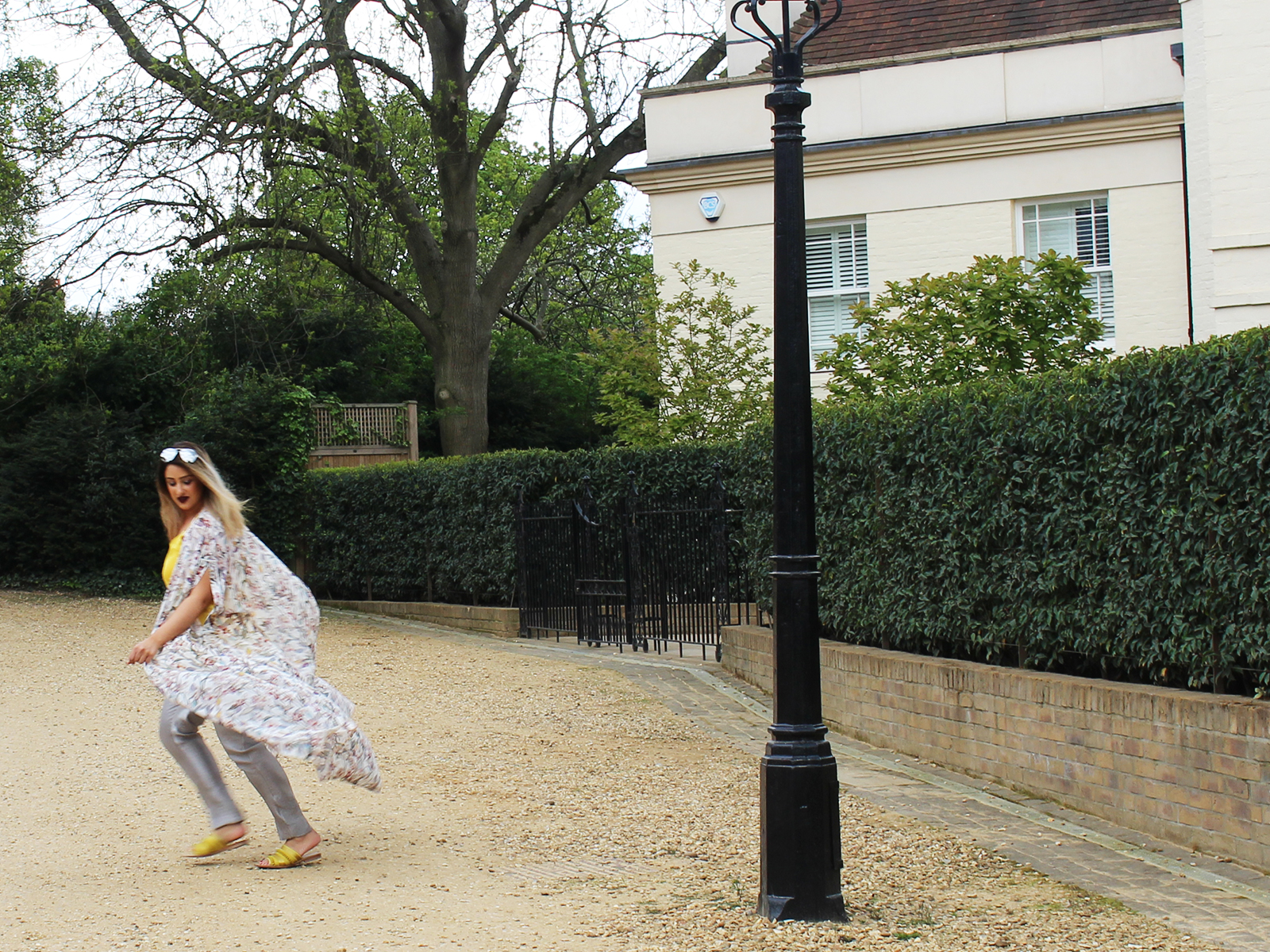 My advice when purchasing kimonos and capes this season, is to push the boundaries of how you would wear them, regardless of your size! They don't necessarily have to go over dresses, and can easily smarten up a simple trouser and camisole combination, or jeans and a tank top. Maybe even consider wearing it over straight skirts and crop tops with wedged heels. Proudly play with your makeup and go for bold lipsticks and eye makeup, even when you have a flower power crazy print. Go big and bold with this fashion statement and feel like a Super Woman when you do! I know I did when I wore mine last!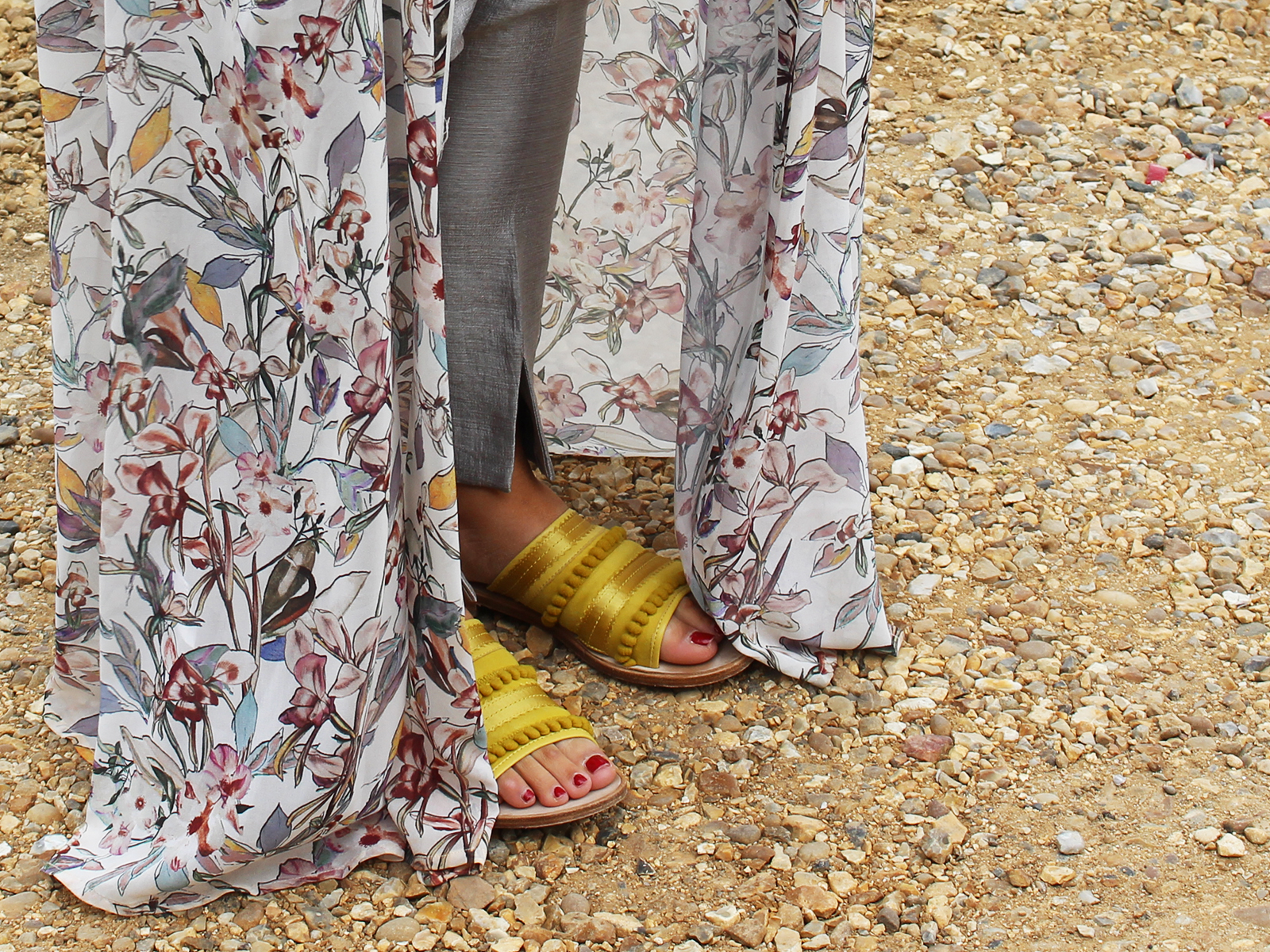 What I am wearing: Cape (Mango Summer 16), Trousers (H&M AW16), Satin Camisole (River Island Summer 16), Sandals (Whistles Summer 16), Bag/Clutch (Whistles), Sunglasses (Linda Farrow).