I am convinced that anyone who visits Kenya and experiences all that it has to offer will fall in love and forever be tied to its wild, charming and endearing spell. This isn't a blanket statement, but one that stems from the rich history of Kenya when Denys Finch Hatton, a legendary British aristocrat visited Kenya in 1911 and left his heart in the wild. He fell in love with Kenya and its wildlife, became a famous photographer and conservationist, and introduced the British Royalty and business tycoons to experience the magic of Kenya with his luxury safaris. While I write this, I can't get Meryl Streep and Robert Redford from the movie, Out of Africa, out of my mind. Robert Redford played Denys Finch Hatton. While pictures are worth a thousand words, and movies briefly touch a humongous iceberg when it comes to depicting a safari in Kenya, there is so much more to the experience in person. It's breath-taking, and what dreams are made of.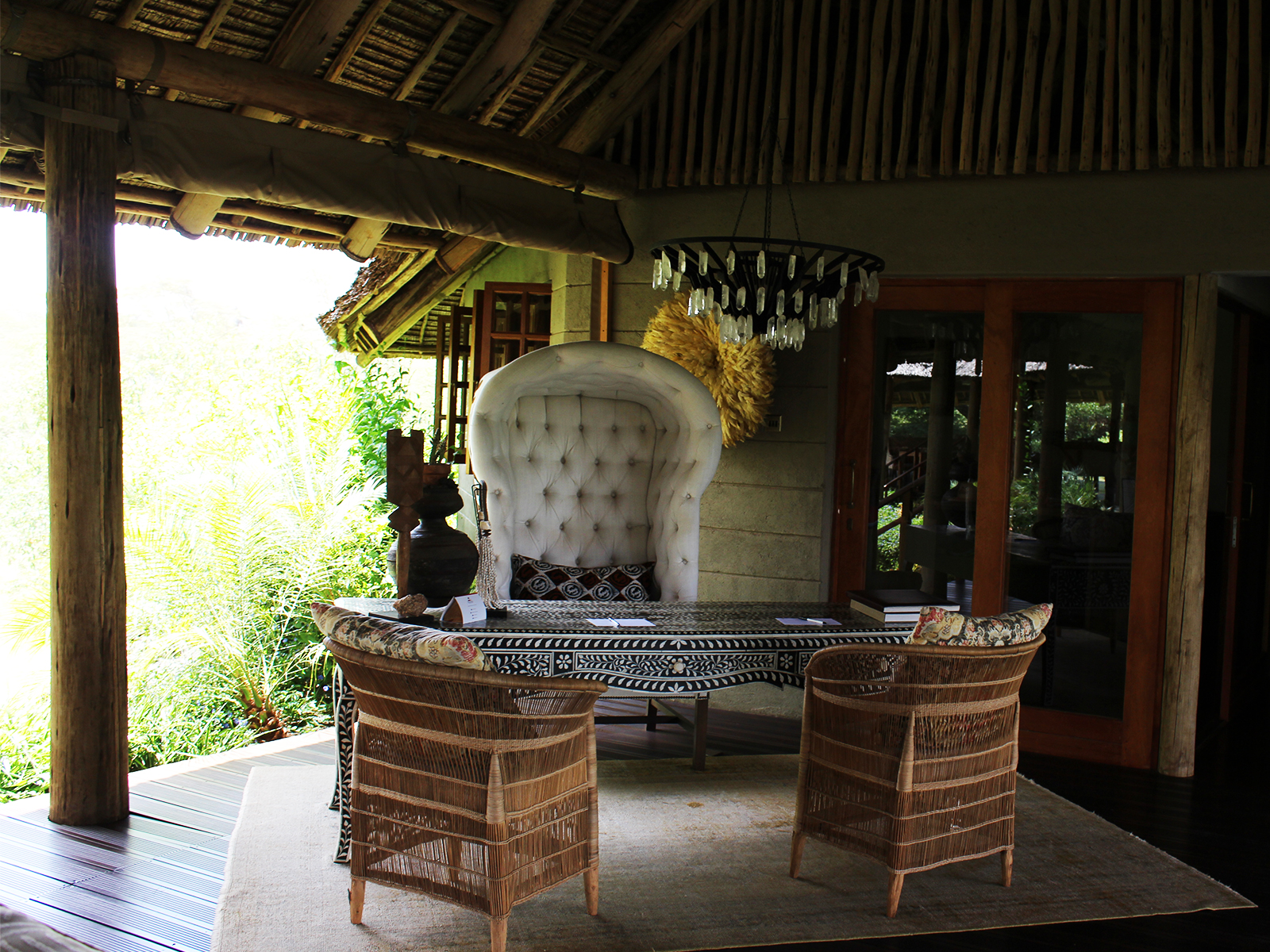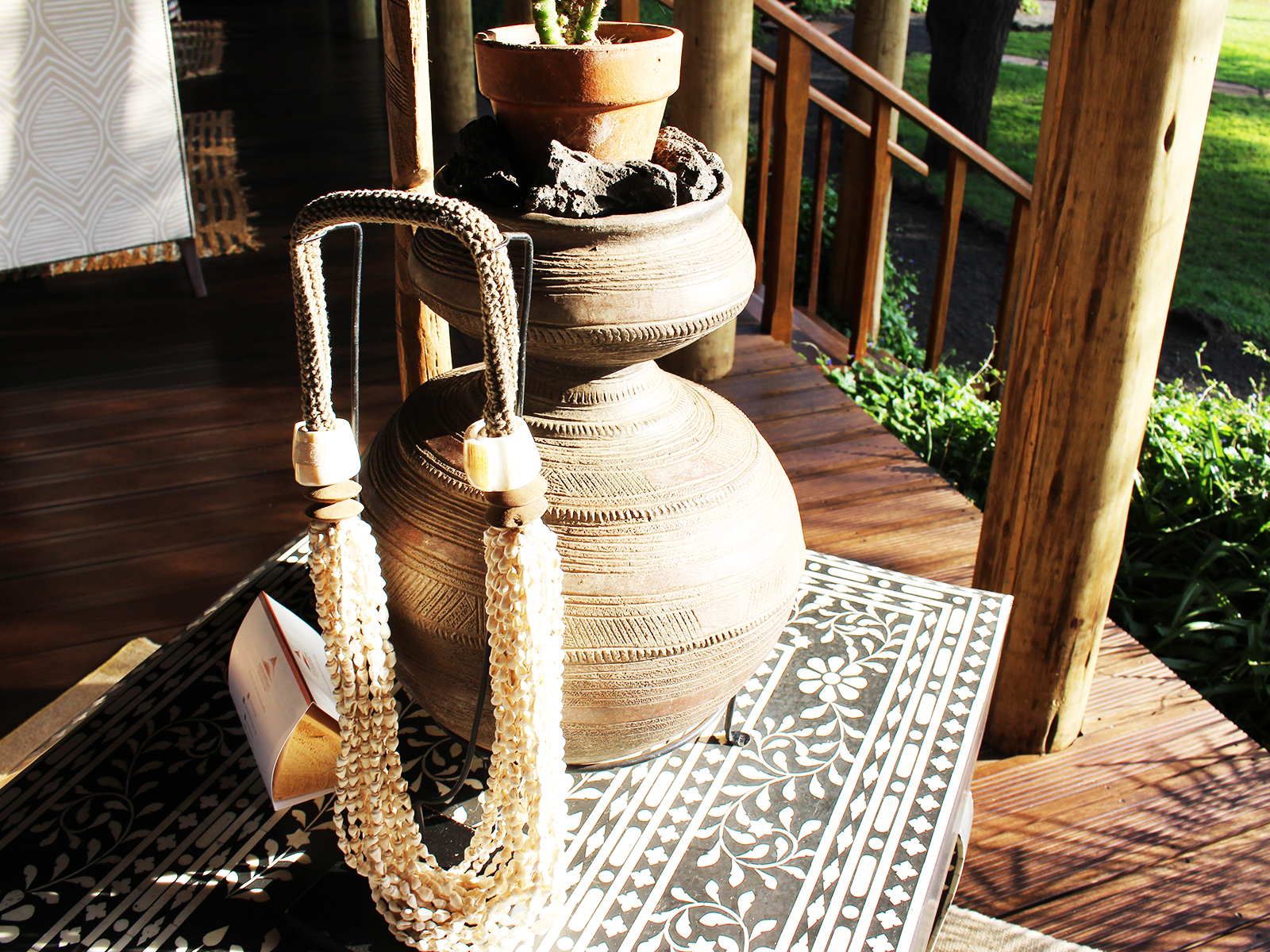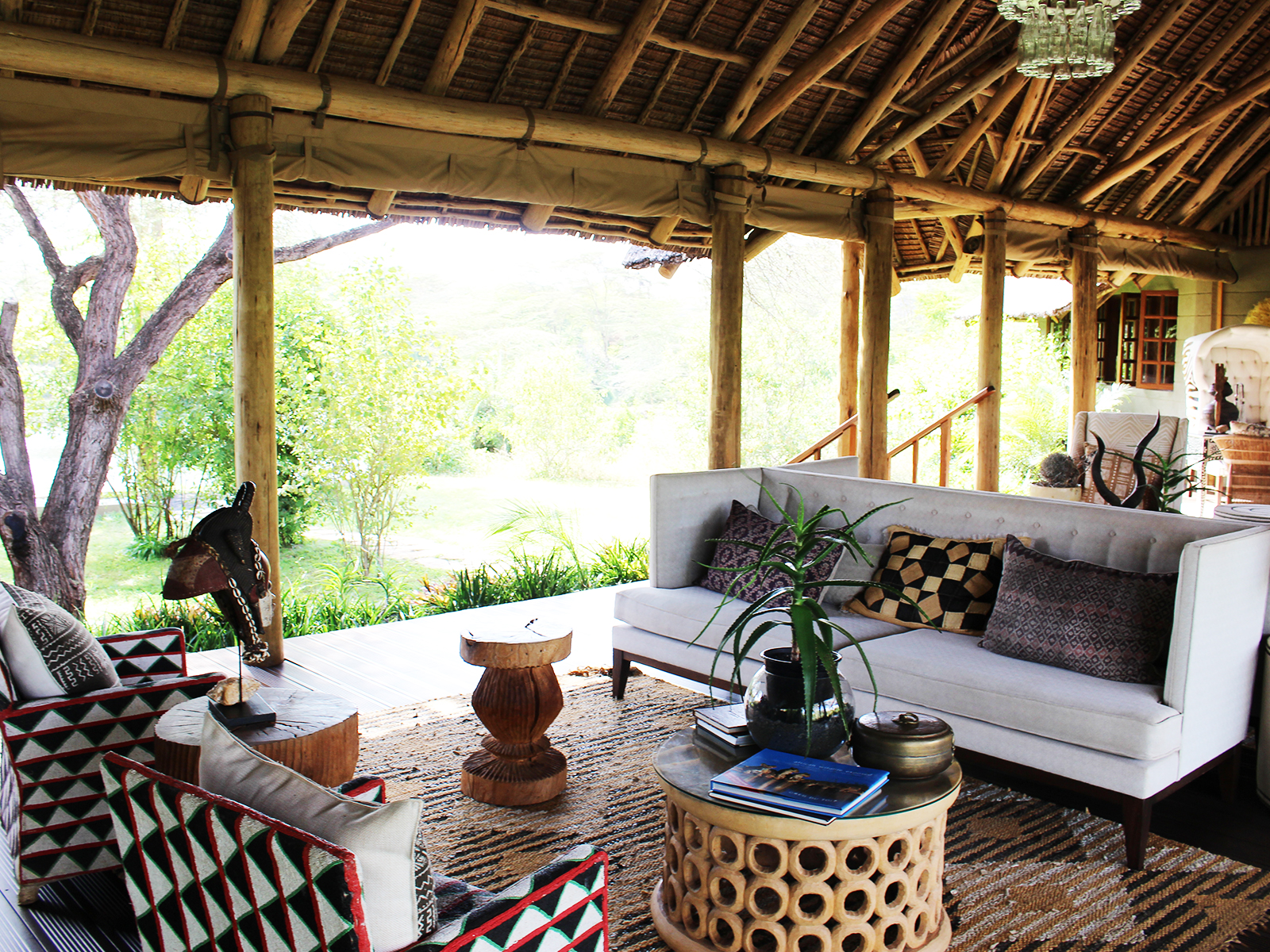 After a whirlwind 48 hours in Nairobi, I embarked on a road trip with family and friends down to Tsavo West National Park. Home to Kenya's largest elephants, deep green bushes, and trees growing in an arid savannah is the luxury-tented camp, Finch Hattons. The camp is located on an oasis of natural spring pools, surrounded with 17 luxuriously decorated suites, including the Finch Hatton Presidential suite and two family suites, each with two bedrooms.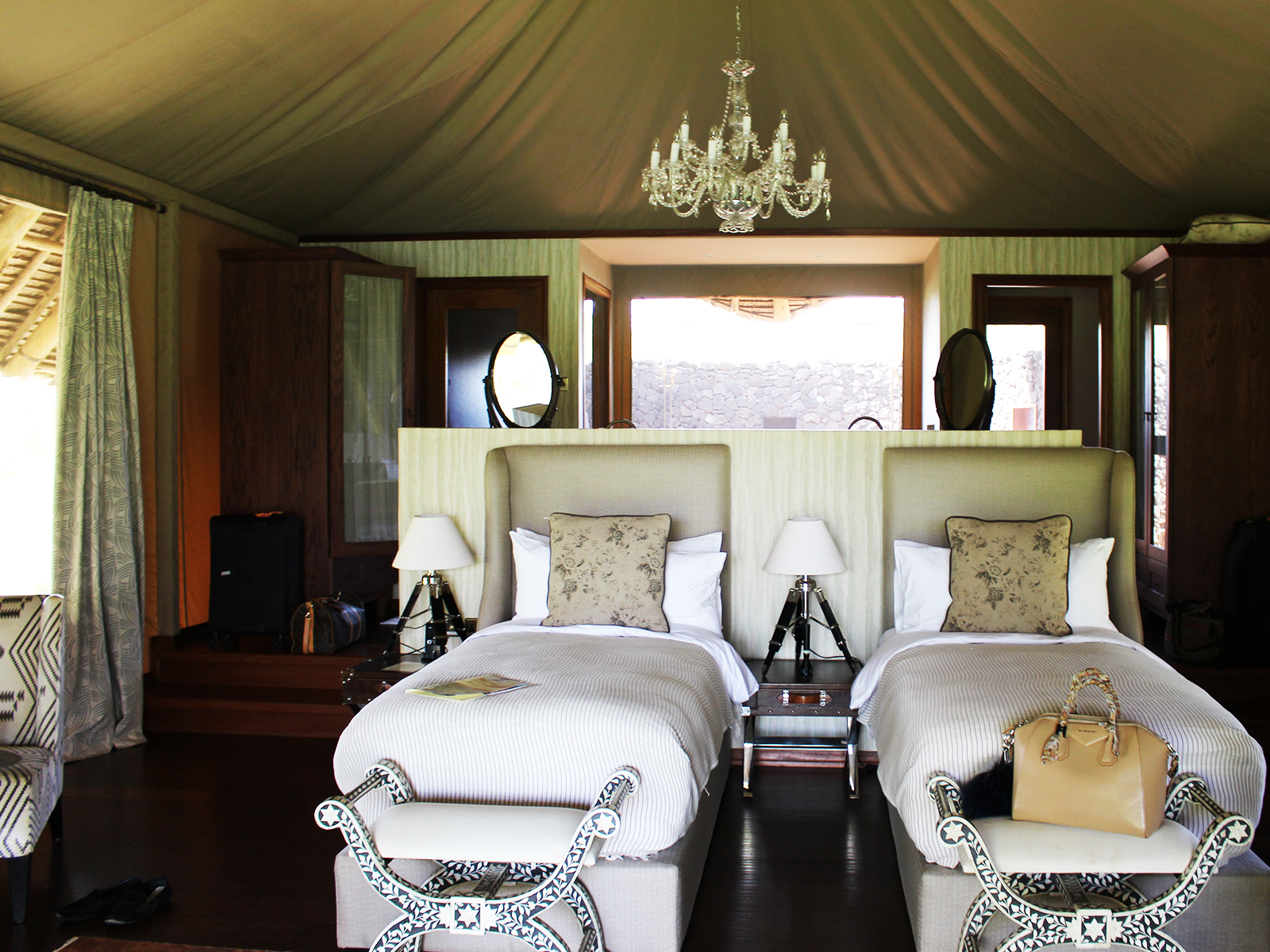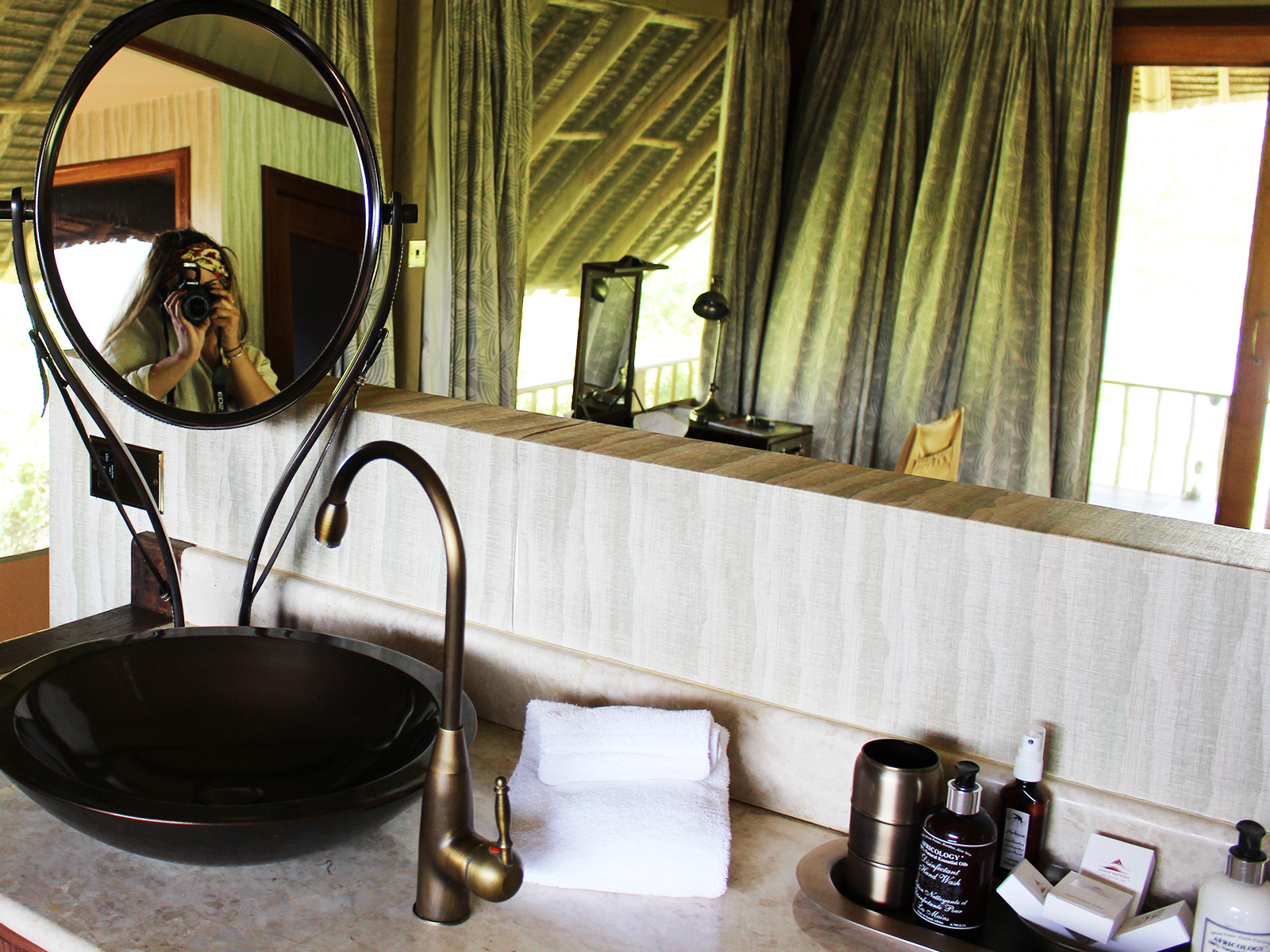 We settled in our tents, which is an understatement, because they were not just tents, but safari palaces. Under high thatched roofs, the canvas tents are beautifully draped with chandeliers, dark solid wood furniture, luxury linens, deep brass bathtubs, and open outdoor showers. All the comforts for a luxury escape into nature, including a fully stocked bar with delicious snacks and all the makings for a perfect cup of tea on your private deck over looking the bottled green water. My perfect escape.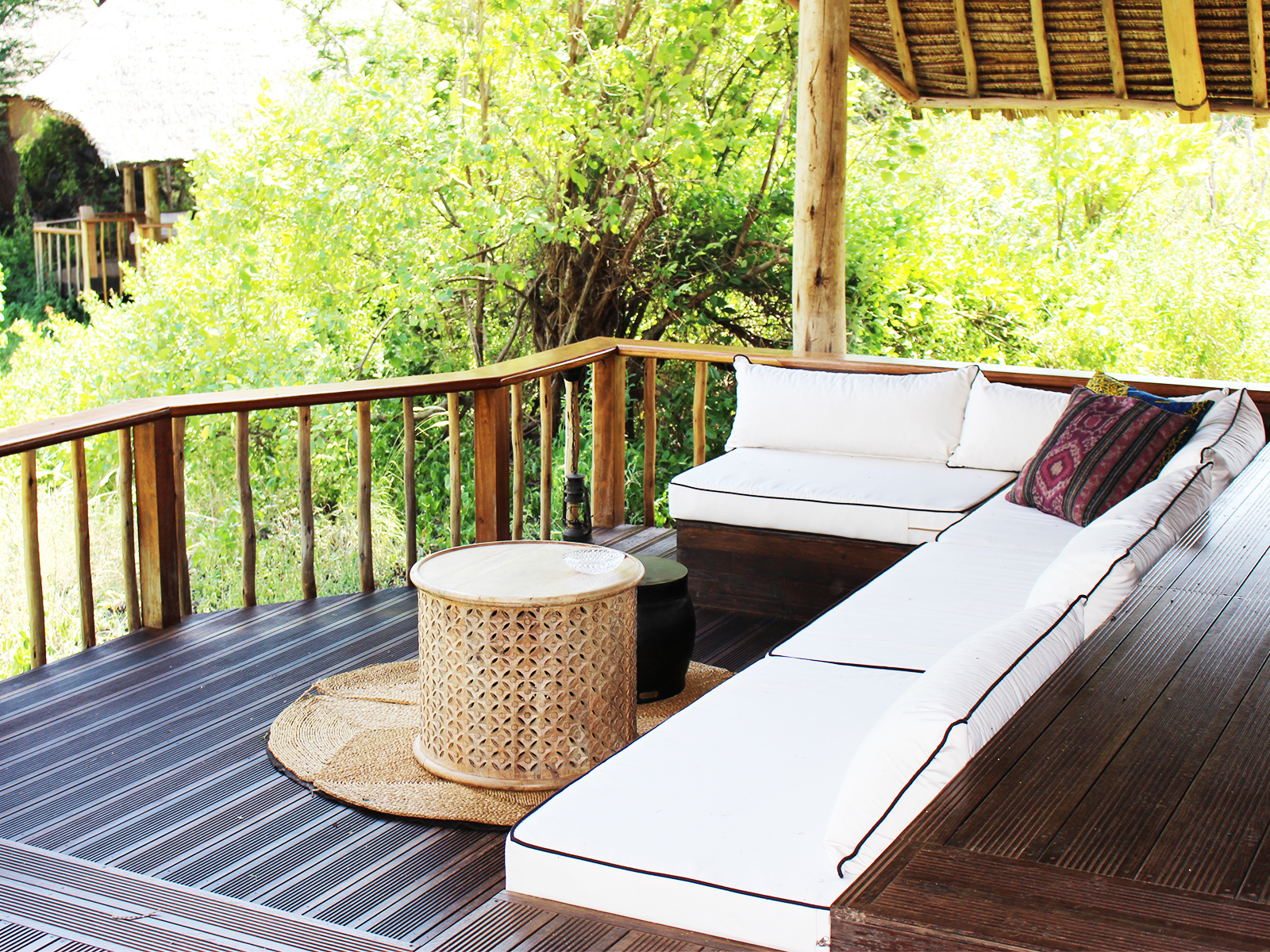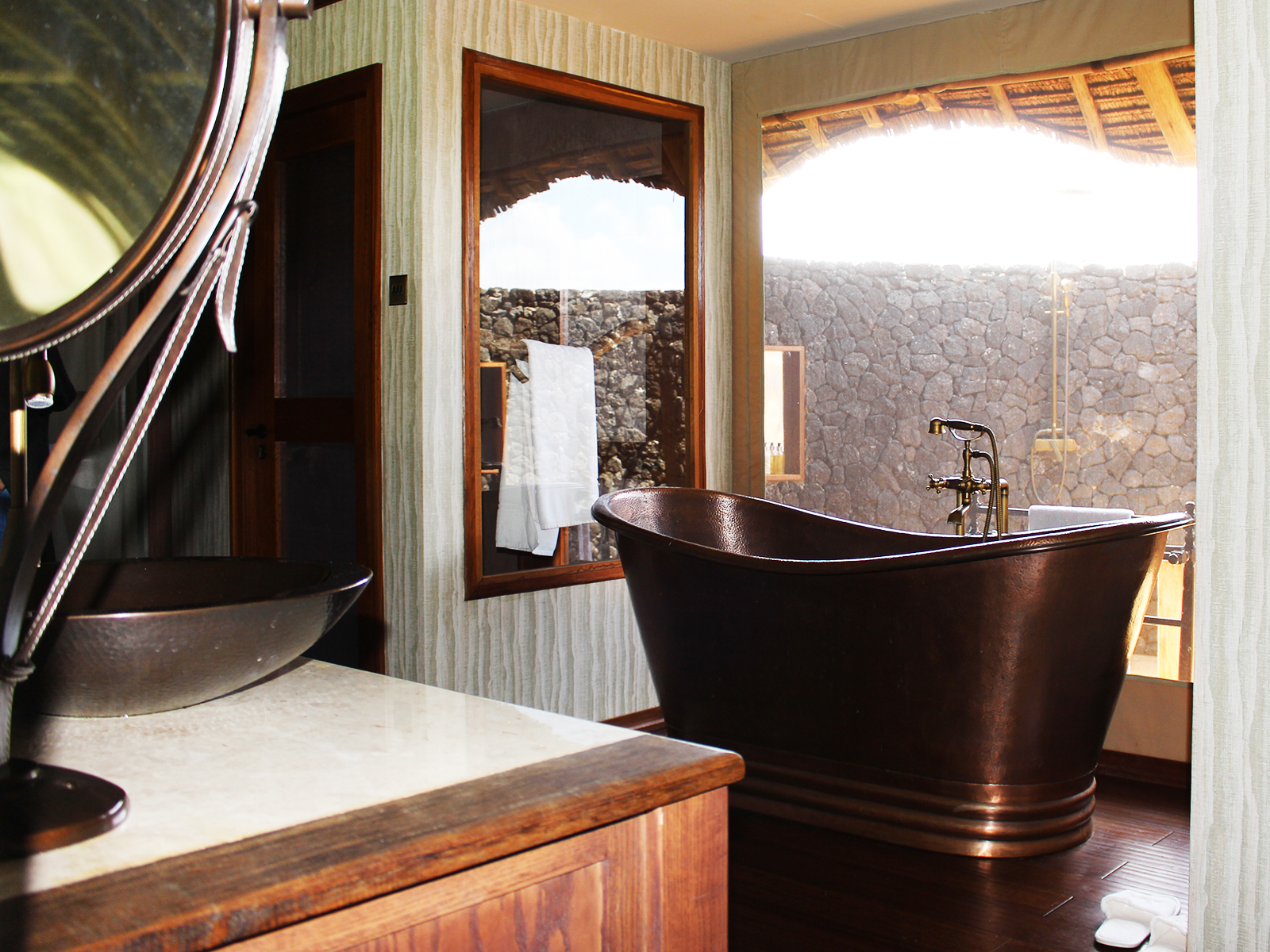 The sense of peace and quiet is like no other when you're sitting on the beautiful wooden deck with comfortable outdoor seating and fluffy pillows. With the perfect cup of tea in hand, it was serene and quiet, with the occasional splashing about of the hippopotamus' in the water below and the birds skirting the smooth sparkling water from the sun over head, leaving circular ripples behind. Immersed in the tranquility and peace, it was the chance to reflect, relax and gather my emotions and senses. I seemed to have been doing a lot of that lately. Different places and experiences bring out various feelings and reflections.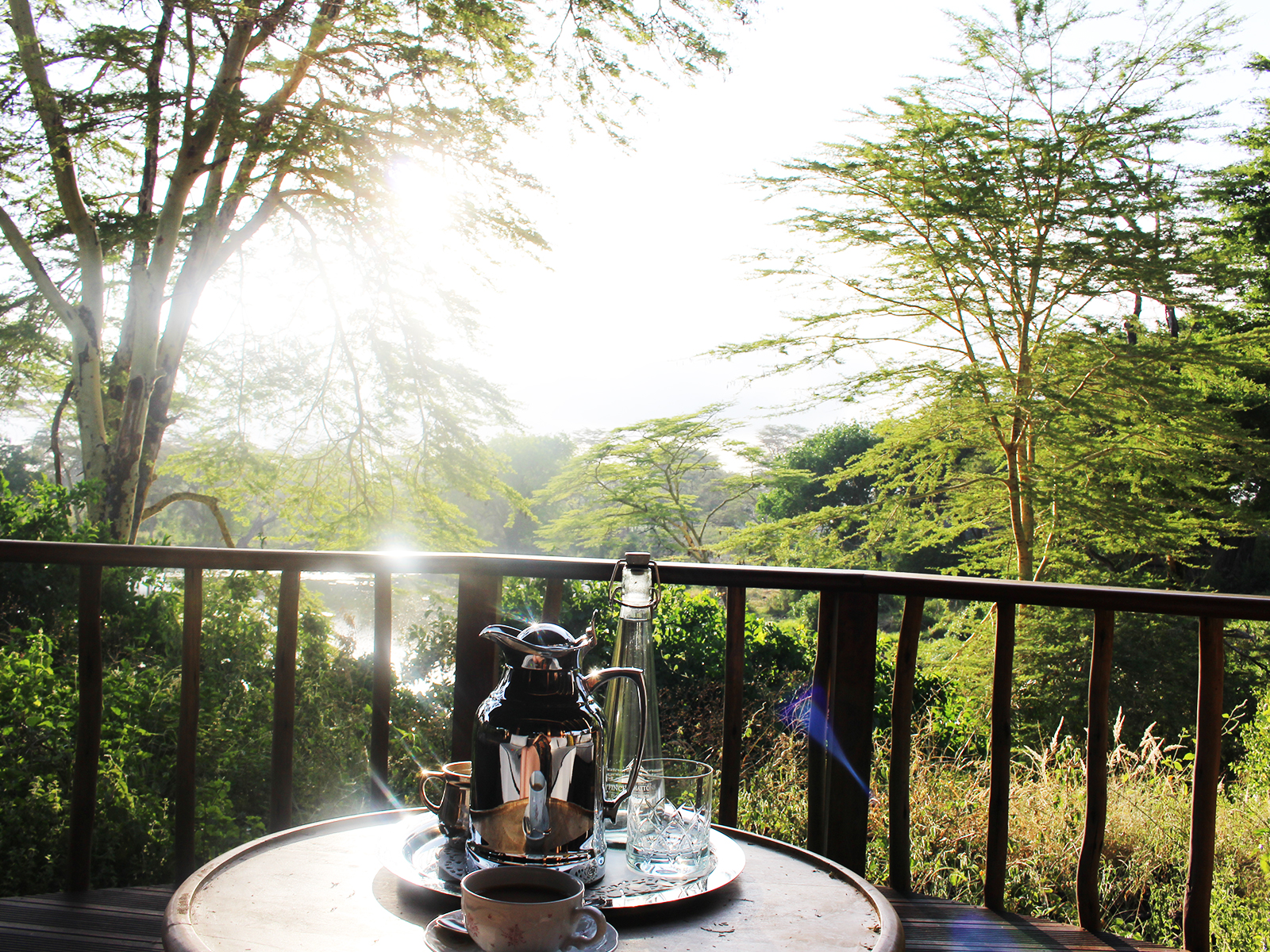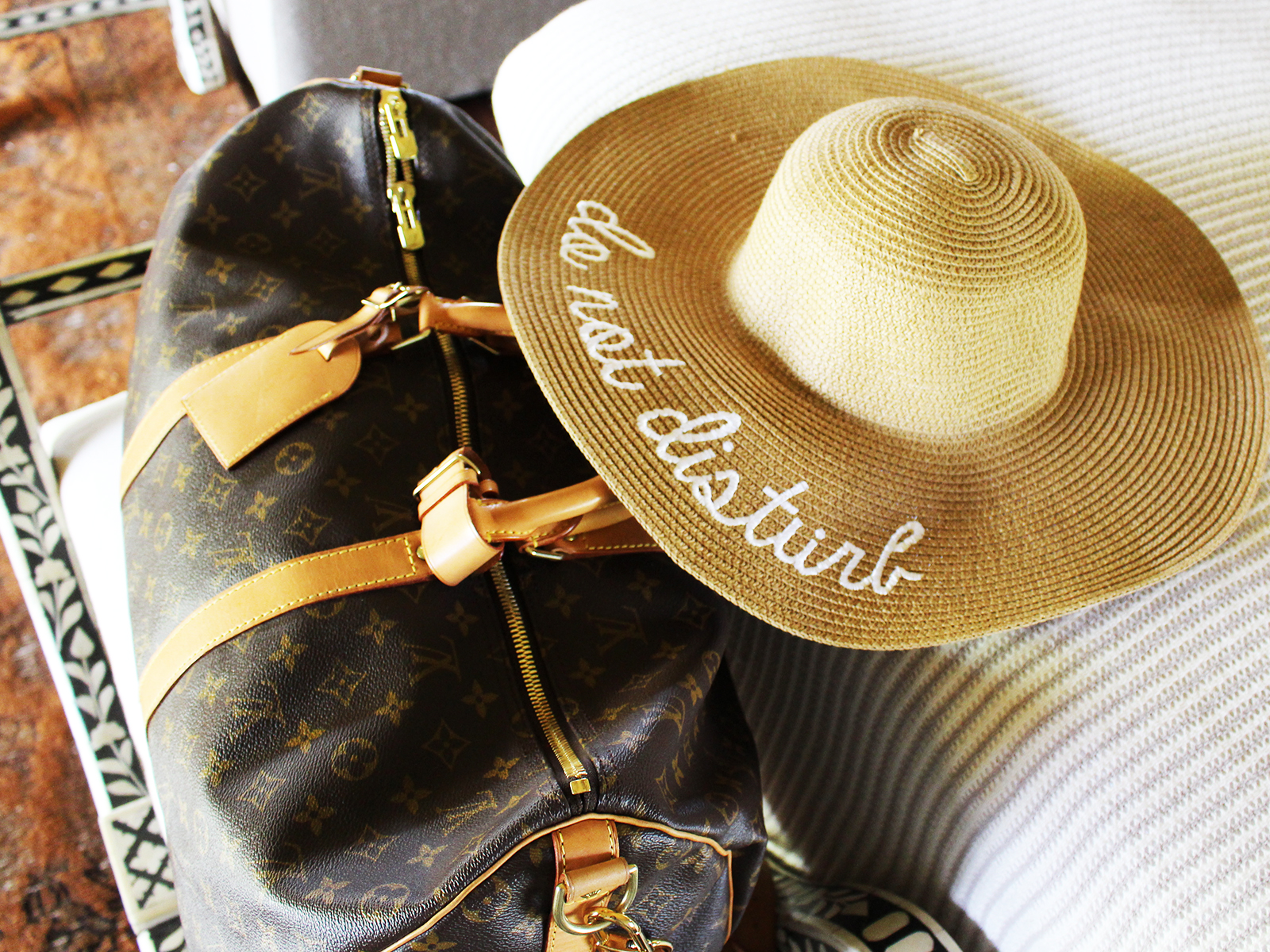 We spent the afternoon lazing by the pool like crocodiles soaking in the sunshine. I took safari style to a whole new level, camouflaging into my surrounds with a zebra printed kaftan from HM. While I was beached on the side of the pool, I was tempted to use the Spa, which comes highly recommended, however on this particular occasion, we had planned for sun downers on our evening game drive.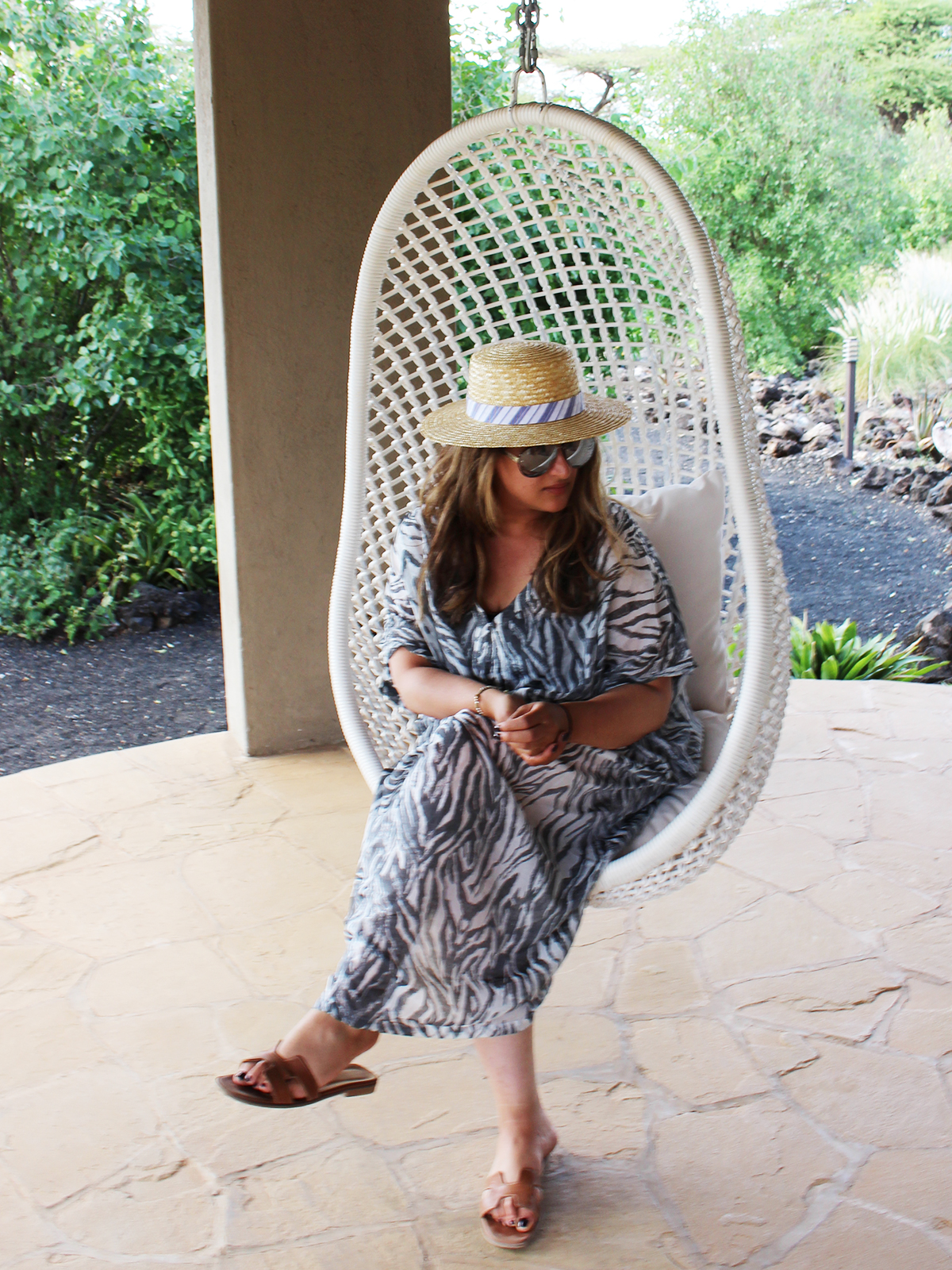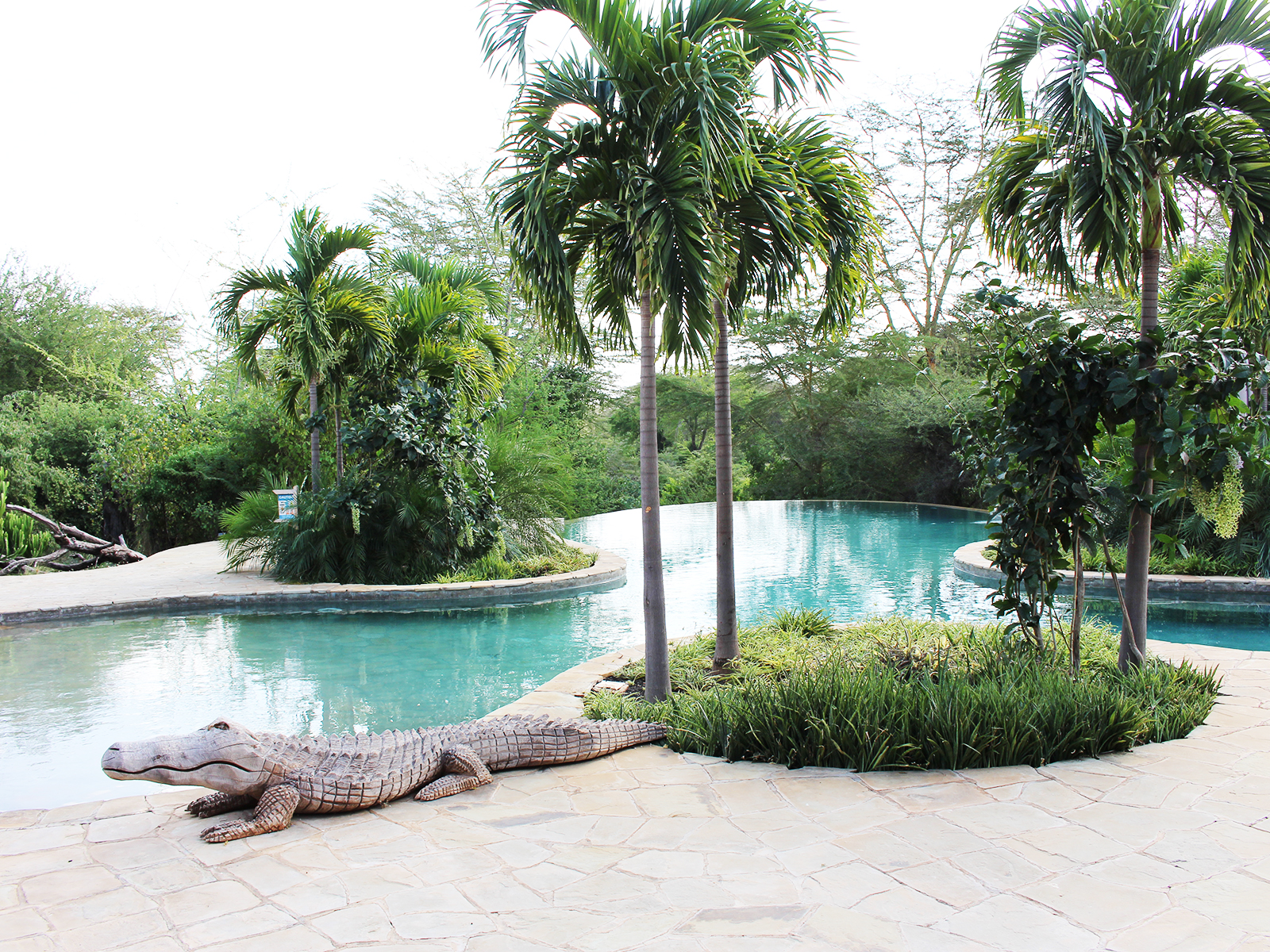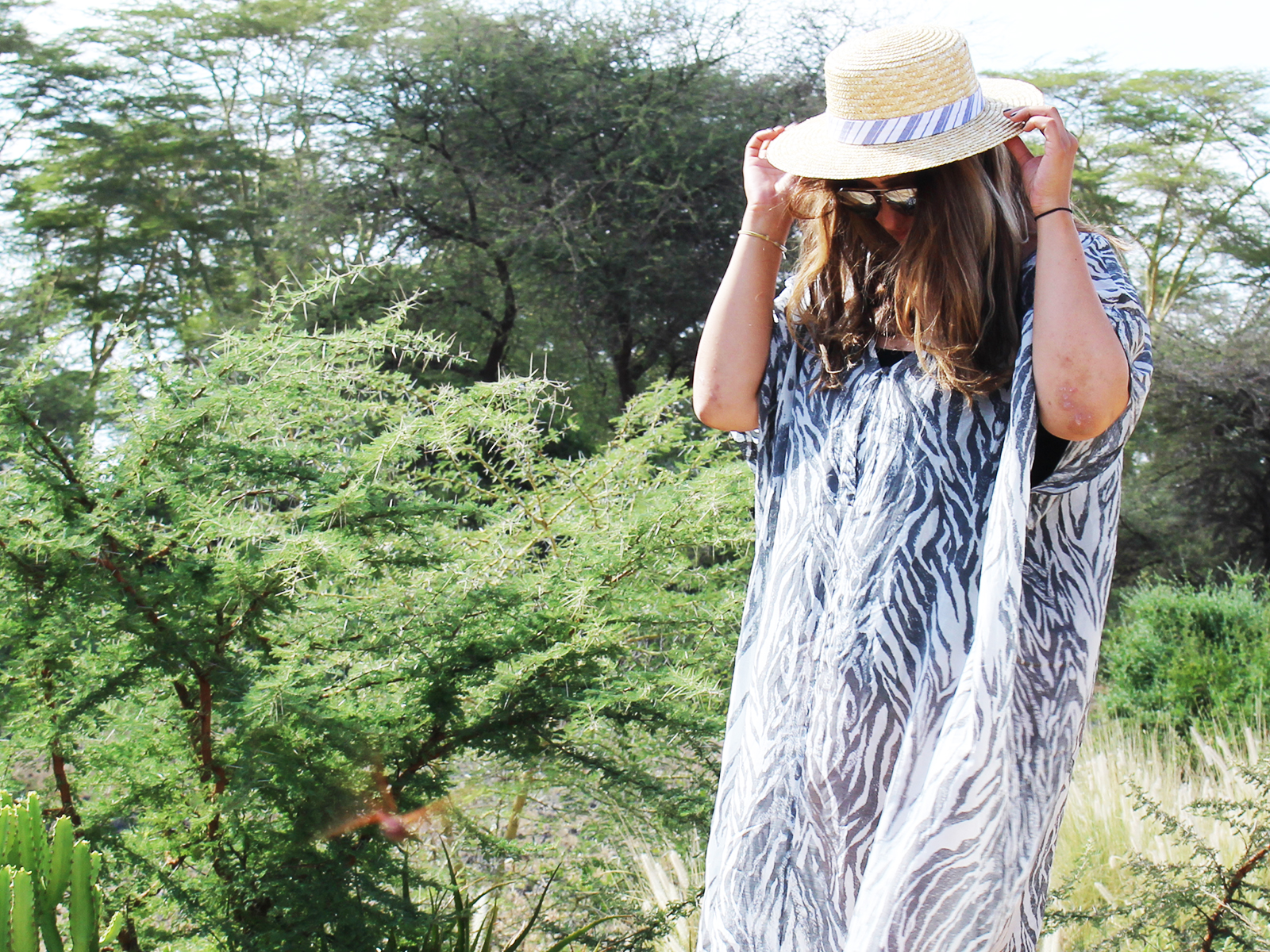 On the evening game drive we saw lots of impala, giraffe, waterbucks, warthogs, buffalo, wildebeest and stopped by the Galana River to enjoy sundowners prepared by the staff at Finch Hattons. Ice cold delicious Pimms and crunchy snacks went down a treat as we watched the sun dip behind the savannah with Mount Kilimanjaro in the backdrop. I could use a thousand words to describe the moment, but it wouldn't do it justice. You would have to experience it for yourself to truly understand the beauty of Mother Nature in Kenya.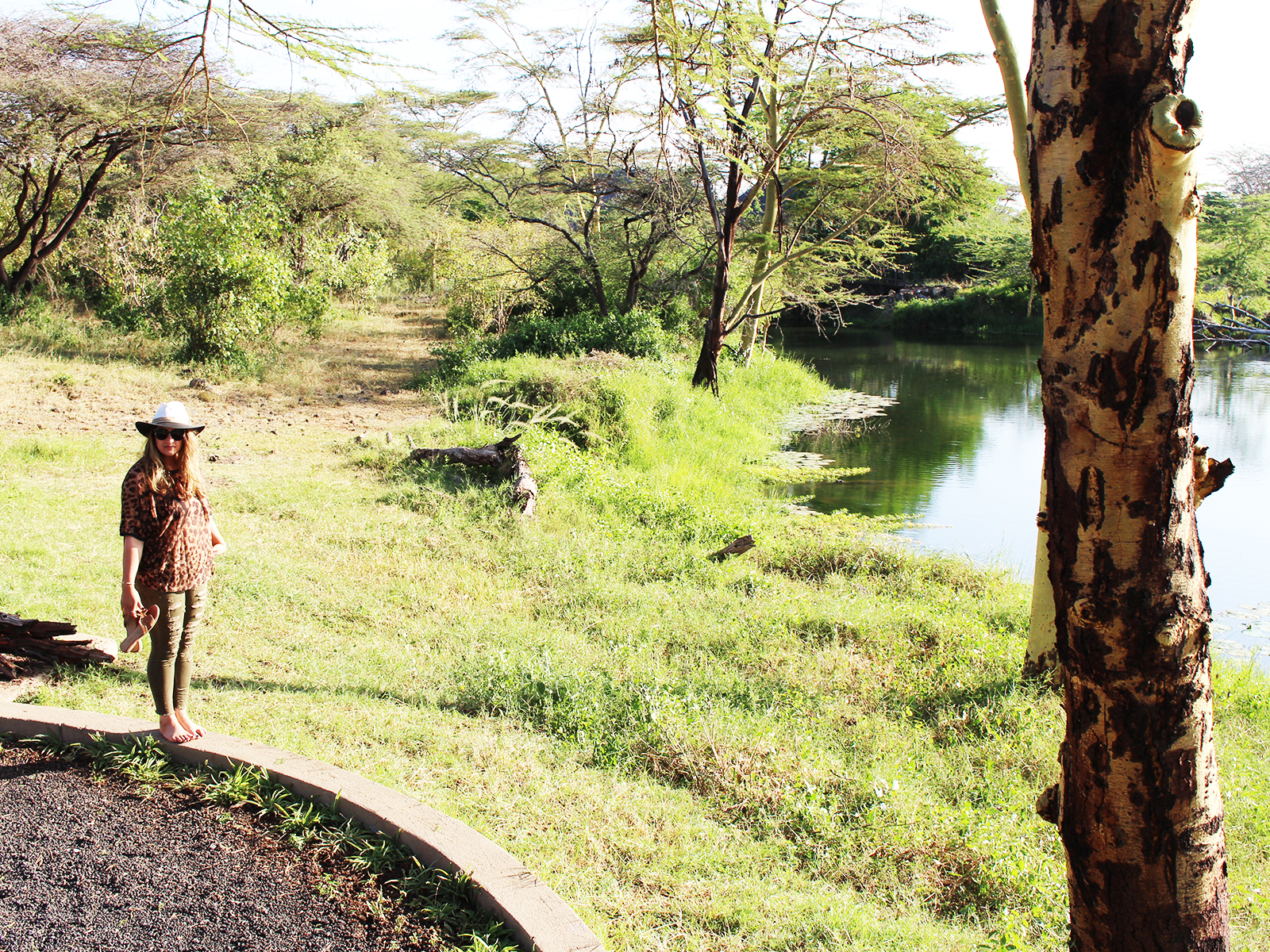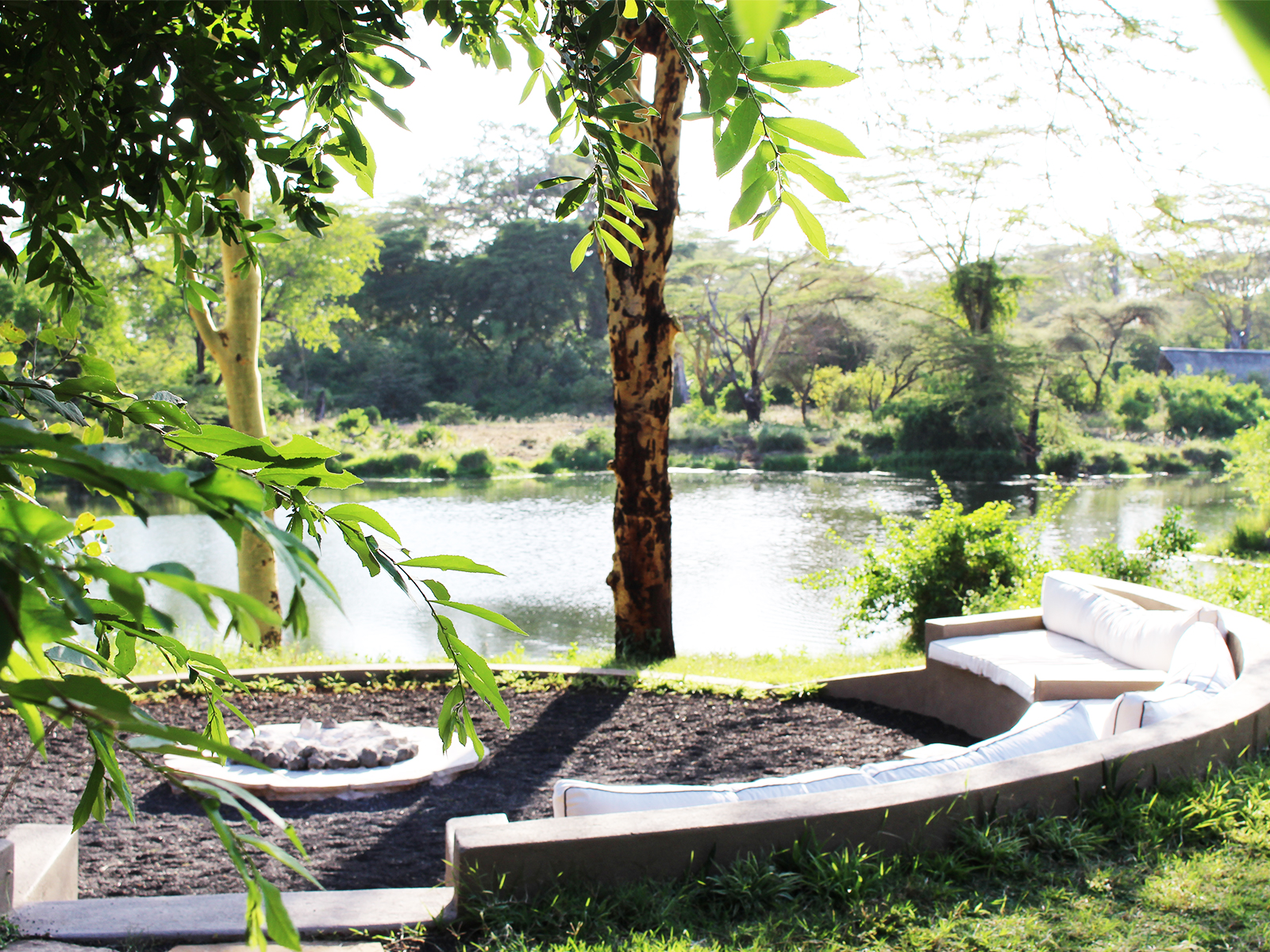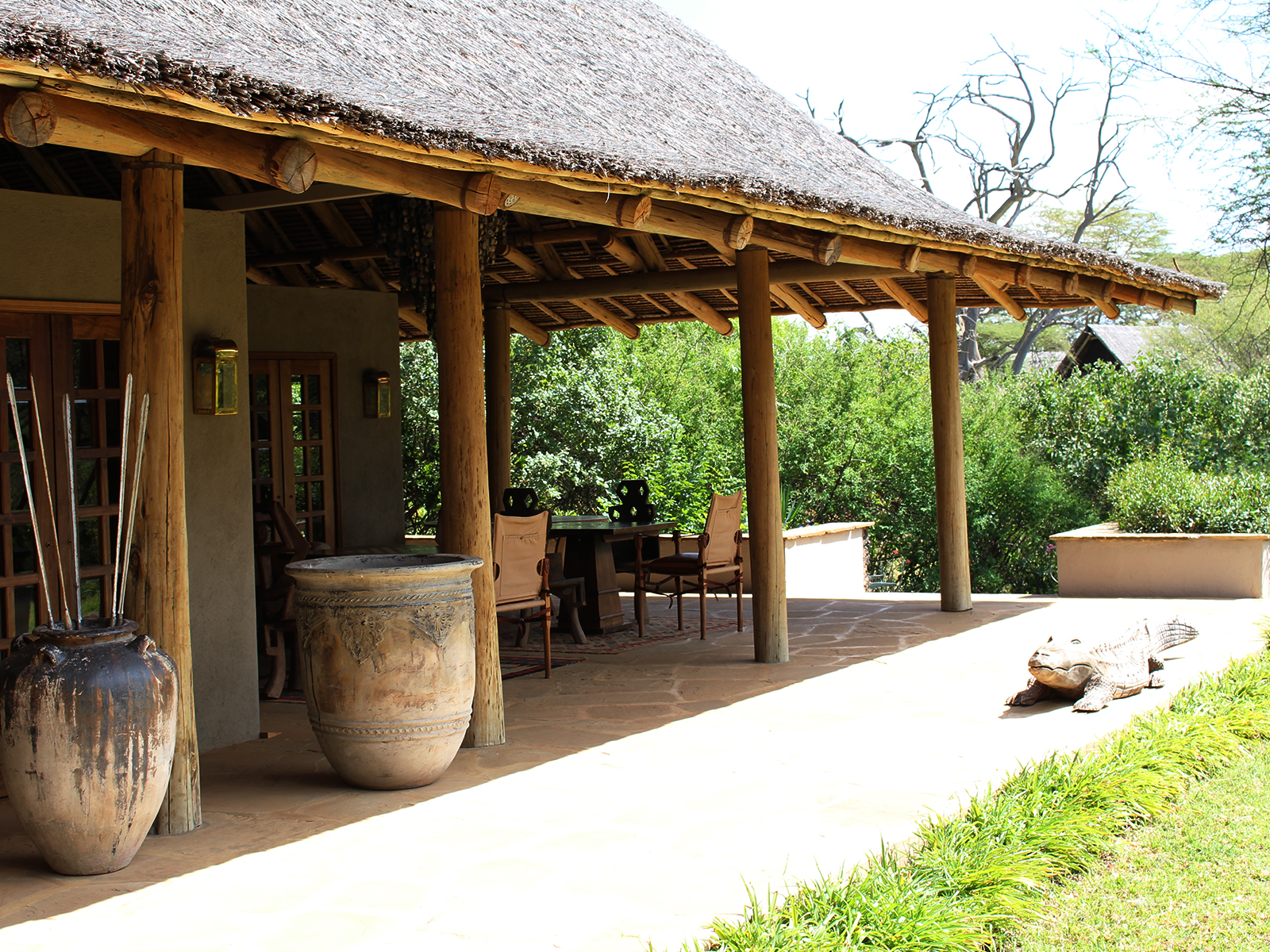 The setting and camp is unbelievable, like an oasis in the middle of the desert. Hard to believe that amidst the dense bush are deep green spring pools with tents of paradise. Finch Hattons is a luxurious escape in the savannah of the wild. The staff are warm and friendly, attentive and always on hand. We enjoyed dinner on an open top private dining balcony covered with candles, with fine silver and china, and lots of vibrant african printed pillows. My favourite part was sitting apres-dinner by the burning bonfire at night, with a full cheese board and glass of red wine. We spent hours staring at the night sky covered with tiny speckles of shining stars above, with the resident musician strumming away on the guitar singing Swahili ballads that sent beautiful shivers down your spine.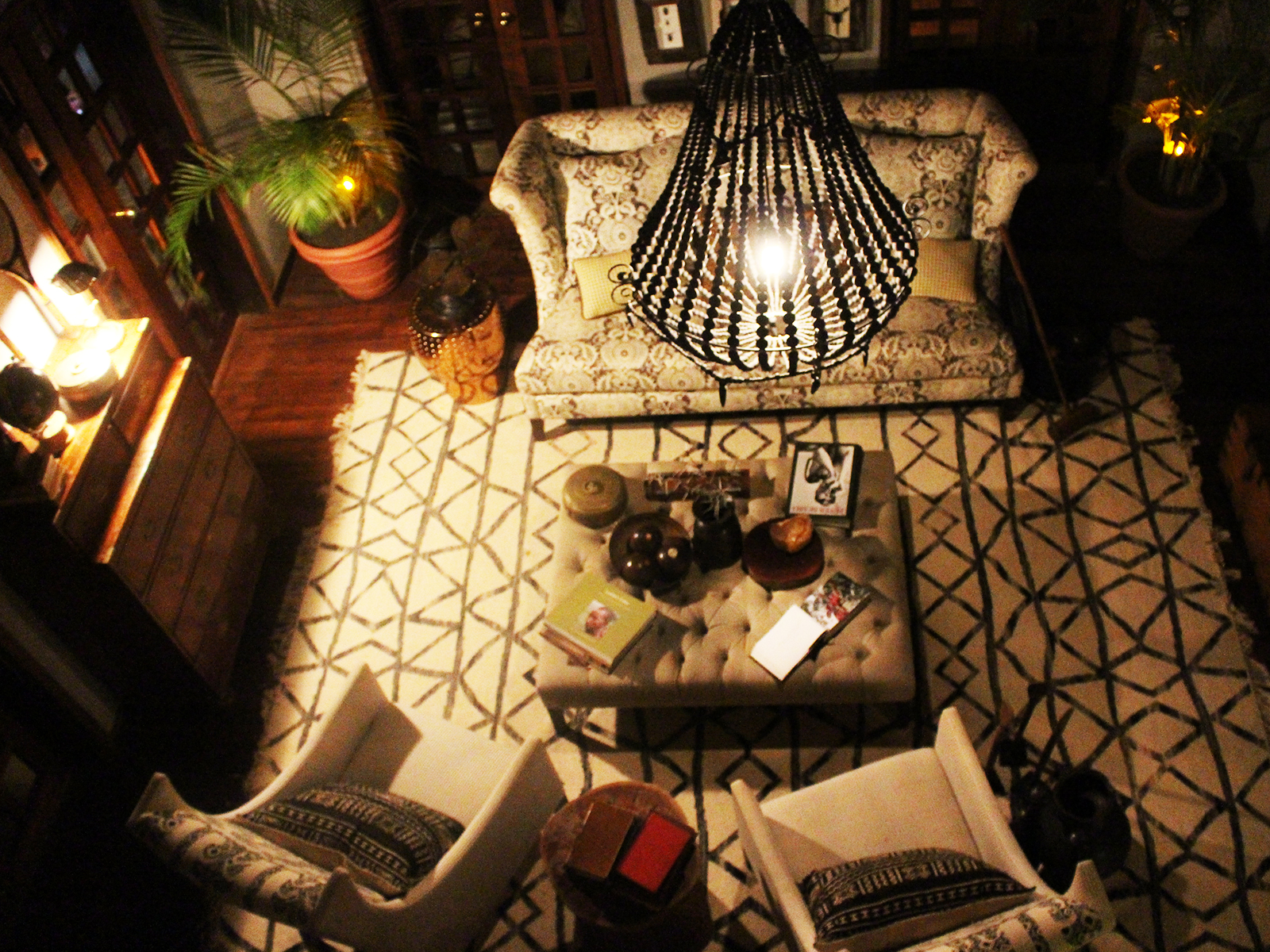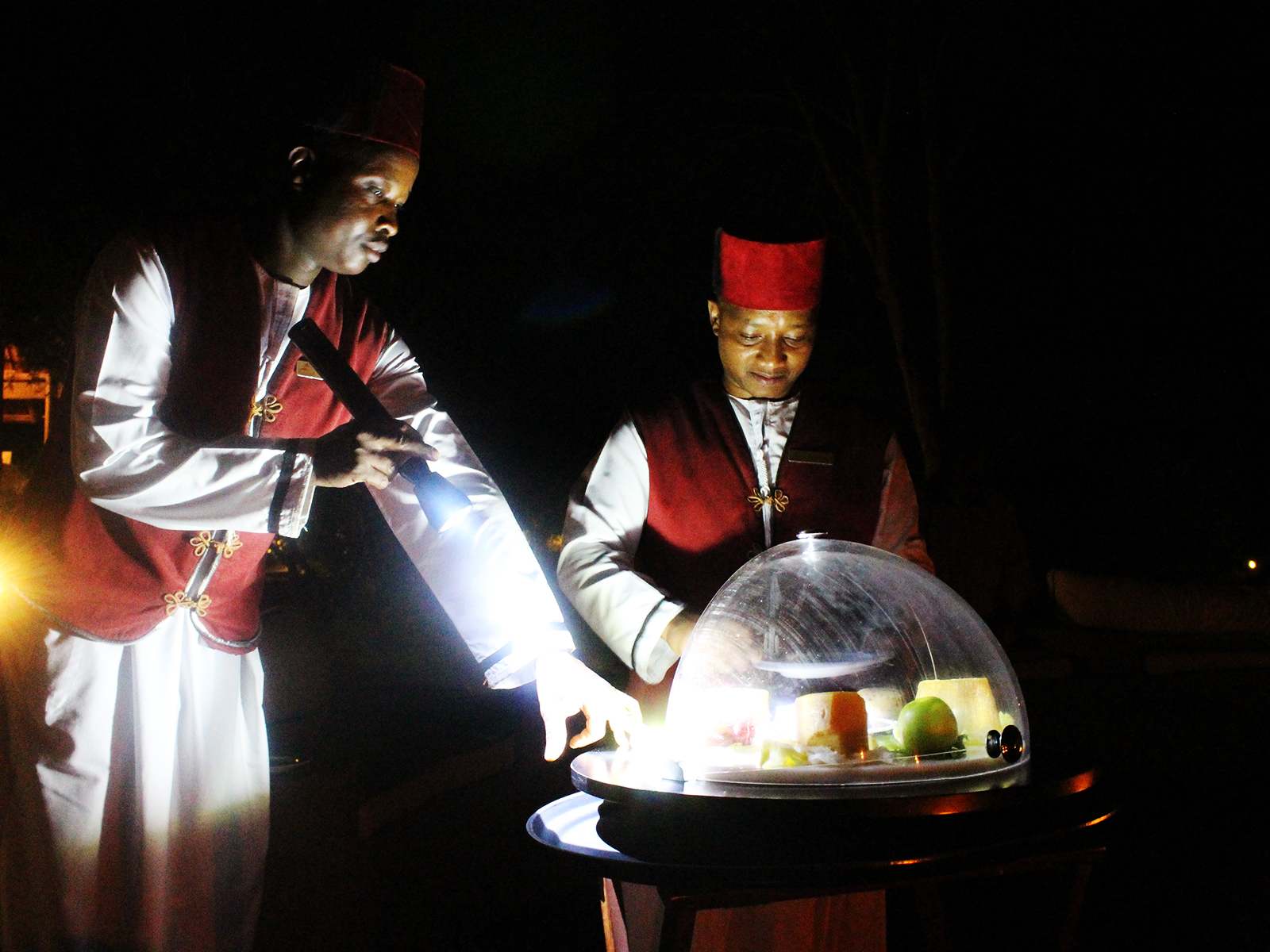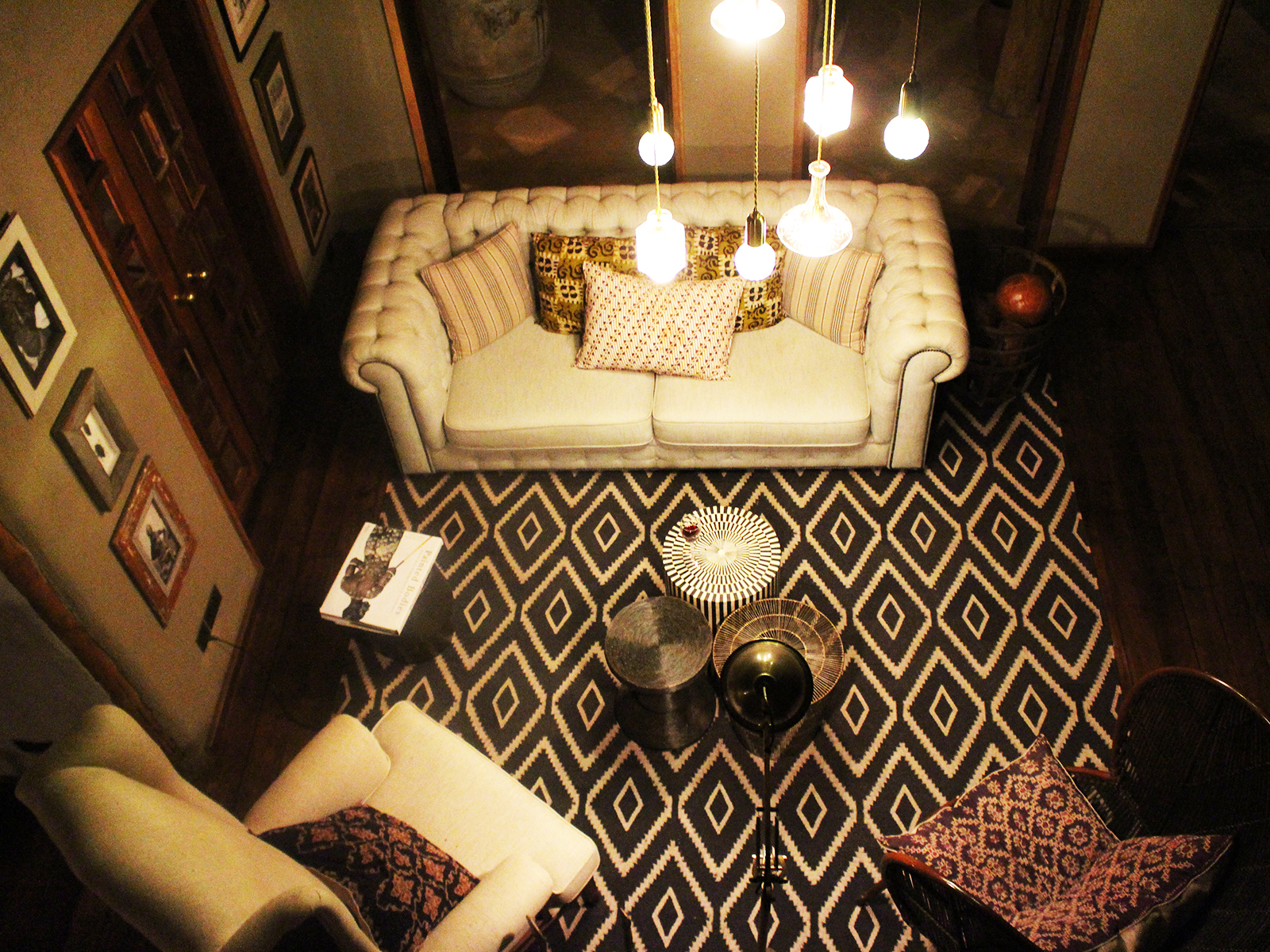 Unlike my previous escape to the Maasai Mara, where I had reconnected with myself through mother nature, countless of game drives and hours sitting in an open jeep on the plains on safari, this experience was very different. It wasn't about the animals, or the safari, but instead, a chance to re-connect with my soul. It was sitting on the deck outside my tent, with the chandelier reflecting fragments of light out onto the dark wooden floor beneath my feet, that I began the cliché term of searching within my soul. Rumi once said "the soul has been given its own ears to hear things the mind cannot understand," and for the first time, in the surroundings of Finch Hattons, I was able to step away from the noise in my mind and look within my soul. It was in the tranquil surroundings at Finch Hattons that I began my journey of soul searching.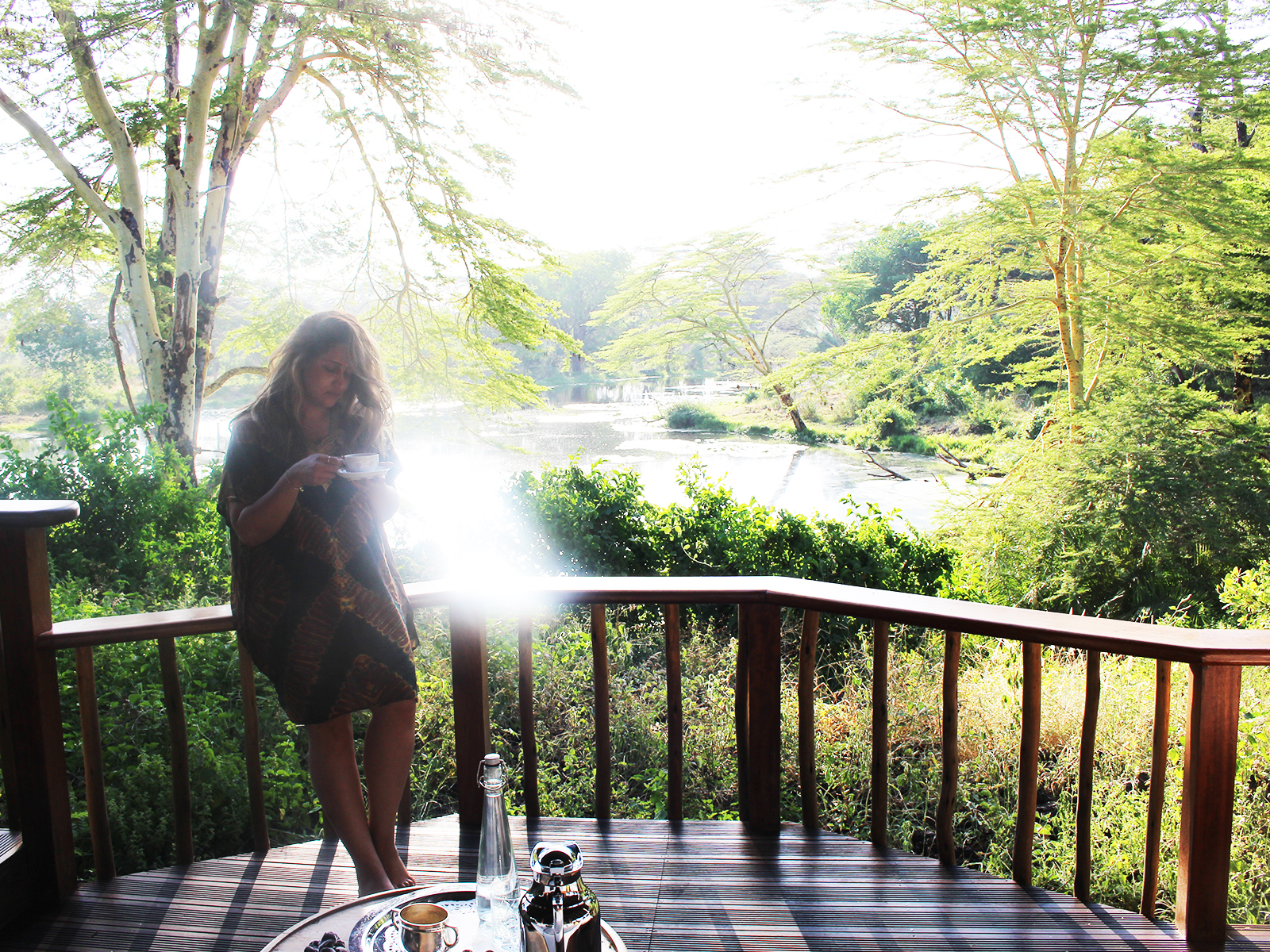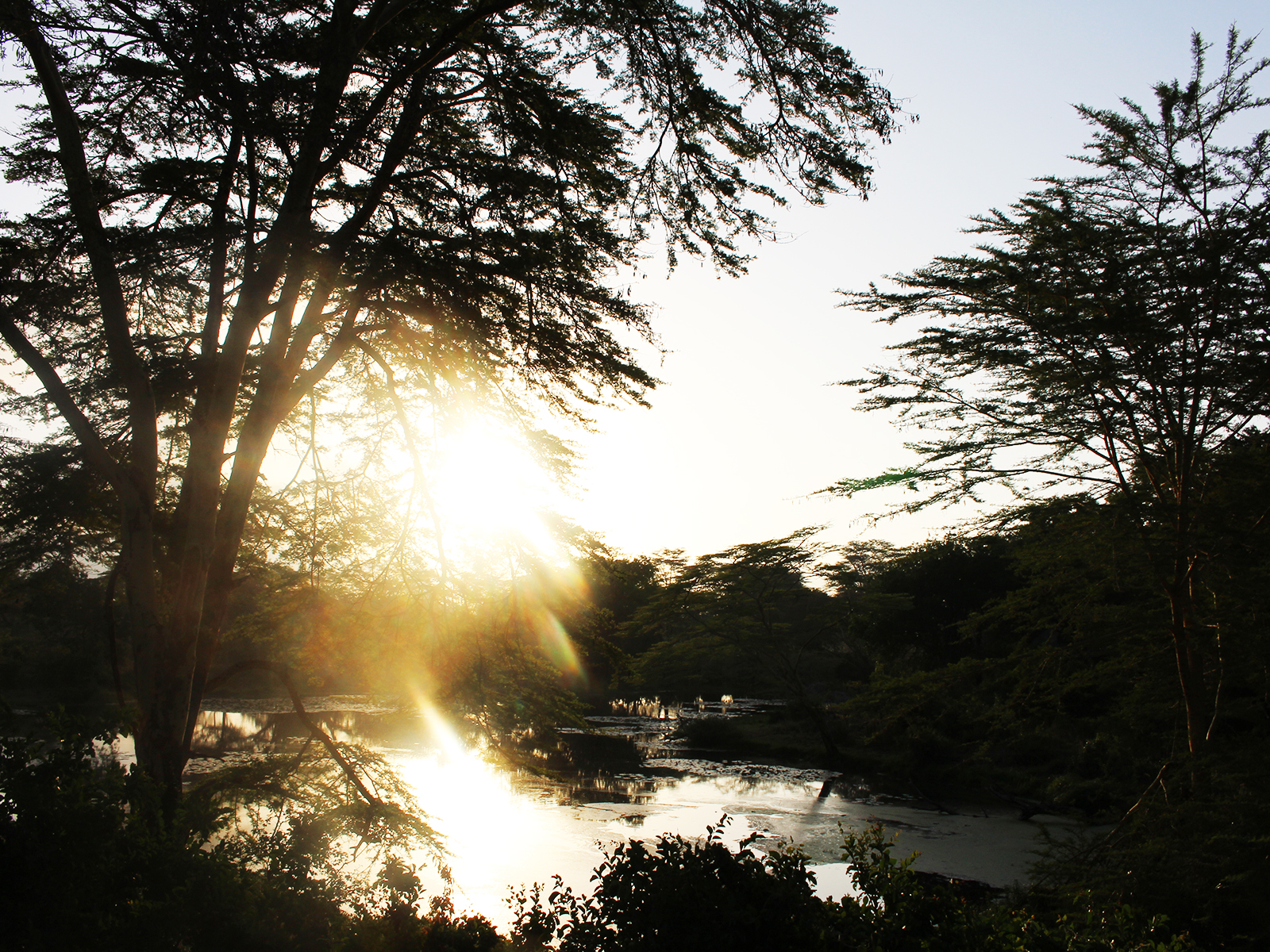 If there was ever a place to get away from the trials and tribulations of life, with breath taking luxurious comforts and a chance to centre the compass of your soul, Finch Hattons would be it. Waking up in the morning to a hot cup of tea on the deck, the sun rising behind the oasis, the birds tweeting, the sounds of Mother Nature and the comforts of splendour and bliss, Finch Hattons will remain a place in my heart that I can, and will, return to over and over again.