When I was younger I went through a phase. Let's just call it the fat phase, where I suddenly piled on the pounds. It was a real blow to my confidence and in turn my love for fashion wavered. It's one of the worst feelings in the world when you want to wear a particular outfit, but your body just isn't having it. You can pull, tug and hold your breath till you turn blue in the face; those jeans aren't going to happen today. Or tomorrow. Until you zip your mouth and hit the gym.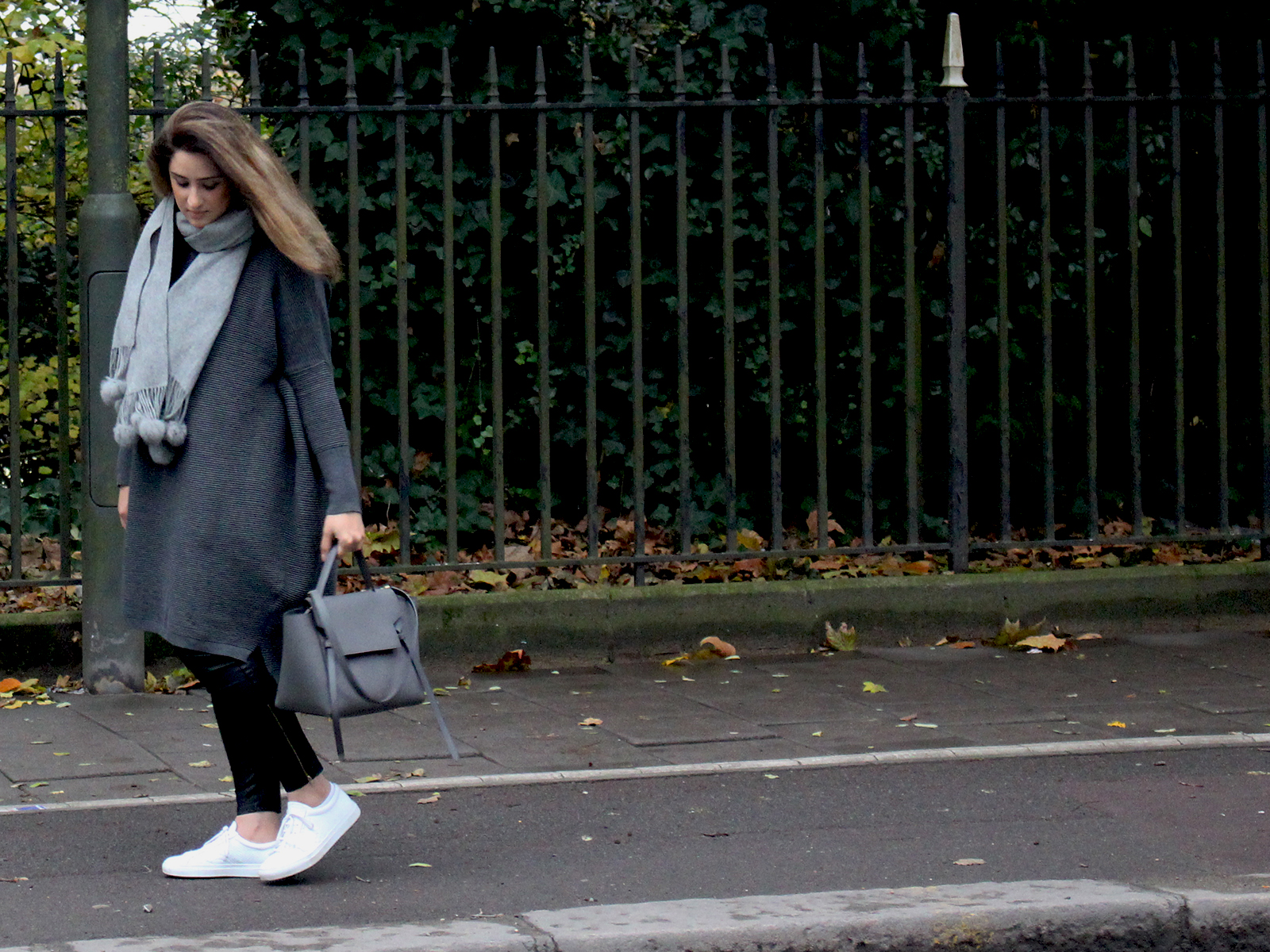 To counter the sudden morphing into the Michelin man, I turned to oversize jumpers over my jeans. One particular evening I stepped out in this large oversized bright pink knitted jumper of mine. Reflecting back on said fashion choice, I may have resembled a giant fluffy marshmallow that could have easily been put on a stick and roasted over an open fire. Our pet dog, Sultan, a ginormous Afghan hound that had fur that looked like a Lion mane, came bounding towards me and nipped me on the butt. I definitely looked like a marshmallow. It was definitely time to stop wearing oversized jumpers.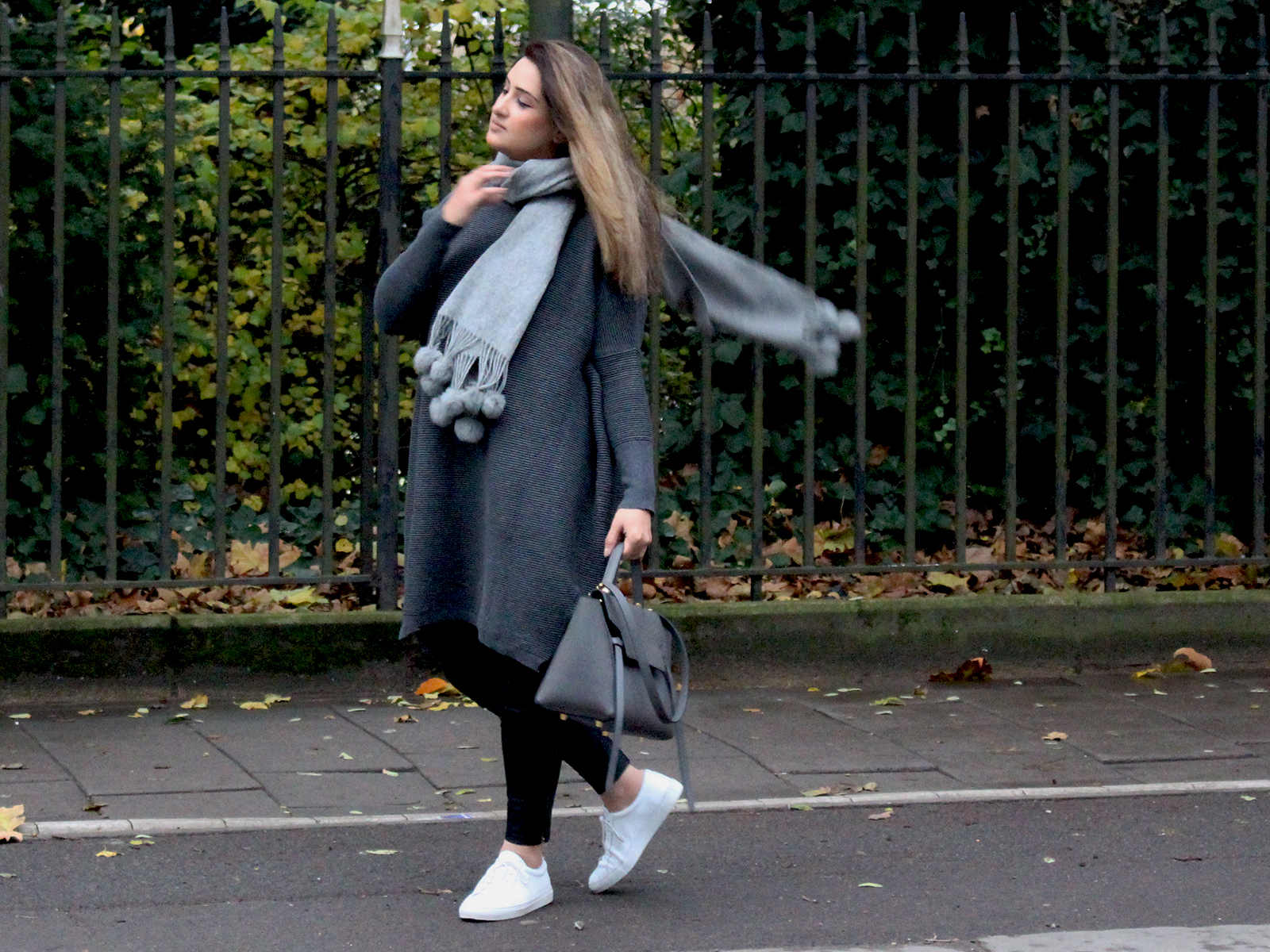 That was until I found Paisie. A couple of week ago, with the constant grey clouds overcast and the threatening clouds of rain, I stepped out for some errands one evening. I was tired of tights, boots and coats. Clearly it made sense, or maybe feed my laziness, to throw on my oversized grey Paisie dress over leather pants. I had wondered how I would wear it, and when I would wear it. It was a snap decision purchased at London Fashion Week last year and I wished I had picked up all the colours they had. I'm still wish listing the Ribbed Knee Length cardigan in Black (secretly hoping they'll release one in cream white as well) and a ribbed jumper with side splits in Navy.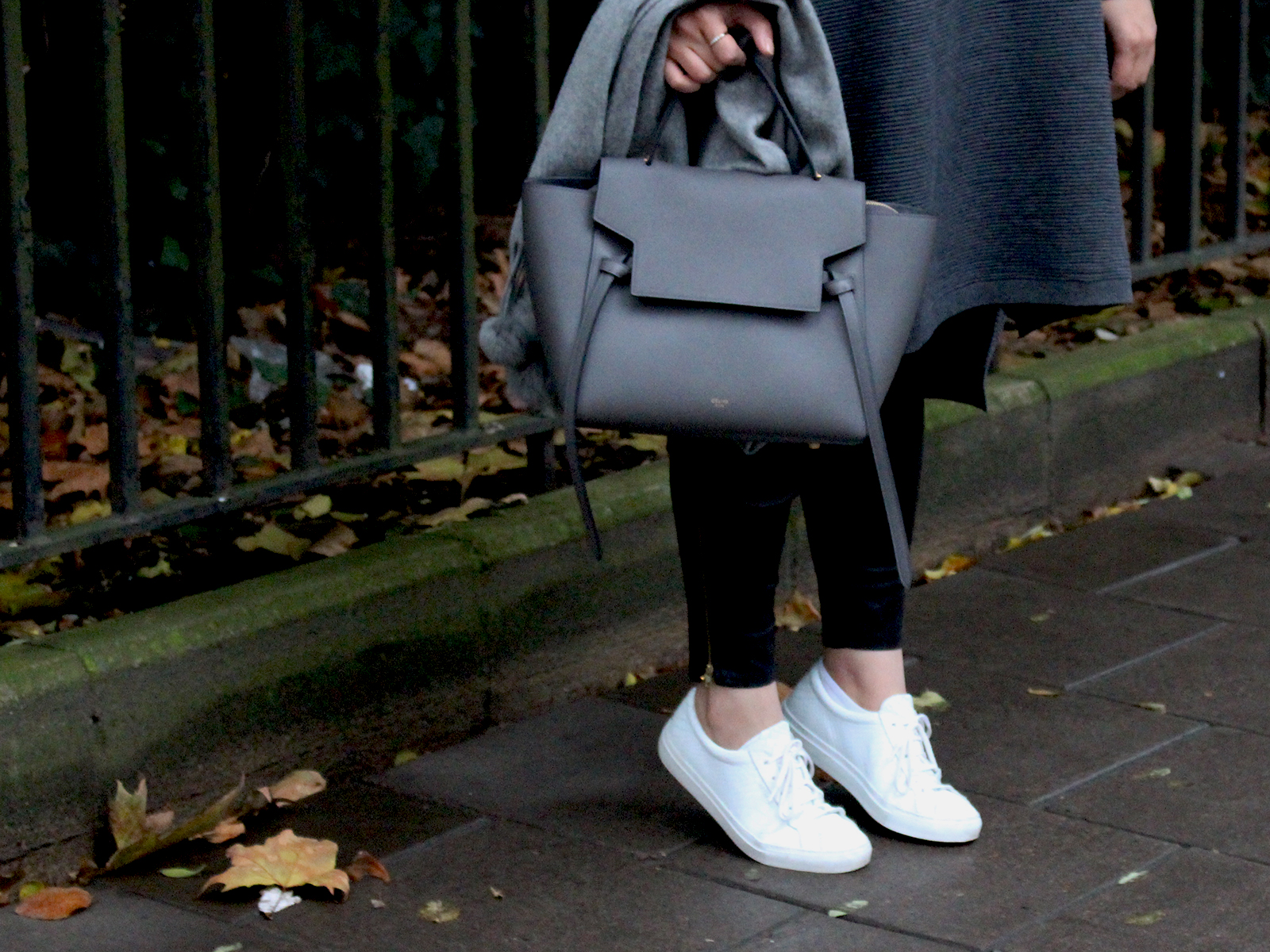 Paisie is a London-based women's-wear fashion brand founded by Kate & Vicky, alumni of Central Saint Martins. The dynamic duo have bypassed the wavering fashion trends and catered to lifetime fashion…and comfort. The classy bird items you want hanging in your wardrobe, the best of wardrobe staples. The contemporary pieces of clothing you are certain will never go out of style, mixed and matched with seasonal collections. I wore oversized jumpers 15 years ago (regardless of the fact it was bright pink), and this year the trend for oversized clothing is back again. Paisie show us you can do oversize and classic at the same time.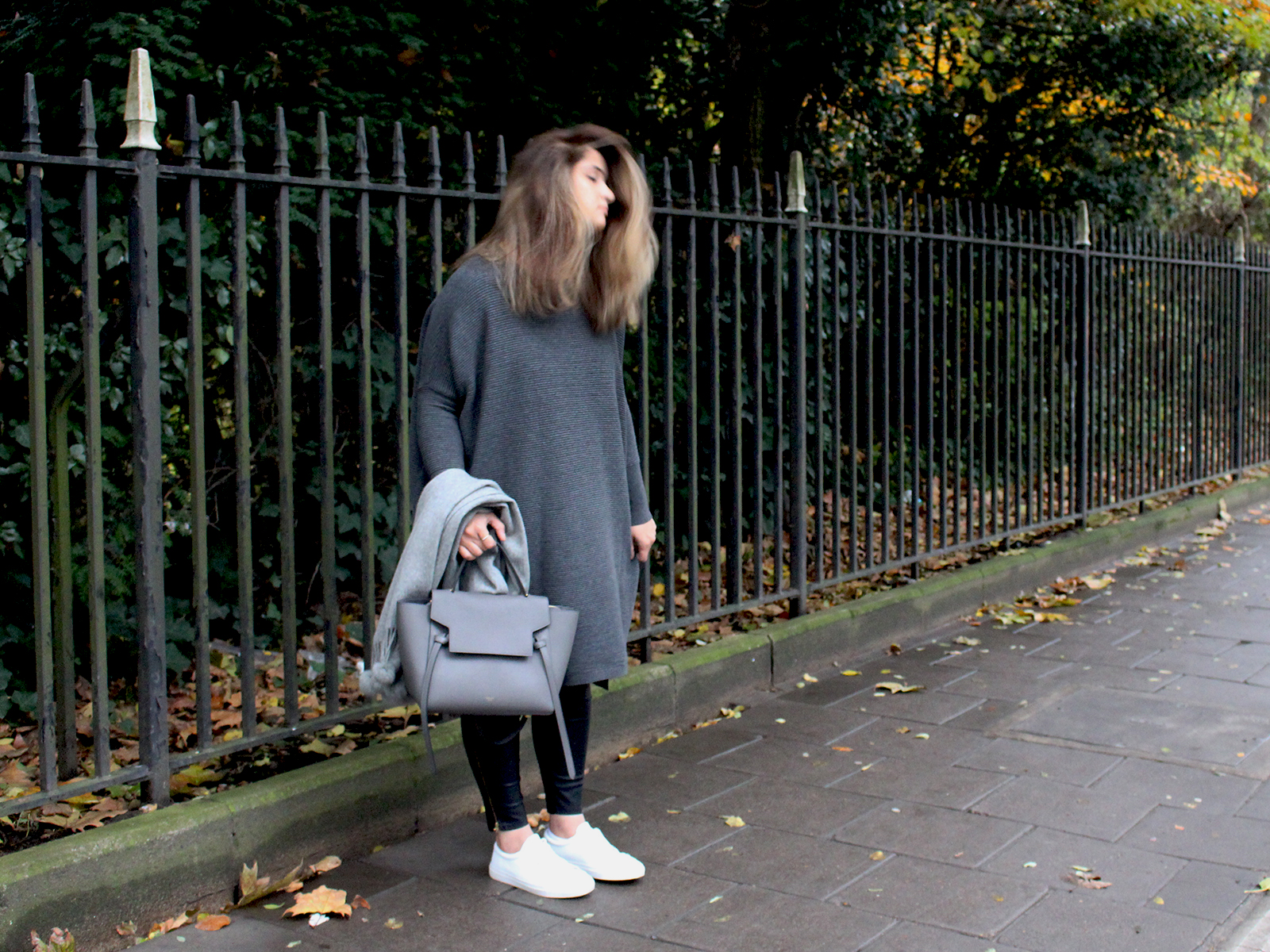 Now I've promised to keep it real with you, and at first glance through these pictures I was sceptical. To be honest, my hair gives the scarecrow from The Wizard of Oz, a good ol' run for its money, but I had just washed and dried it in a hurry. I would love for this blog to be about all the perfectly posed pictures, hair whipped and quaffed in all the right places, but I don't look like that everyday. Some days my hair is an utter mess. Some days I won't want to wear eyeliner. Some days I don't want to wear a drop of makeup. And on this particular day…let's just say I was in the ring with my hairbrush for a good twenty minutes. But despite everything, I was sooooo comfortable, and in turn felt fabulous! The sleeves are snug and sit comfortably, and the bagginess and oversized feel is right on point- enough to hide the bumps and lumps you're conscious of.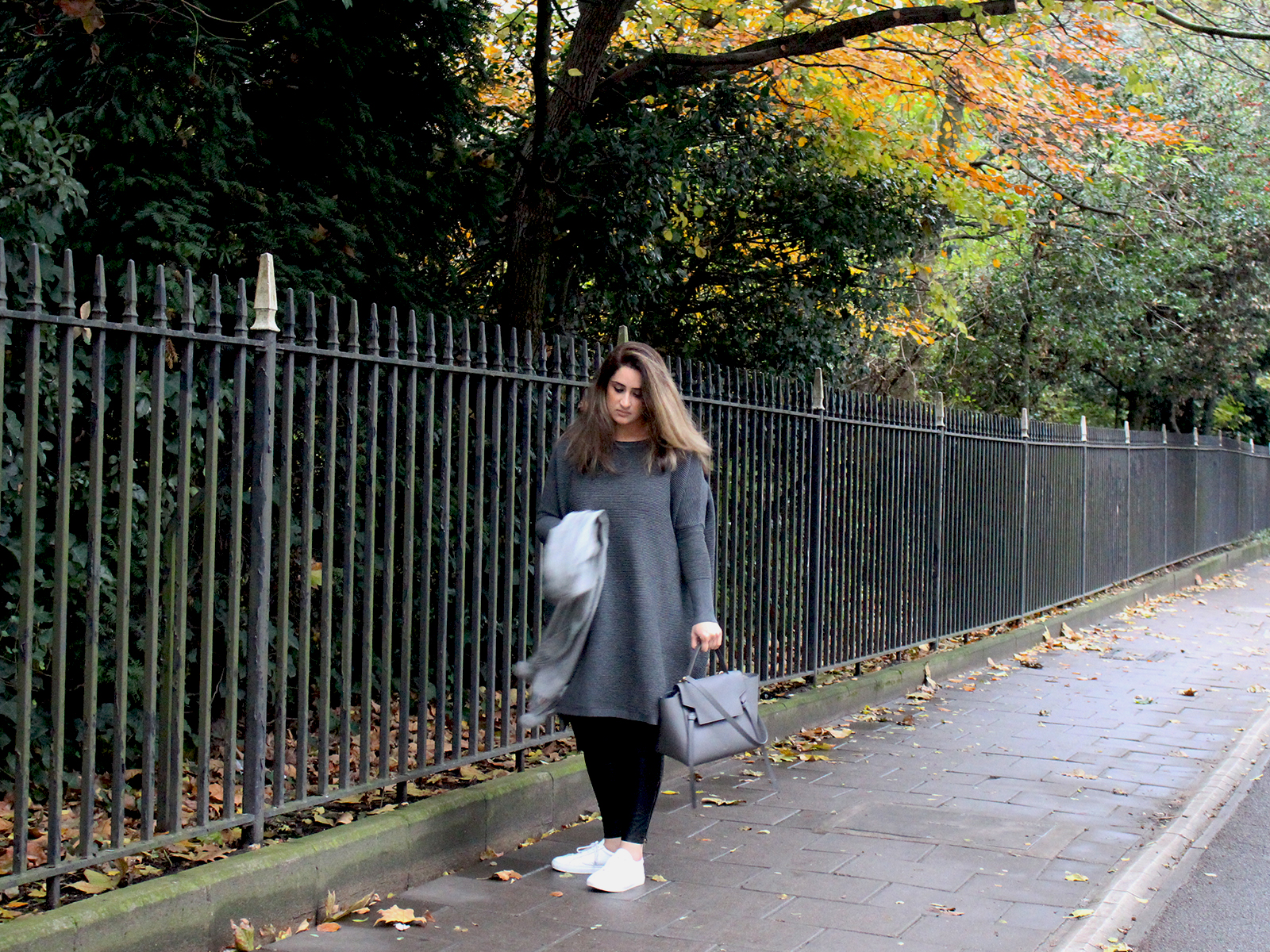 We all have those kinds of days. Those days where we want to lounge about in leggings and an oversized t-shirt and if we really HAVE to leave the house, maybe throw on your jeans, a jumper and a coat. During the London Fashion Week festival, I had walked past this amazing brand a few times. It wasn't sequins, sparkles and embellishment that drew me, but comfort. Rows and rows of oversized ribbed jumpers and dresses in a variety of colours, from khaki, plum, charcoal, cream, black, navy. Who wouldn't want all of these sitting in their closet? Paisie is all about understated yet effortless style. One of my favourite looks of all time.
I am drawn to brands that create items of clothing that could easily sit in the classic wardrobe hall of fame, and when that is the case, I tend to go for the same style and various colours. (If you've read my post on M.Gemi, you'll get my vibe!) I also want to shout from the rooftops and share this treasure of a brand that has been making a firm stand and following over the past 7 years in the fashion sphere and insist…everyone should own their oversized ribbed jumper or cardigan. Since then, I have gone on to get their cream ribbed cardigan and a beautiful aubergine plum ribbed jumper my sister is hoping will be handed down to her sooner rather than later.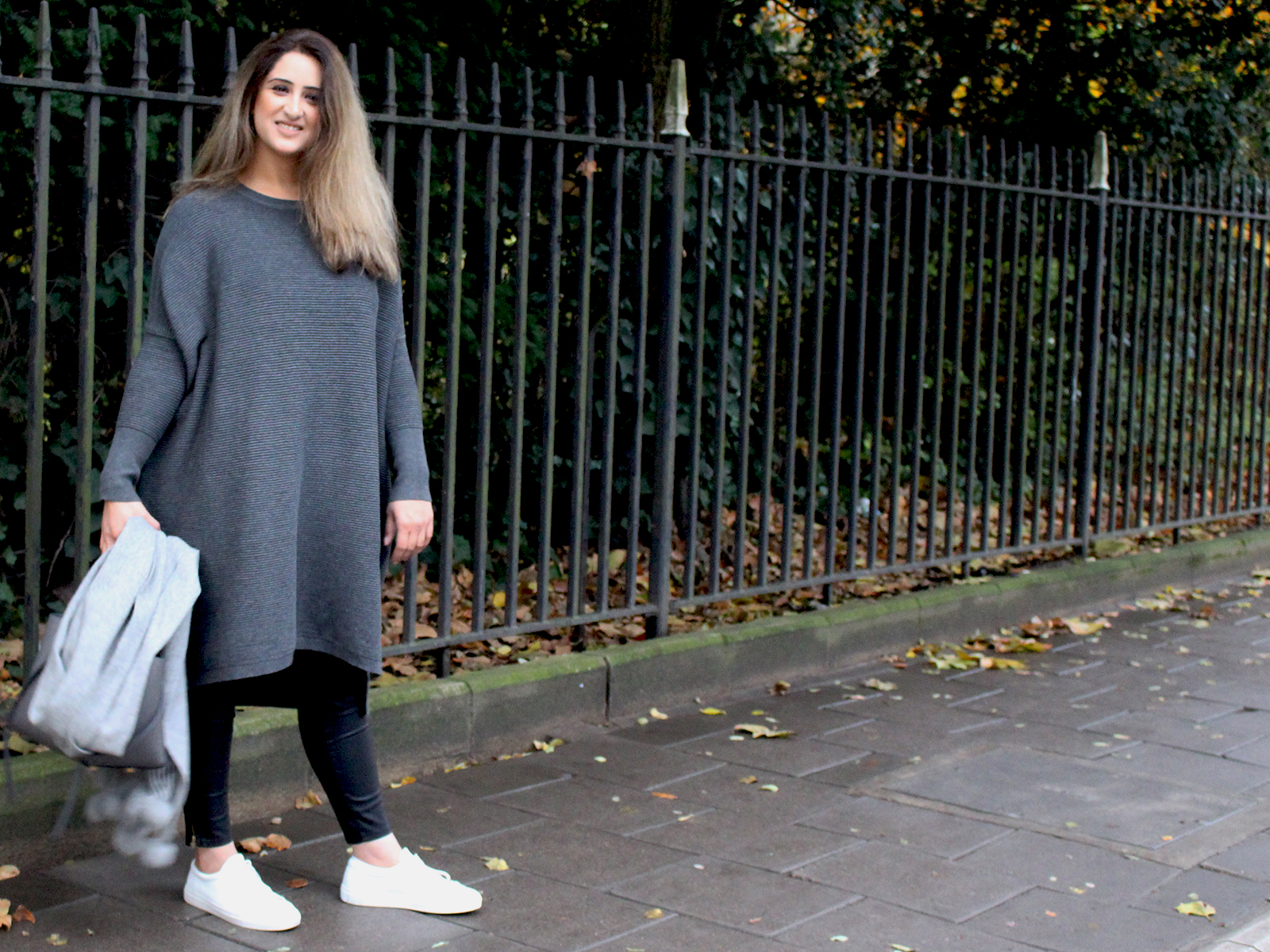 As someone who's biggest insecurity is my weight and size, hiding behind loose fabrics always seems like the better option. I've definitely pushed the boundaries and started wearing items of clothing that flaunt the best parts of my body and my confidence is growing slowly as I work towards a healthier mind and body. Remember it's so important to be comfortable in your own skin and wear any outfit with confidence; baggy or tight. There is nothing wrong in oversizing your basics, regardless of your size, so long as you're comfortable, and the Paisie oversized cardigans and jumpers are all about style and comfort!
What I am wearing: Jumper Dress (Paisie), Leather Trousers (Zara), Sneakers (Axel Arigato), Scarf (bought in a market stall), Bag (Celine)