There is no better feeling than going to bed with a face that feels as smooth as a baby's bottom. I can't say I've experienced this feeling before using Pixi products, but I can definitely say it now. A few months ago a dear friend came to visit me in London and the number one shopping item on her agenda was finding the Pixi Nourishing Cleansing Balm and Pixi Glow Tonic. She has beautiful flawless skin, so I wondered if this little miracle in a pot would make a difference to a face like mine. After a few testers from her pot I rushed down to Marks and Spencer on Bond Street (the closest store to me, however they do have a flagship store in Soho, London) and quickly purchased my own pot and toner. A quick skidaddle to Space NK to pick up some Eve Lom Muslin Cloths and I had a whole new routine to my facial care.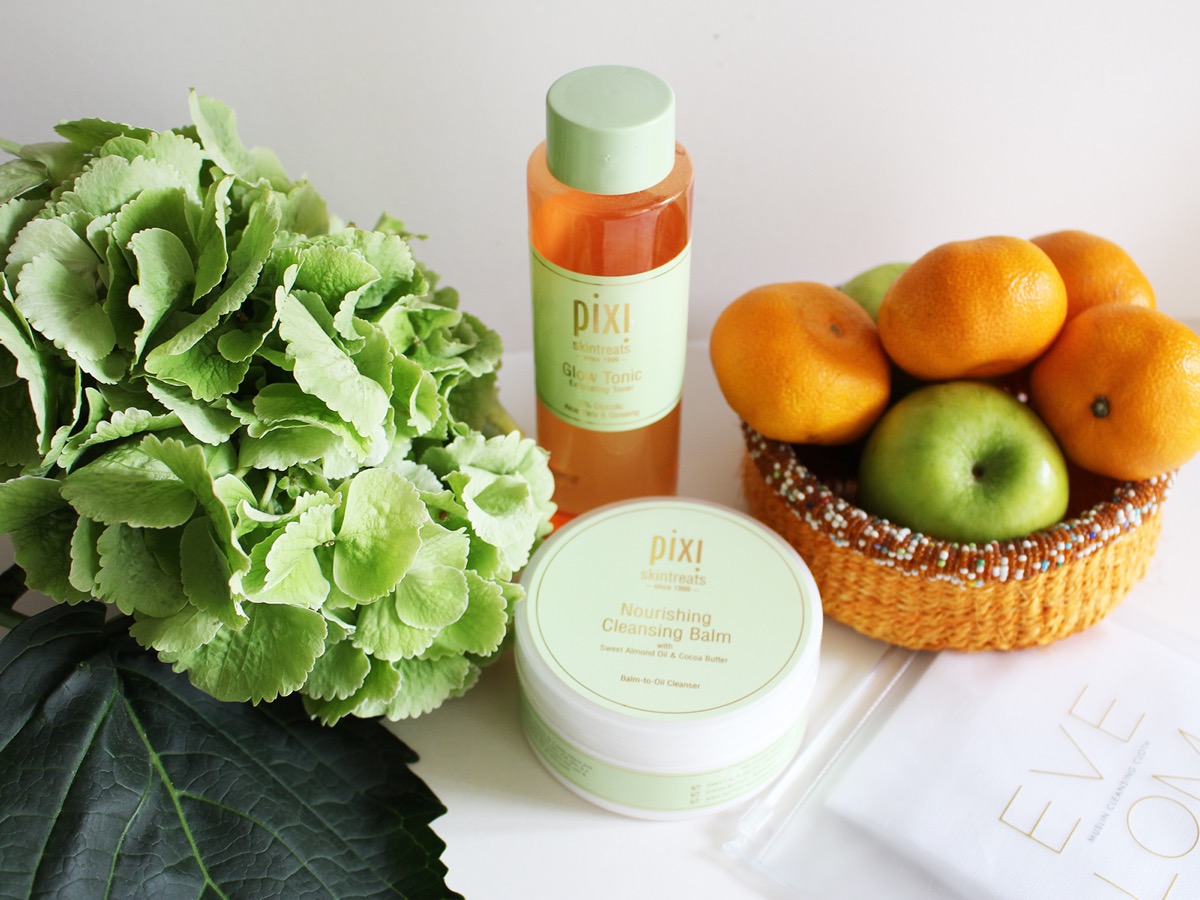 Pixi was created by Swedish born makeup artist Petra Stand with the idea that women have "Makeup to Wakeup" products packed with ingredients that are beneficial to the skin to create a naturally radiant and awakened look. Now I can't say I look like a glowing Greek Goddess in the morning and I've lost count of the number of mornings I've woken up looking like a Racoon pulled through a bush backwards (damn you waterproof eyeliner and mascara), but I do feel like I now wake up with more radiating and fresh looking face in the morning.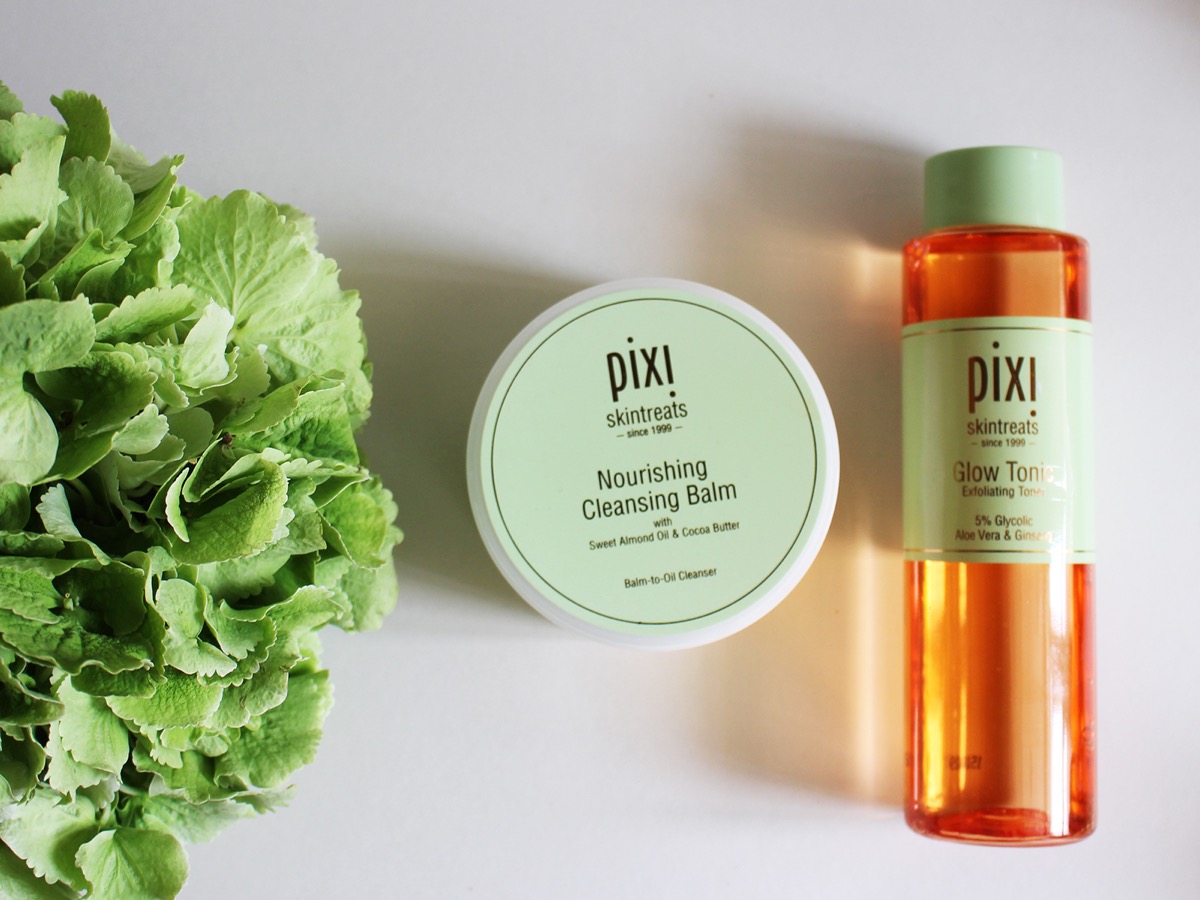 The Pixi Nourishing Cleansing Balm with Sweet Almond Oil and Vitamin E comes in a fresh white pot with a light mint green packaging and rose gold text. It's not over the top fancy packaging, but fresh and enticing and you just want to get right in and start cleansing your skin. When you open it up, inside you have this soft-set solid looking substance that looks more like a dense balm. Once you start using it, you realise how rich and luxurious the formula is as it changes from a balm-to-oil texture on your face. Its perfect for melting off makeup and other impurities on your face and leaves you with the feeling of having had a deep cleanse. The smell is delicious and isn't overpowering with subtle hints of sweet almond oil and shea butter.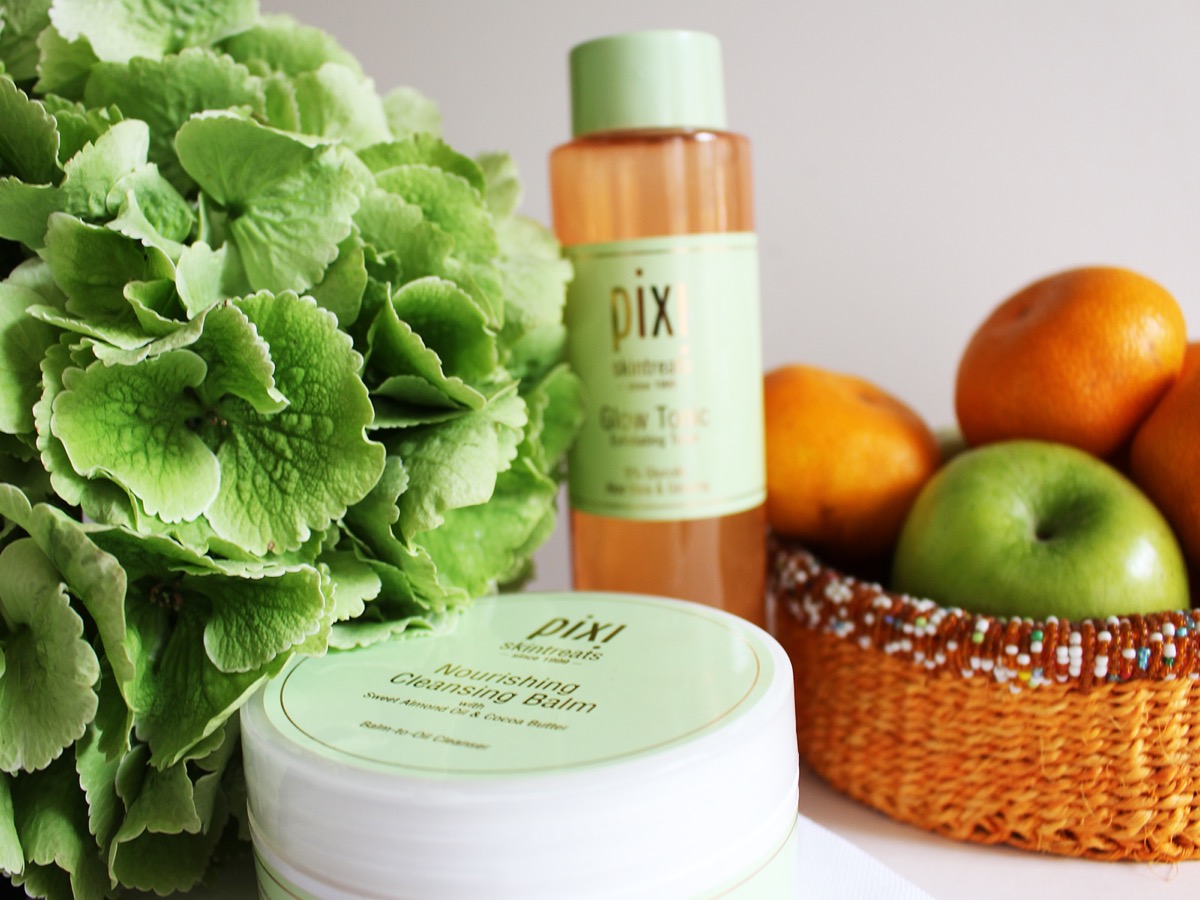 It's important to note that this is a super thick and heavy cleanser and it doesn't emulsify and turn milky when wet. It's a heavy cleansing balm (which isn't a bad thing) because once you start massaging it into your skin you really feel it working on cleaning out your pores. Most importantly, you have to use a damp cloth, Muslin cloth or flannel to remove it, which leaves your skin feeling super soft and clean. I keep rinsing it in warm water, squeeze out the excess water, and then carry on cleansing and cleaning the balm off my face. I am currently using Eve Lom Muslin cloths and highly recommend using them. The Pixi Cleansing Balm is excellent for anyone with dry skin (like myself) but works on any skin type and I think the secret is "Less is More"- you really need a little bit on your face and it goes a long way, which is great because your tub will last you quite a while. My last little piece of advice is if you're wearing heavy makeup (particularly on your eyes ie. Waterproof Mascara, Liner and Eye Shadows), I would remove it with a makeup remover first and use the Cleansing balm as a second cleanse rather than for makeup removal, though it does also work in removing your makeup too.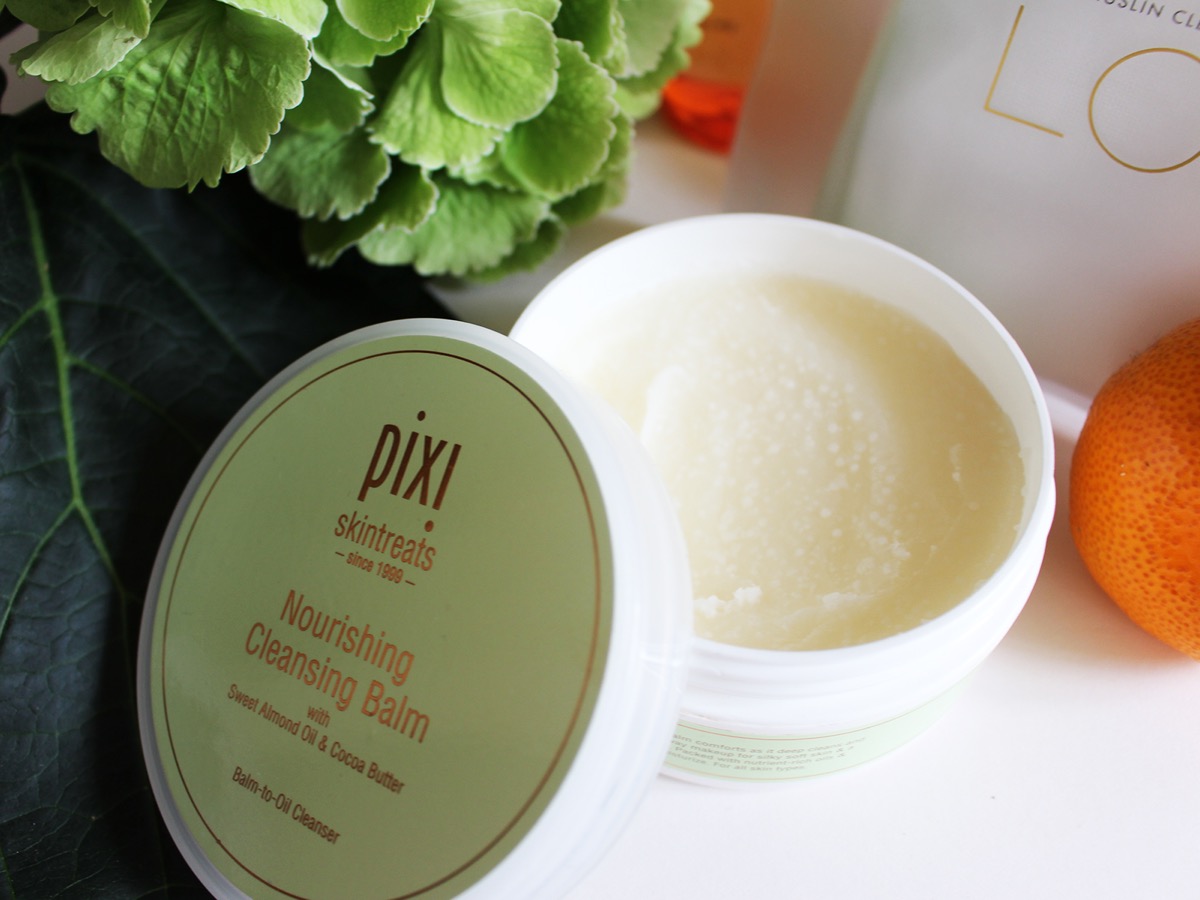 The Pixi Glow Tonic is a more recent addition to my routine and I've been using it more frequently than before. I apply this post-cleanse with a cotton pad and rub it in circular motions upward on my face. It gently removes dead skin cells and impurities and exfoliates your skin leaving you feeling clearer, brighter and with a beautiful glow. I have really sensitive dry skin and don't like using exfoliating toners and scrubs that aggravate my skin and leave it looking dry and patchy so this is a brilliant more gentle toner to use.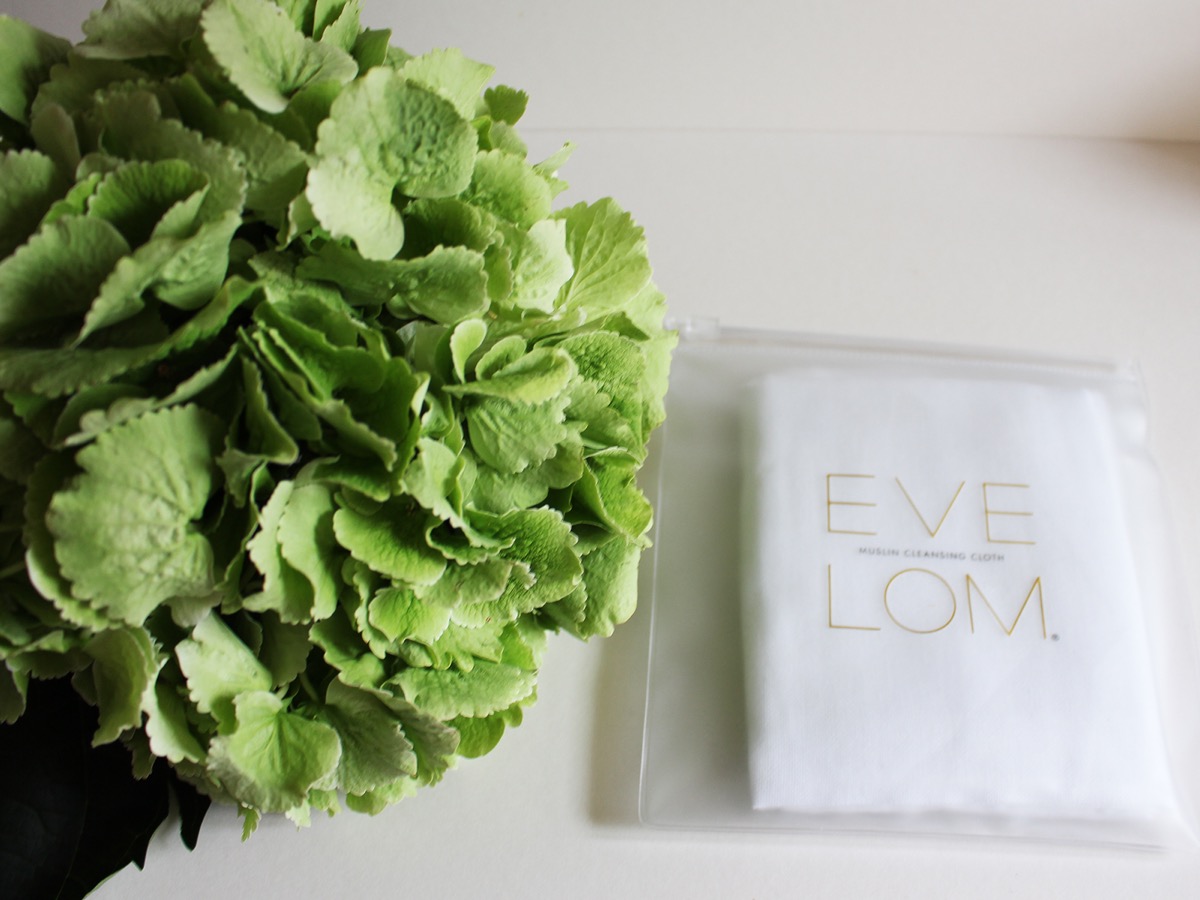 With any products that you buy, particularly new ones, its crucial you give it time to work on your skin. I'm all for miracle over night treatments that renew and refresh your skin in a jiffy, but really for something to work, and in order to see the results, you have to use it for at least a few weeks. With any products I jabber on about, I like to have tested and tried it for a while before I sing from the roofs about it. Having incorporated these two Pixi products into my skin care routine, I can confidently say I'm singing from the roofs with smoother and more glowing skin.