Board games are meant to be fun…until you decide to play Monopoly. The one board game that can make and break relationships. Everyone is a master realtor when this board game comes out. About fifteen years ago, my family and I were sitting around the table for a game of Monopoly. It was going to be one of those long drawn out Sundays, until the football came on and my grandfather would hand over his winnings to my sister and the game would be over, just as the whistle was blown for kick off on the pitch. She would be left smiling like the Cheshire cat from Alice in Wonderland. On this particular occasion, my sister sat down sporting a t-shirt with F.C.U.K on it. French Connection's strategically placed slogan t-shirt of the Noughties. Through squinted eyes, my grandfather tried to make sense of these oddly arranged letters. I was trying to contain my laughter, while my parents eyeballed me to behave from across the table. No one addressed the elephant in the room. Was my sister's t-shirt screaming bad language? Yes, but more importantly, making a fashion statement. The slogan t-shirt was a hit 15 years ago…and has made a major come back this season.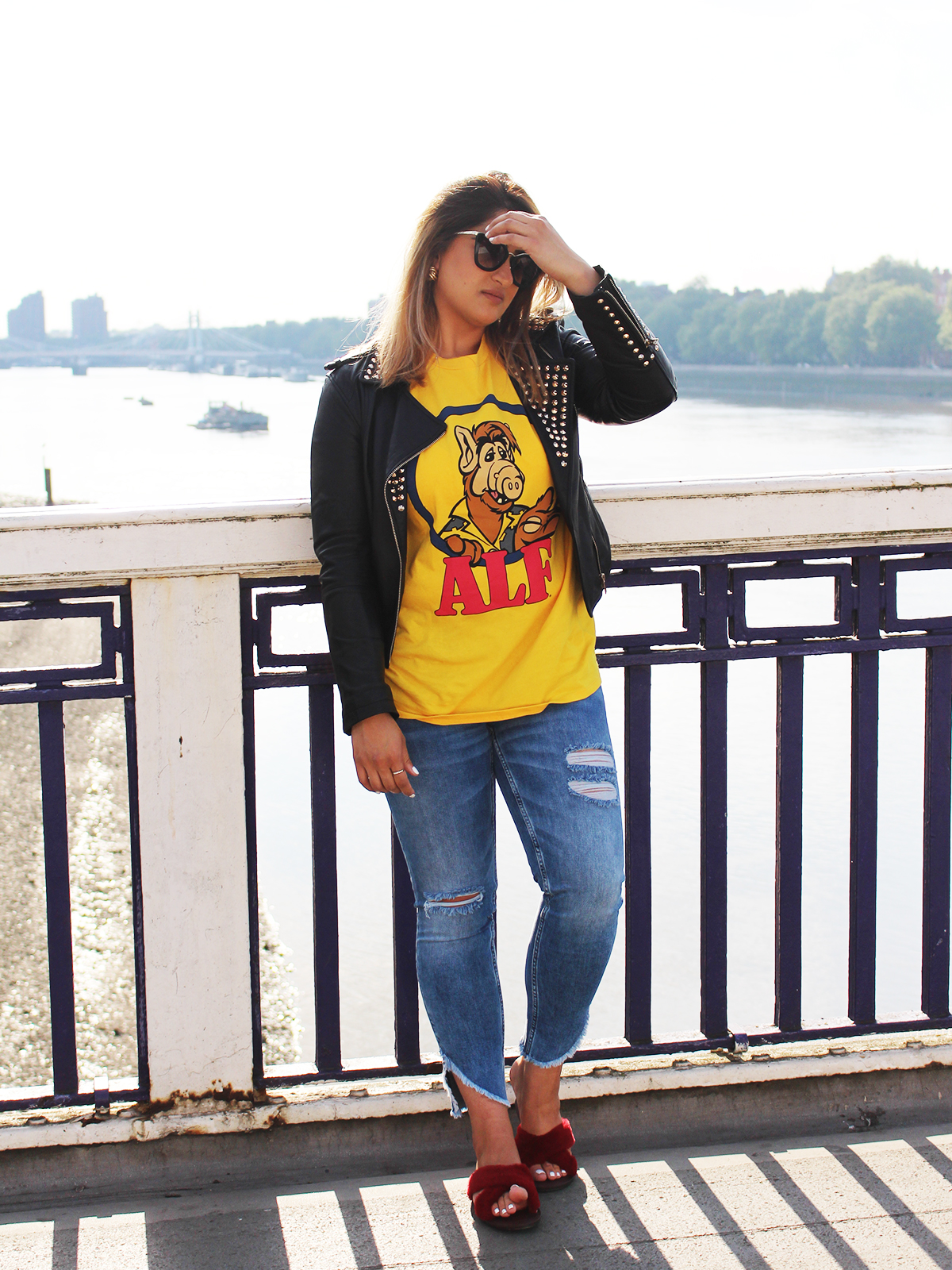 The t-shirt is a classic, sitting in the hall of fashion as a versatile item of clothing that should be owned and in every wardrobe. I am a proud owner of the basic t-shirt in a variety of necklines and colours. The trend this season is whatever you want to make of it. Wear it with your denims and flip flops or flats (my favourite), or match it with pleated skirts (metallic if you're brave), or velvet suits or under poplin dresses. There simply is no wrong way to wear a t-shirt, and so many amazing ways to wear a slogan t-shirt.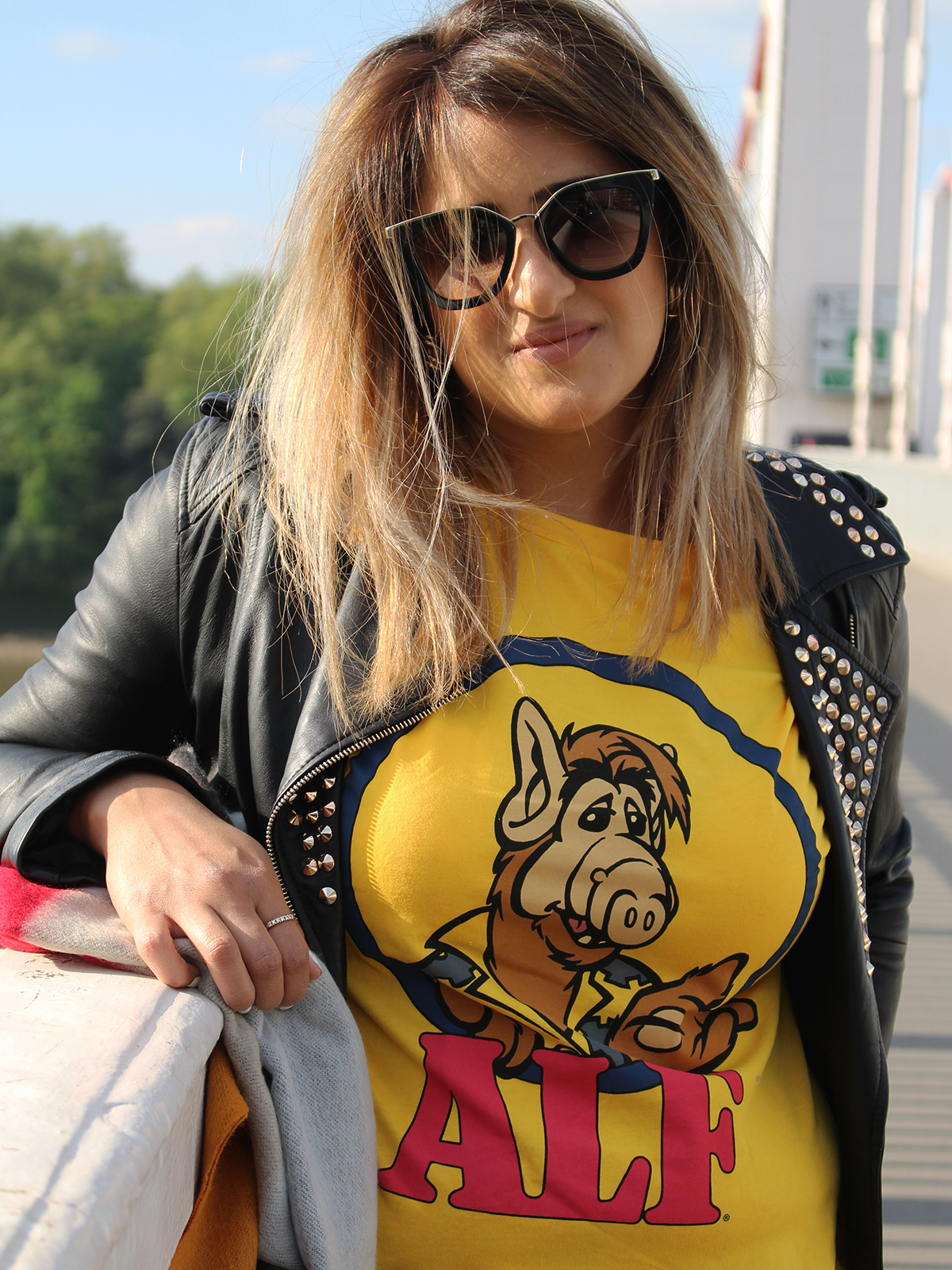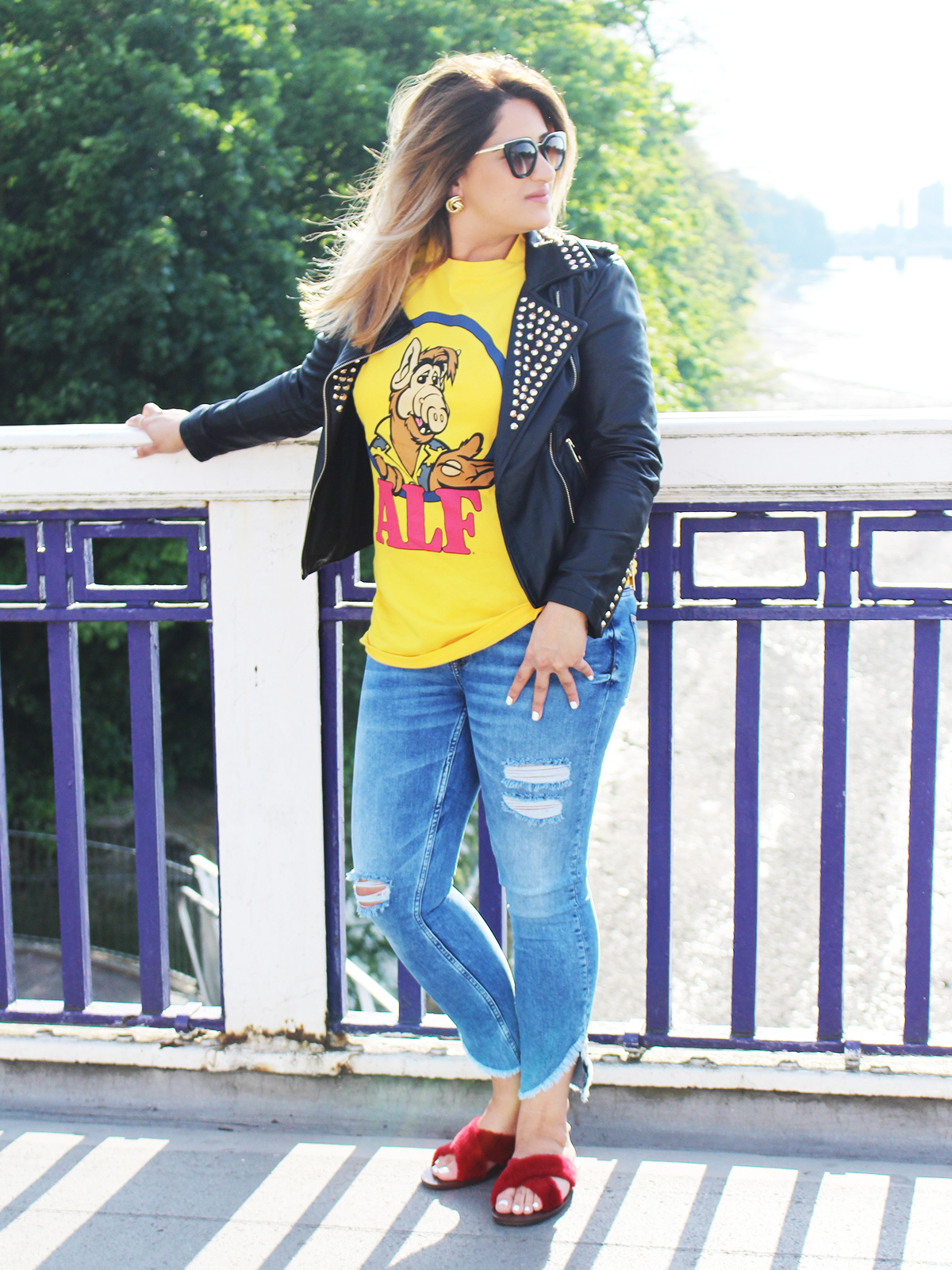 All the designers have released their ode to slogan t-shirts and my favourite has to be Dior's Limited Edition "We Should All Be Feminists" t-shirt – proudly displayed down the ramp at Fashion Week. Michael Kors is all about the love with an oversized cashmere Love sweater (Hello Cashmere!),  Haider Ackermann reminded us that you can "Be Your Own Hero" on his t-shirt and Japanese designer, Abe Chitose, creator of Sacai, preached every bloggers favourite line "Fashion is a Passion" on a t-shirt. While all these designer t-shirts are amazing, you can find plenty of fun slogan t-shirts on the high street. Metallica, Guns & Roses, Bruce Springsteen, The Ramones, The Who…Faces of Bowie, Prince, Michael Jackson…the list is endless.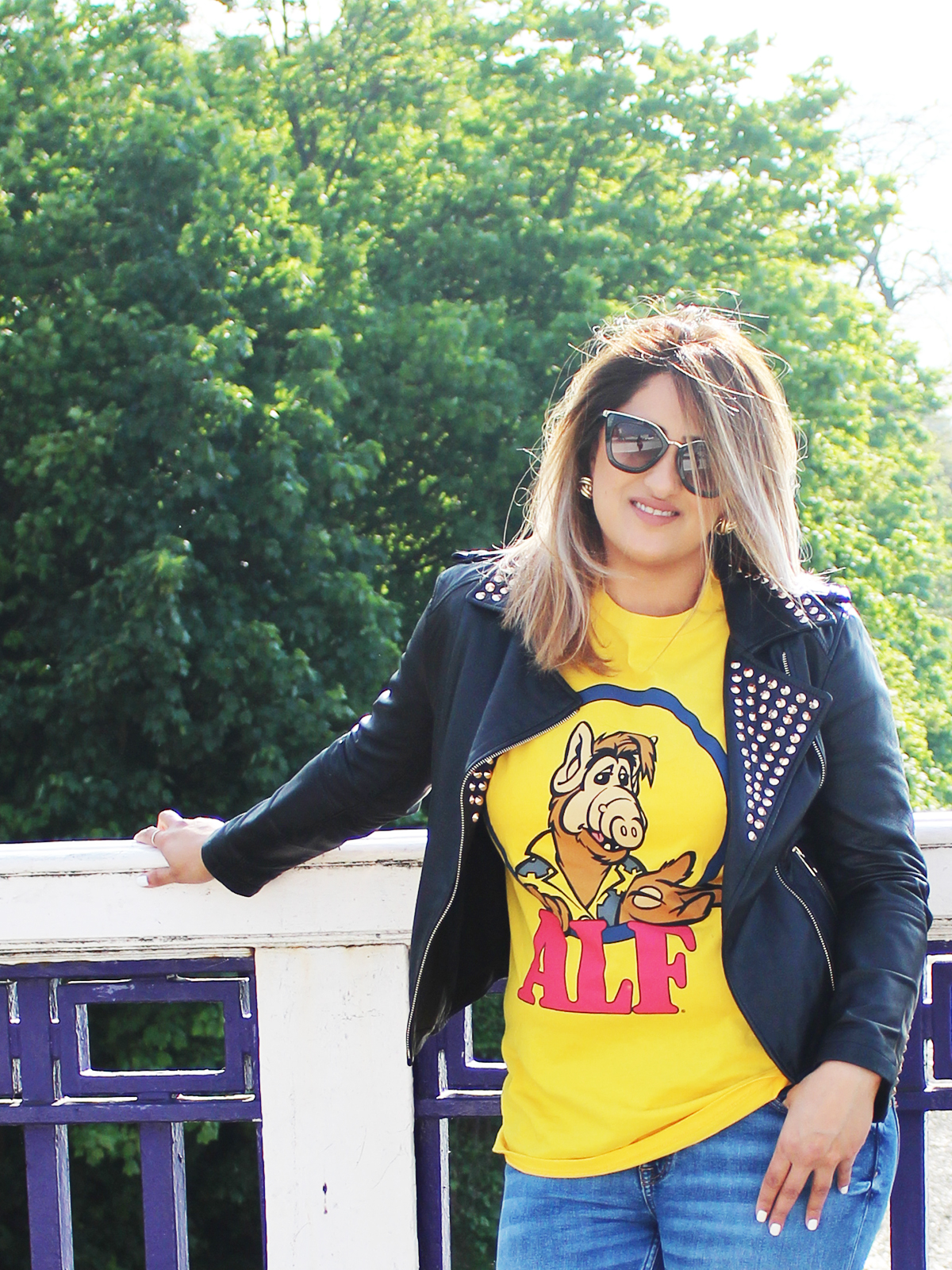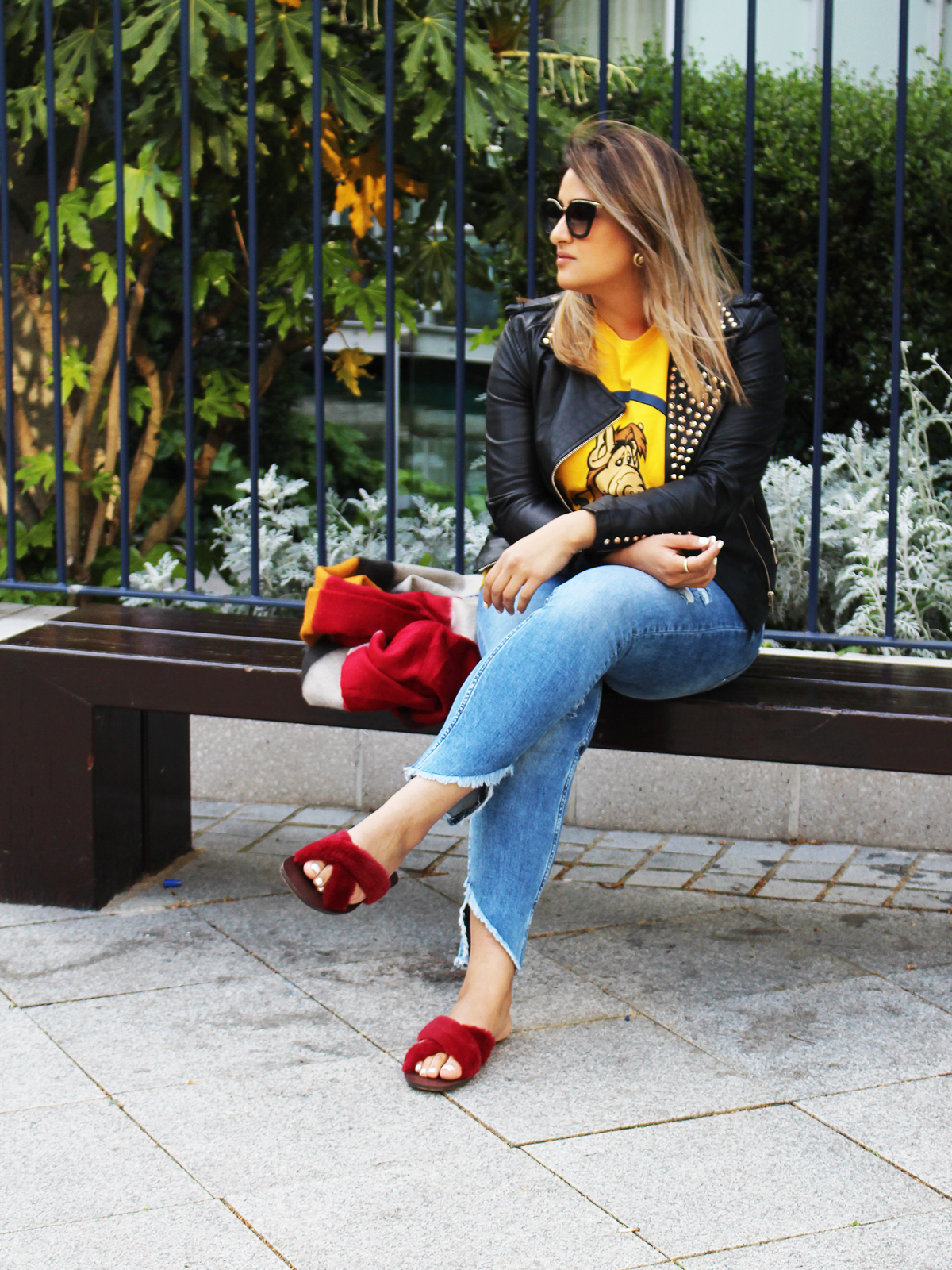 So, imagine my glee when perusing the Zara on Oxford Street when I stumbled upon this almost anteater big eyed looking Alien staring at me off the face of a t-shirt… it was ALF! Of course, I didn't hesitate to pick it up, I may have also shrieked a little bit and frightened fellow shoppers. I would like to think that IF Aliens did exist; they would all be like Alf. For those of you that don't know Alf, it was a US TV Sitcom between 1986 and 1990 and continued to broadcast reruns for several years after. Alf (which stands for Alien Life Form) crash lands into the Tanners' garage and lives in their kitchen and later attic while he attempts to repair his space ship. While two and half decades later, I cannot recall the story line; I still think Alf was the cutest Alien ever.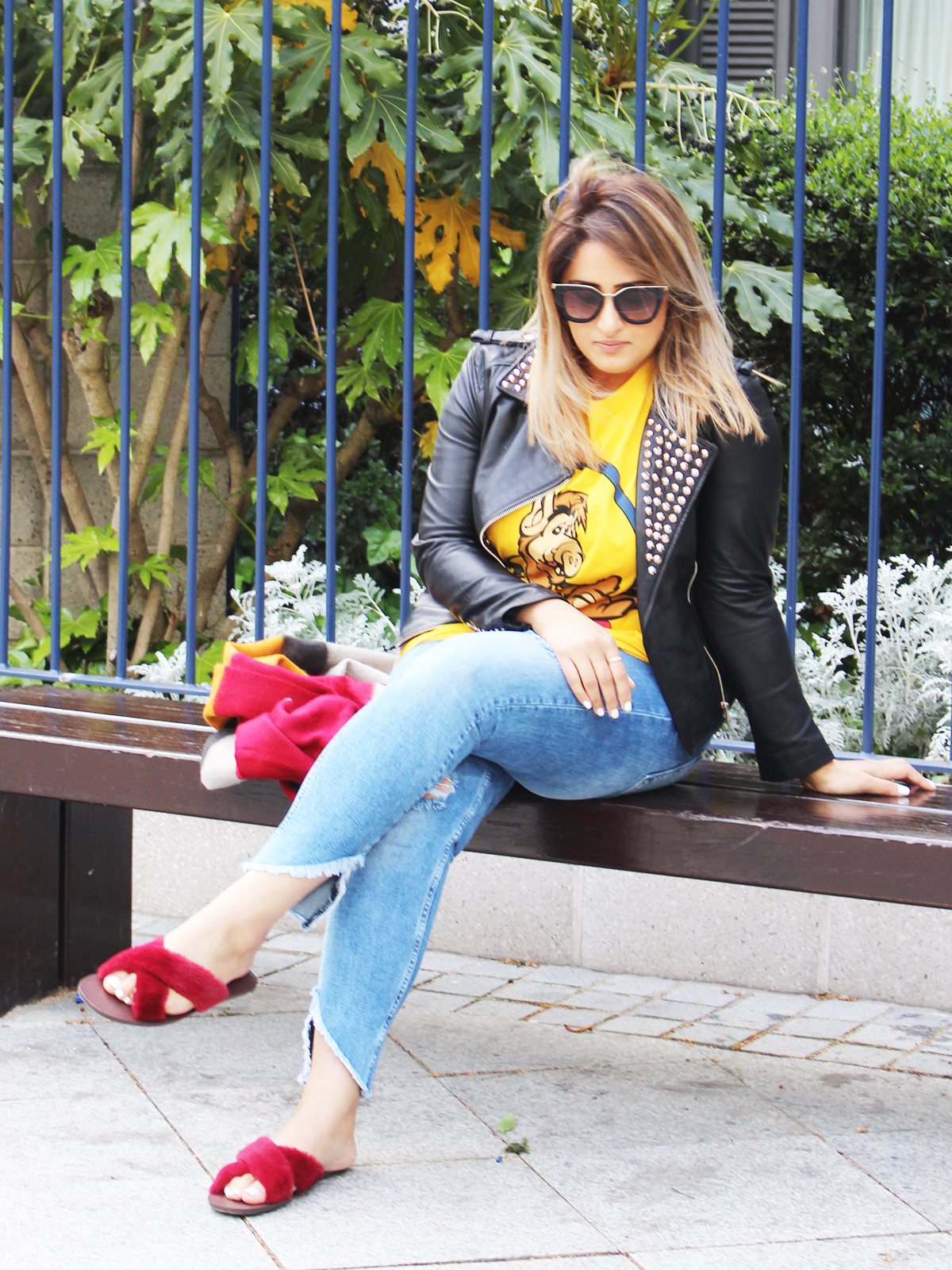 With the weather slightly warming up, I can't wait to peel off the layers of thermals, jumpers and coats and step out in a t-shirt and flip-flops. While we aren't quite at flip-flop weather, this season's trending flats are all about the furry slides! These are just like the comfy slippers you wear lounging about the home, but for outdoors. Very on trend- but you just have to put all your faith and trust in your iPhone weather app and pray that when it says "no rain", it won't rain. Otherwise you'll be walking around like you killed a dead mammal on your feet. This is fashion's great way of saying that, if you live in the northern hemisphere, you can flirt with the idea of warmth and sunshine by wearing fluffy flip flops and furry sandals (and not look like a nut job). While my friends and family think I'm bonkers for stepping out in such shoes, I am happy with the idea of warm fluffy feet and slogan t-shirts until the weather brightens up and maxi dresses, summer sandals and espadrilles are all the rage!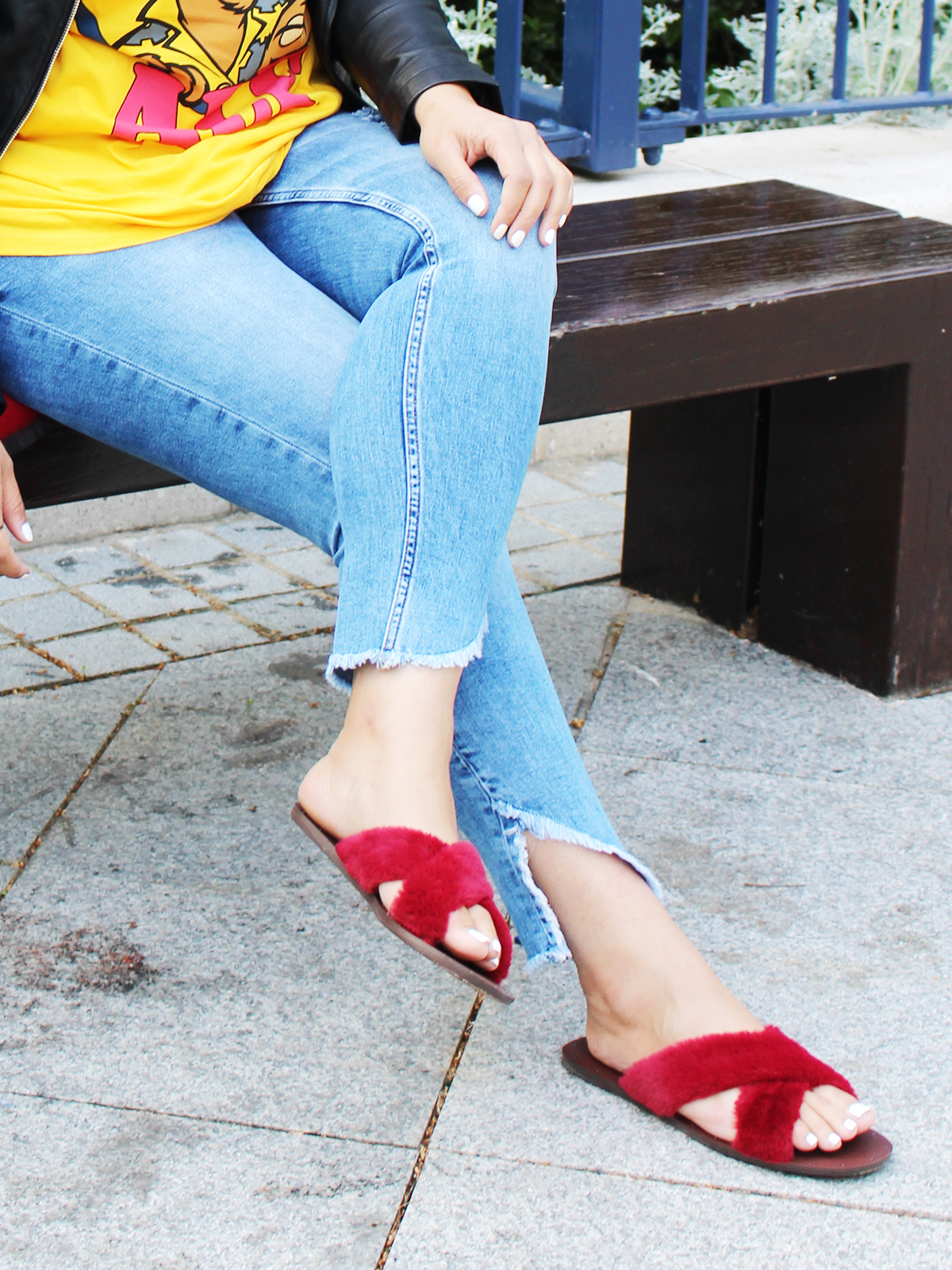 What I am wearing: Leather Jacket (Zara), Alf T-Shirt (Zara), Jeans (Zara), Shoes/Sandals (Zara), Sunglasses (Prada), Scarf/Shawl (Zara).