I stumbled bottle in hand through the fire exit to the rooftop of my fashion favourite store, Selfridges, cue theme music, back up dancers…oh hello musical number. It would make for a great start to a movie, right? Instead of Chicago, they can call it London. But that isn't what this is all about. Late last year on a quiet Friday night, where I had promised myself an early night so that I could make it to the 9am Spin Class on Saturday, I flicked through the various docu-series on Netflix. I was going to watch an episode of something and hit the hay, après cup of chai, of course. Feeling quite chuffed with my grand plans I started watching Chefs Table. Long story short, if you haven't already seen it, you have to watch it. That is, if you're as big a foodie as I am. Next thing I knew I had watched the entire Season 1 and was just about to start Season 2 until the little Angel on my shoulder insisted I go to my bed and sleep lest I eat the entire fridge. The little devil on the other hand insisted one more piece of chocolate was a good idea.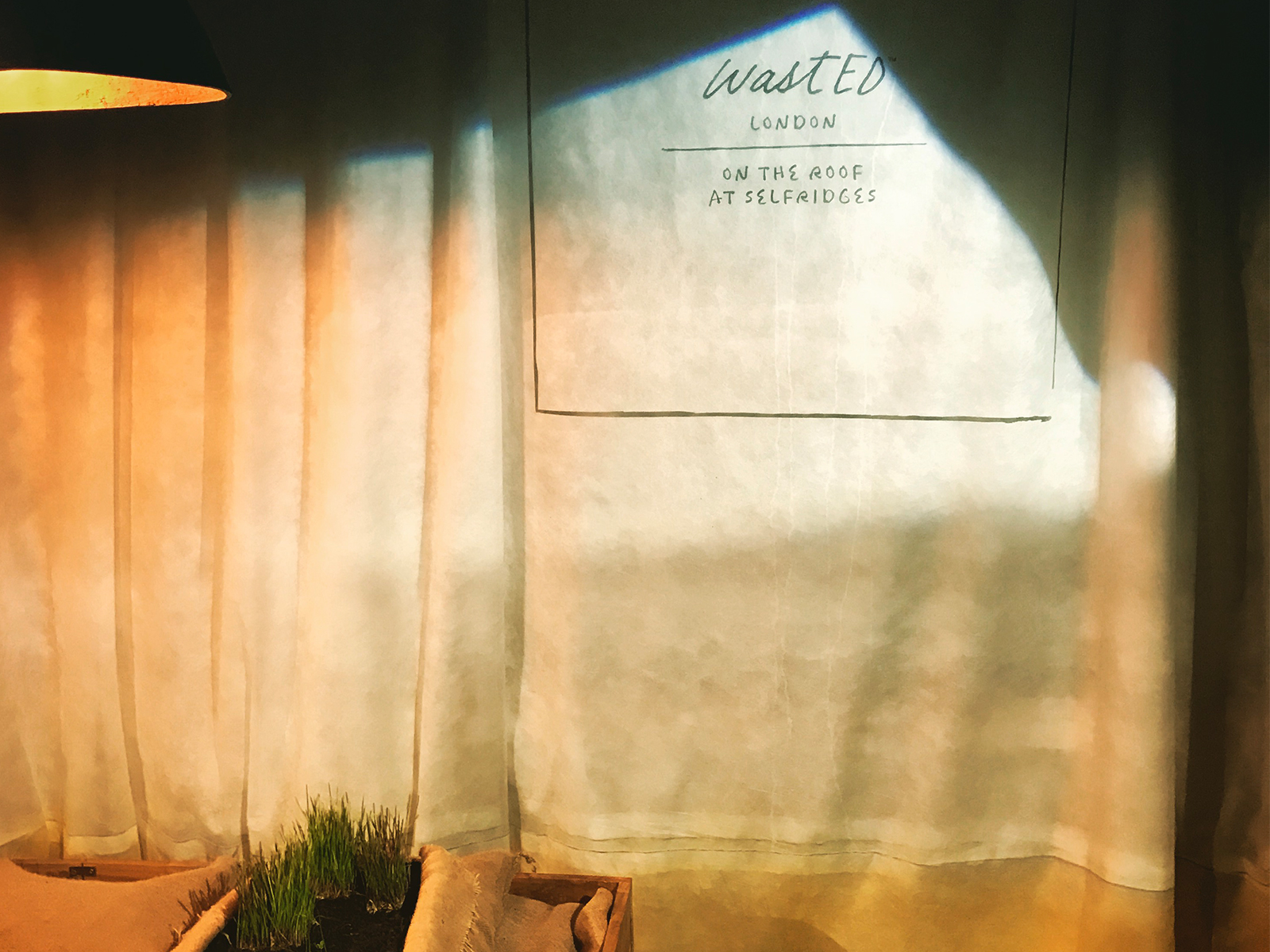 A few months ago, while circuit fast walking (best form of exercise) through the ground floor of Selfridges (and no I don't stop to do jumping jacks and 20 press ups)…the name Dan Barber caught my eye. I know this man; I had read several articles in various publications worldwide talking about his restaurant Blue Hill out in New York and subsequent Michelin stars. I was quickly taken back to my salivating Netflix binge Friday night and after some research just knew I had to get Wasted with him on the rooftop of Selfridges.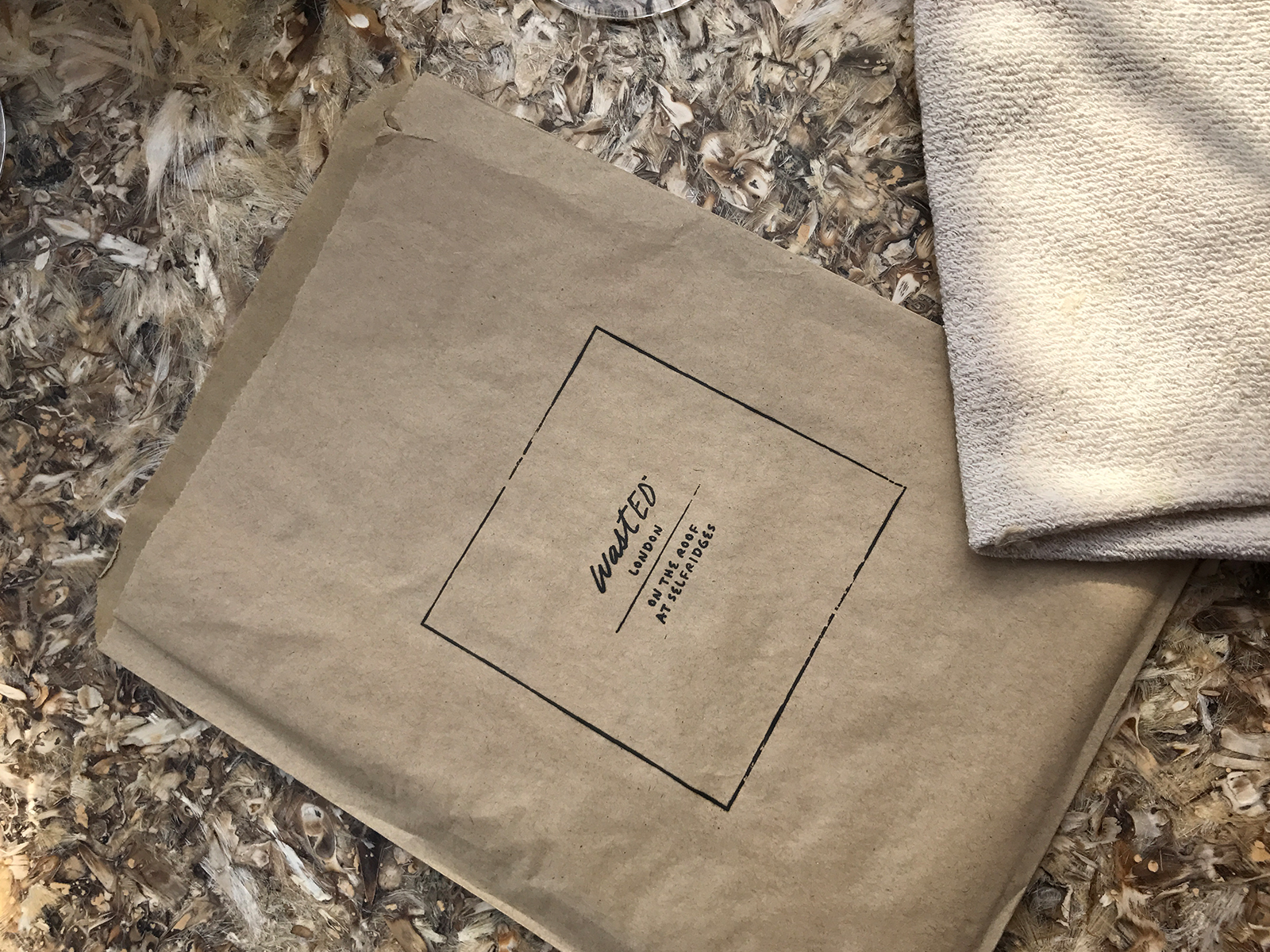 Arriving on time for our table reservation, my family looked at me with surprise. We were going to be eating an entire meal made from food scraps. Food that gets wasted- like the beetroot peel, tops of carrots, and even milk from the frother at your local coffee shop. I was intrigued- my dad was sceptical, my sister was curious, and my mom, must have had 1001 recipes going through her head.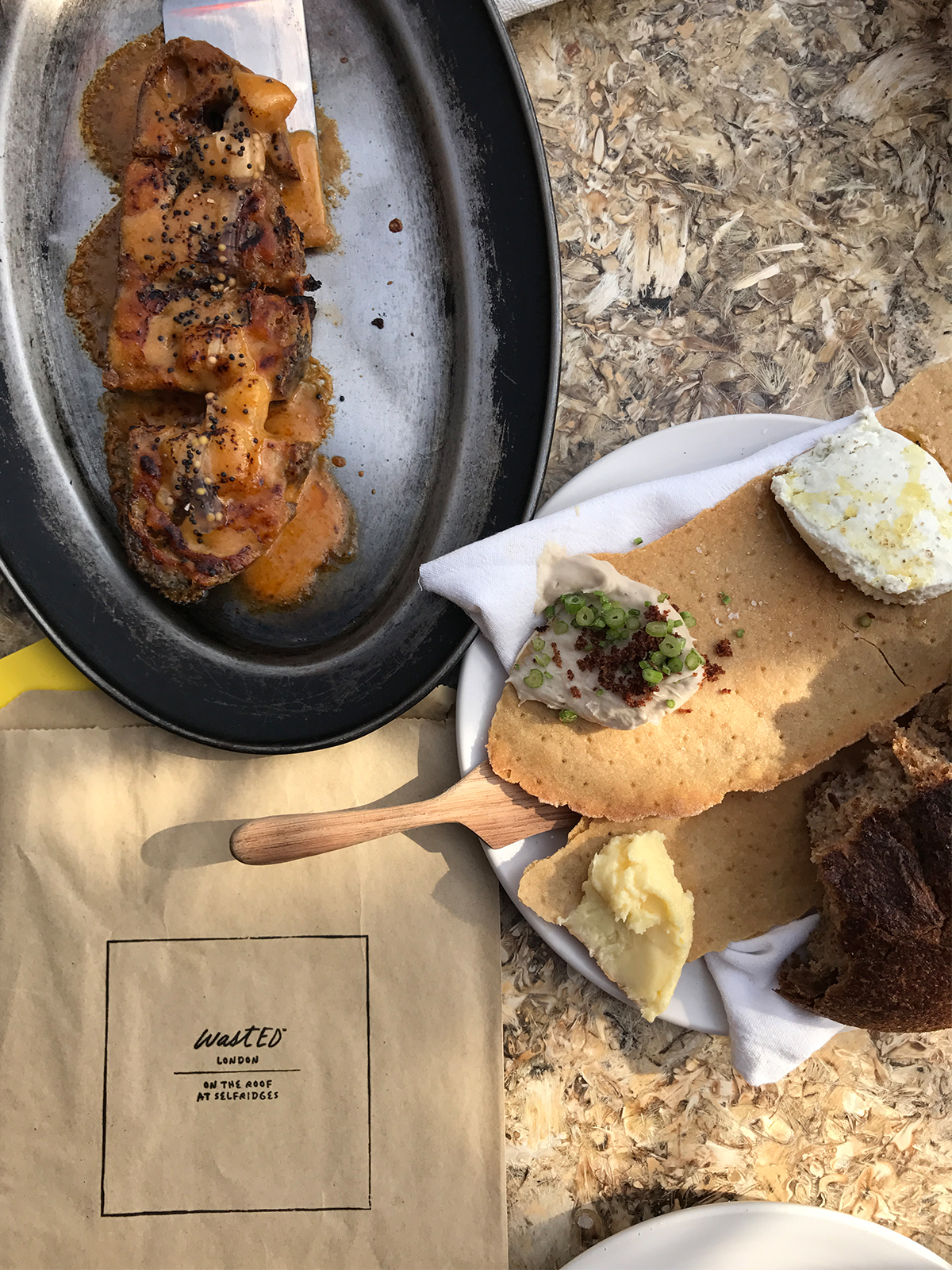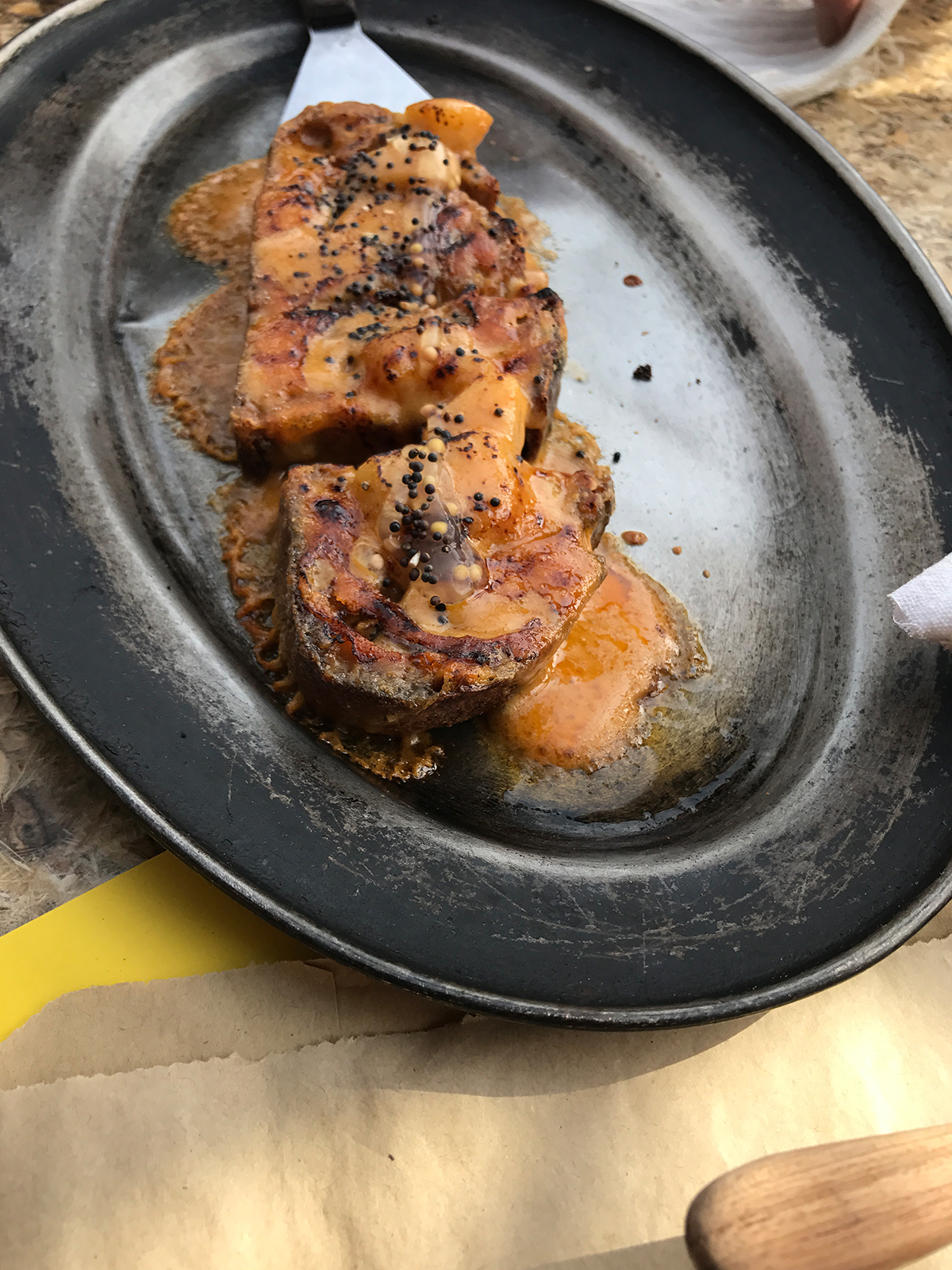 This turned out to be a fun family affair. From sitting down on the wooden tables, with frayed rough edged linen napkins, and our menus neatly tucked into a "Wasted paper bag"- I wanted to order everything on the menu. But when you really don't know what to expect, particularly when the Chef's entire concept is using waste products, you're hesitant. We started off with a fun game of wine roulette. Wine that hadn't been stored properly over the years… You picked a card from a deck of 52, and the Sommelier picked the corresponding bottle in the batch. If it tasted awful, the bottle of wine would be turned into vermouth. If you've nailed it, like we did, you enjoy a really delicious bottle of wine!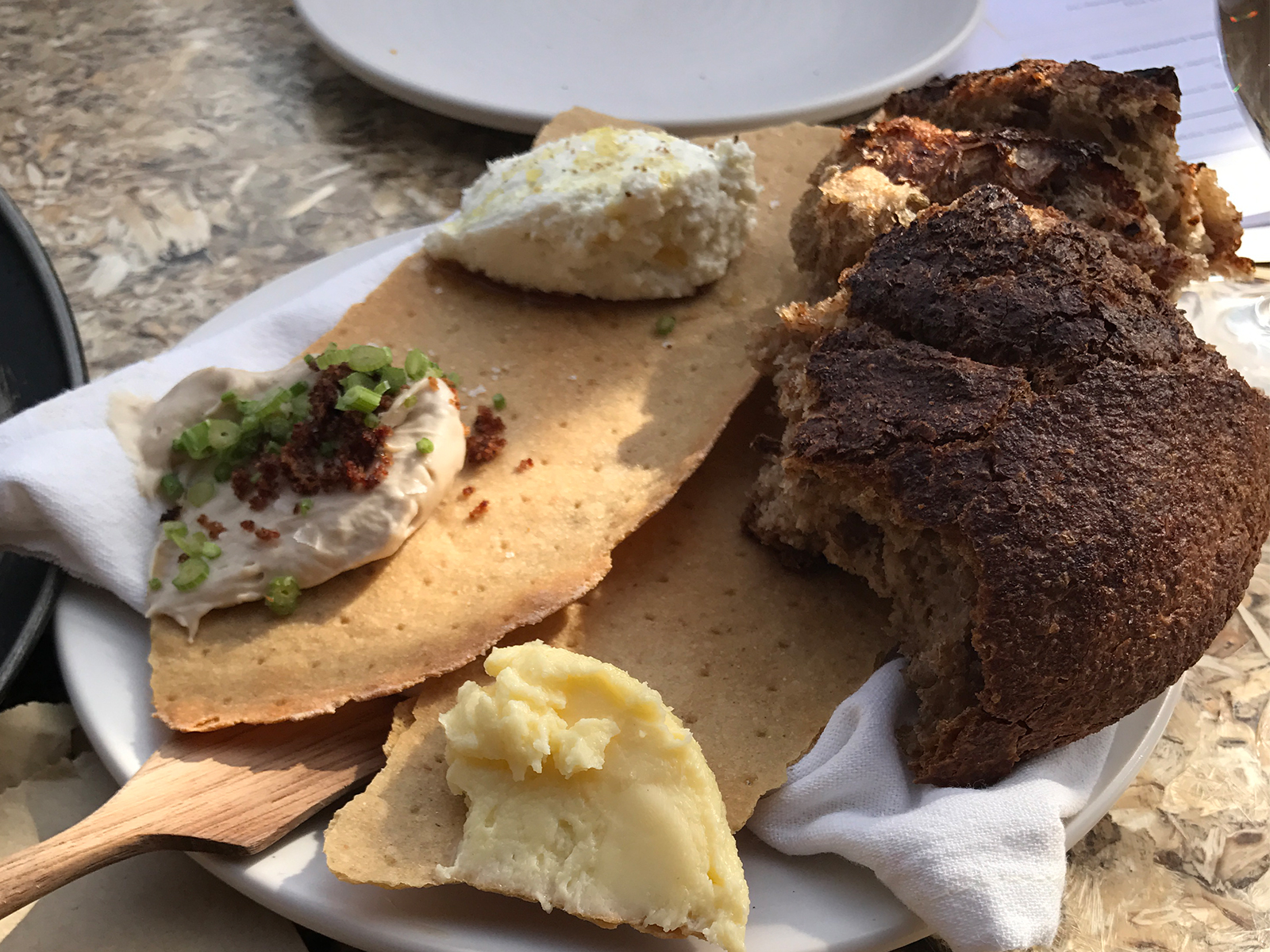 We ordered the Wasted Bread; made from bran and barista milk bread and a pea skin hard bread, served with whipped hamon drippings from the charcuterie on the ground floor of Selfridges, whey ricotta, and Napoleonic margarine. The Fish & Chips were fish bones and skin with egg wrack seaweed and pockmarked potato cream, as a replacement to tartar sauce. Not the kind of fish and chips my father was expecting. My favourite was the deep fried fish skin. It was interesting dish, but reminded me of the many times my Mother forced my sister and I to have a spoon of Cod Liver Oil.
The Waste Rarebit was stale ale bread with cheese trimmings and off-grade apple chutney. My favourite was the Juice Pulp Bacon Cheeseburger. Made from repurposed bread for the bun, waste piccallili, beetroot runoff ketchup, and bacon from a waste-fed pig. There was no meat other than the bacon in this burger. It didn't even taste like a vegetarian burger, and my family were convinced it was made with meat until the waiter pointed out that it was vegetarian bar the bacon! Piccalilli uses the stems and cores of the vegetables. The bits everyone cuts off and never uses. Who would have thought! We also tried the Sausage from a waste-fed pig cooked over bone charcoal with bubble and squeak and remouillage gravy.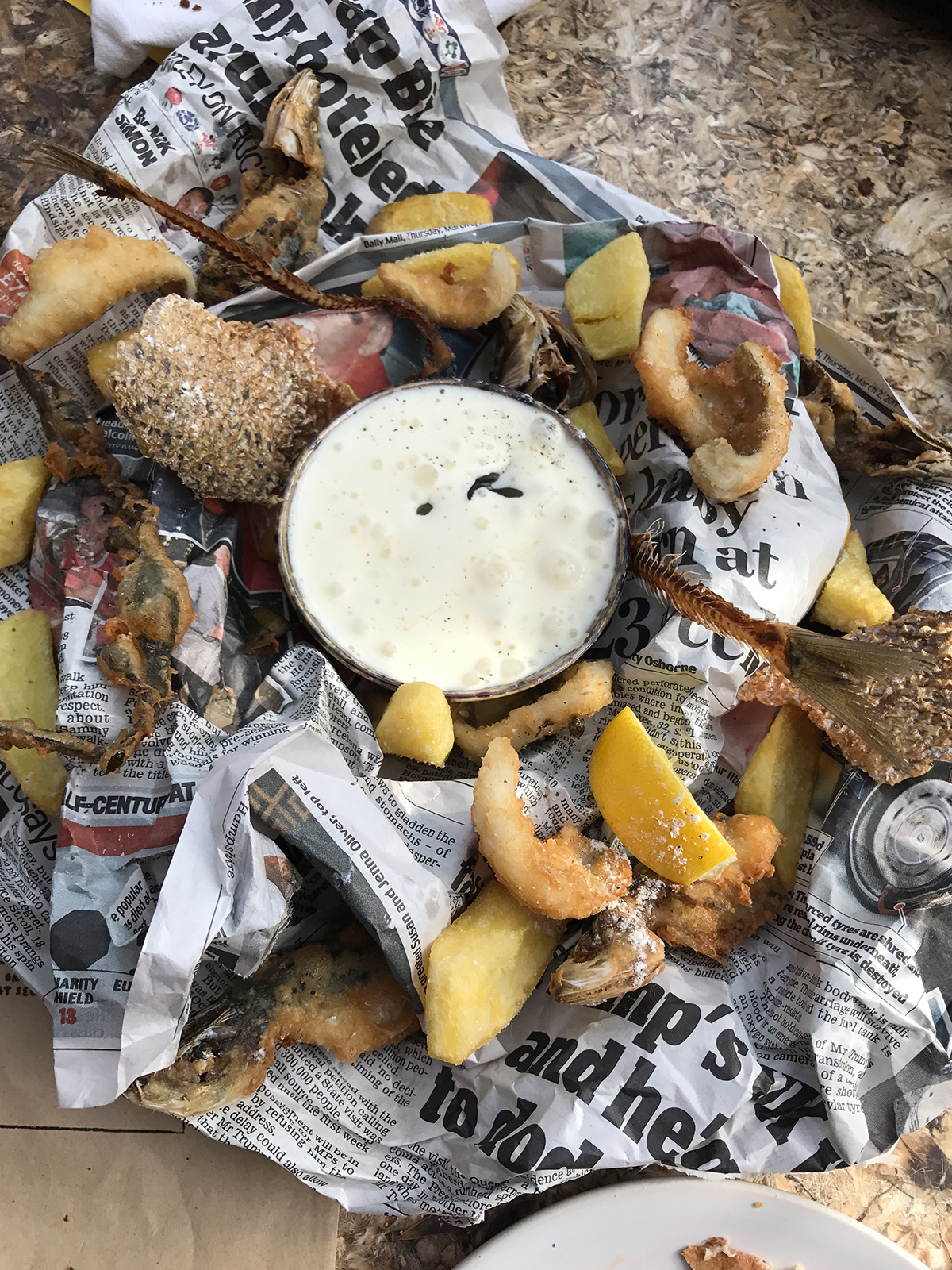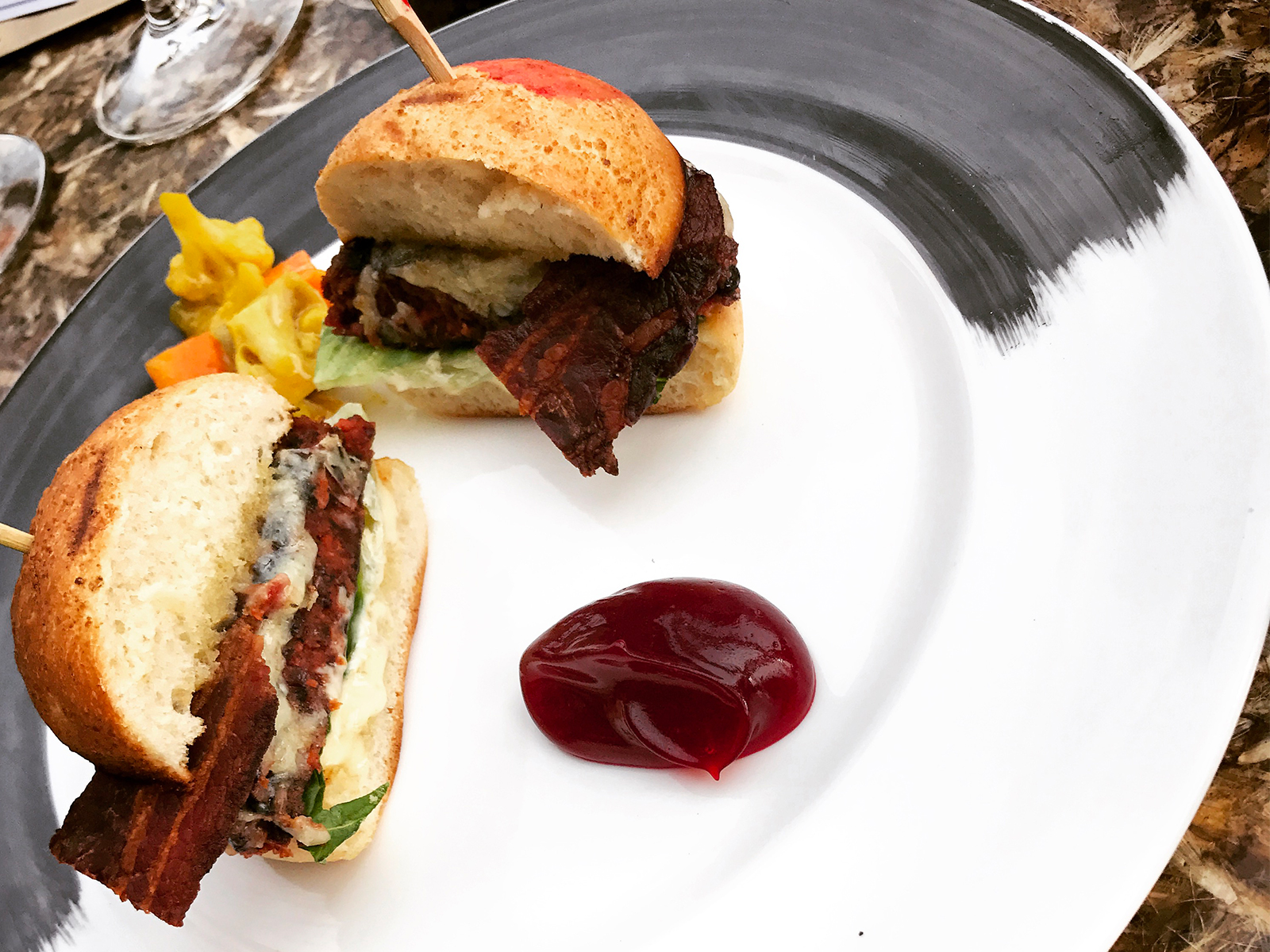 Three hours of wining and dining later, despite being stuffed, it was time for dessert. There is always room for dessert. There is a whole separate stomach dedicated to the sweet tooth, and it's my favourite part of the meal. We tried the cocoa pod husk panna cotta which was insanely delicious. Made from cascara flour and rejected shortbread biscuit. WHO WASTES SHORTBREAD?? I can munch my way through a whole box of shortbread, with a mean cup of tea. Find me that person who wastes shortbread; we have to have a word!! My Dad loved the waffle scrap treacle tart with failed popcorn Ice Cream…sweet, sticky, and not tough like toffee where it practically pulls your teeth out. Again…WHO WASTED WAFFLES???? Waffles with Chocolate sauce, Waffles with fresh strawberries and cream…waffles with fried chicken and maple syrup…SLURP!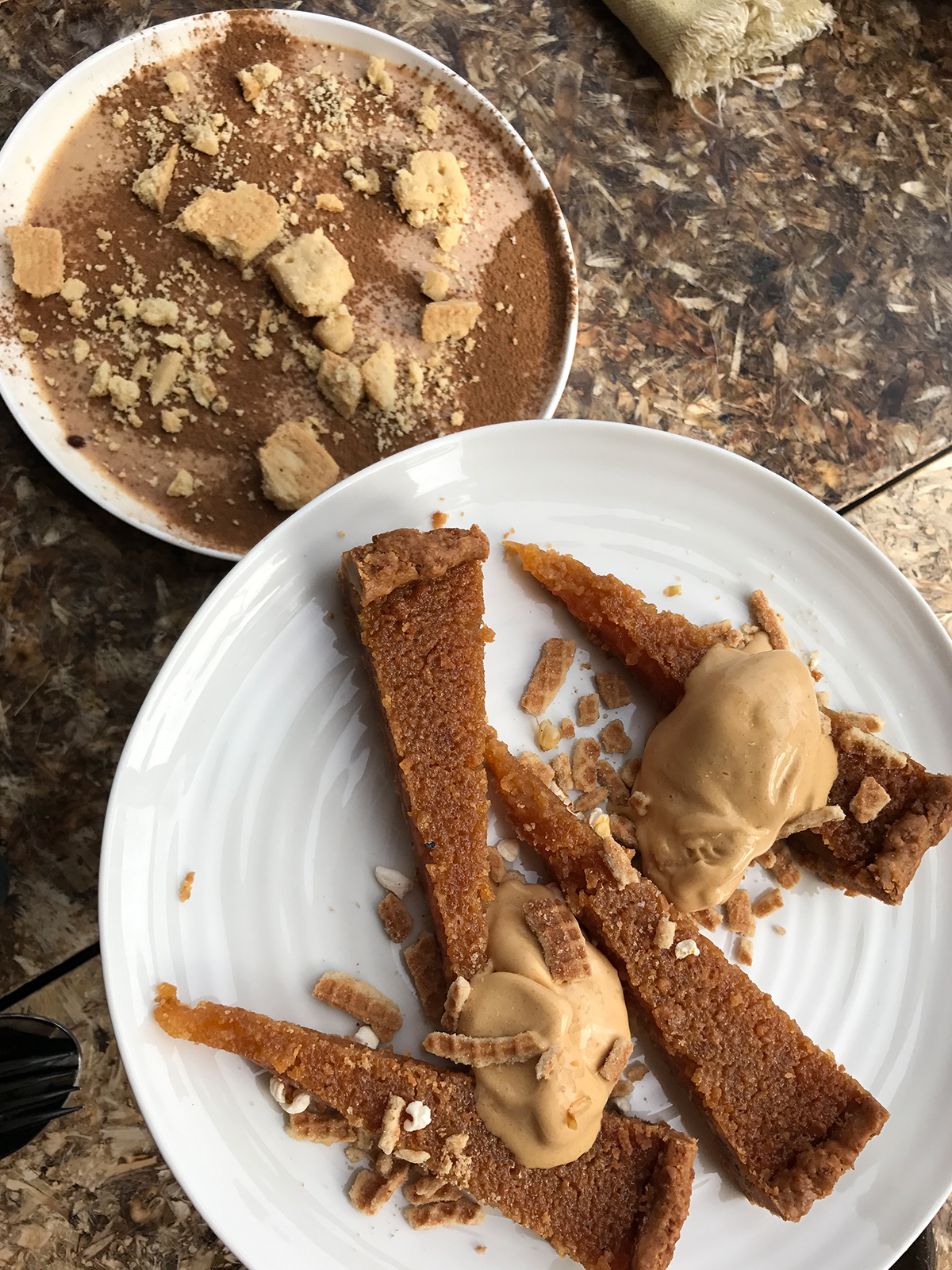 All in all, it was a truly fun and unique experience. It left me wondering how to better convert food scraps into delicious meals. I certainly don't have the skills and creativity as Chef Dan Barber, and while I'm no Michelin chef, my sister wasn't amused when I attempted transforming a homemade left over Italian pasta sauce into an Indian masala sauce. For now, I'm trying my best to minimalize waste food and I'm hoping a lot more Chef's follow in the steps of Dan Barber and come forward with sparky and inventive dishes using leftovers. Maybe even open a few more Pop Ups around the world or even recipe books to highlight the cause of…not wasting any food!